The Records You Didn't Know You Needed---#6: Tubby Hayes The Fontana Albums (1961-1969) Eleven LP Box Set Part 3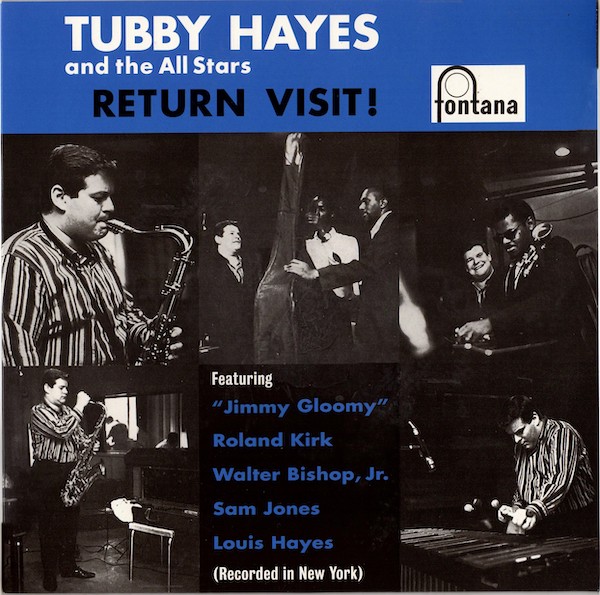 Return Visit (Tubby's Back In Town---Smash U.S.) (recorded 1962 released 1963)
Tubby's second and final recording in America isn't really a Tubby Hayes album. It's more of a jam session with Tubby participating. Hayes wrote in the liner notes to the U.K. LP, "I was about to record with great American jazz men who knew nothing about the date until the day before and whom, apart from the piano player, I had never met." Probably, in an attempt to boost sales, he's paired with saxophonists Roland Kirk (later Rahsaan Roland Kirk) at the time signed to Smash's parent label Mercury, and James Moody, billed as "Jimmy Gloomy" on the record jacket. The rhythm section, Walter Bishop Jr. (piano), Sam Jones (bass), and Louis Hayes (drums) is much more appropriate than the previous year's grouping and swings with that uptight in the pocket but relaxed feel that in 1962 was "state of the art".
Tubby didn't write any of the tunes and three of the seven are blues. On "Stitt's Tune", which had been the theme tune for The Jazz Couriers, the two tenor Ronnie Scott-Hayes group, Tubby takes the first solo and he comes charging out of the gate, swinging like mad and playing some long complex lines on altered blues changes. He's followed by Kirk, ultra-competitive and one of the hardest swingers ever (if you need proof check out "C Jam Blues" on Mingus' At Carnegie Hall Atlantic LP) who plays fabulously with some flashy technical runs to match Tubby. I'd call it a draw. The saxophonists play a ballad medley and Tubby's choice is "Alone Together", which he plays with a rich Dexter Gordon tone, but being Tubby, he can't keep himself from playing some sixteenth note runs. It's an affecting performance. Tubby didn't record a lot of ballads on tenor, but he should have done more.
The album has some amazing playing, especially from Hayes and Kirk, and is a great listen but it was a poor attempt to gain fans for Tubby. Another lost opportunity. U.S. critical response to Hayes' live appearances and albums was, overall, tepid. Part of that may have been due to American insularity and arrogance, "Jazz is American music. A British guy has no business playing it. We don't play soccer, do we?" But also, Coltrane, Rollins, Johnny Griffin, and Hank Mobley were only some of the competition to which Hayes was being compared. The amount of talent on the early 60s American Modern Jazz scene was so overwhelming no one could keep up with all of the musicians. Many extremely talented Americans like Sonny Clark, Tina Brooks, Booker Little, Rocky Boyd and James Clay, to name only a few, were overlooked.
A British musician, even a world class talent like Hayes, who was not willing to relocate, network, and work his way up through the sideman system was not going to get noticed. The U.S. versions of the Fontana albums did not sell well and, after 1963's Tubby's Back In Town, until 1990 no Tubby Hayes music was released in America.
Tubbs' Tours (recorded and released 1964)
1964 was the year The Beatles proved that pop music could sell heretofore unimaginable quantities of records and the year in which the business of jazz changed dramatically. The liner notes of Tubbs' Tours bemoan the fact that London jazz fans are now "forced to wander around surrounded by R&B clubs" and have to go out into the suburbs to hear live jazz. Also, jazz was moving beyond the type of music that Hayes excelled at—hard swinging improvisation on sophisticated chord changes. While Hayes recorded Tubbs' Tour, Coltrane recorded Crescent and at the end of the year, A Love Supreme. The musicians at the leading edge of jazz were now playing free, passionate improvisations using extended sax techniques on simple modal structures. Hayes was uncomfortable with Avant Garde or Free Jazz and in an interview stated, "I find that everything I've been practicing over the years is no help to me. In fact, it's a restriction." He was in an artistic crisis. Should he continue playing the music that he had mastered, and that had made his reputation, while being dismissed as a relic by critics and perhaps as well by audiences, or incorporate a new style for which he had little musical affinity and no empathy for its emotional, spiritual nature? His solution was avoidance, so he made a big band album.
Big bands were still popular in 1964, mostly with people who had grown up in the Swing Era, but albums and magazine articles were already being titled, "Are the Big Bands Ever Coming Back?" Except for Sun Ra, the always innovative Ellington and some one-off studio groups put together by Gil Evans, Coltrane, etc., big bands were almost all stodgy dance machines, recreating the past.
The music on Tubbs' Tours is very well played. The band swings hard and is exciting, Tubby plays some hard bop solos that just blaze through the changes, and he displays amazing swing and creativity. "Parisian Thoroughfare," a Bud Powell tune, most well known in the Clifford Brown--Max Roach version, features tight playing by the band, solos by Deuchar, Ronnie Ross (who was David Bowie's sax teacher), and Tubby, in an explosive 32 bars. "The Killers of W.1" is a complex chart that the band just burns through. This band could swing! "Sasa-Hivi," meaning "Now!" in Swahili is in 9/8 with hand percussion and is the most adventurous arrangement on the date. The band seems a trifle tentative, though and while Tubby's solo is typically exciting and intense it falls just short of the passion and abandon that the track needed to be a classic. Tubbs' Tours is very good music but it's all a bit "old hat."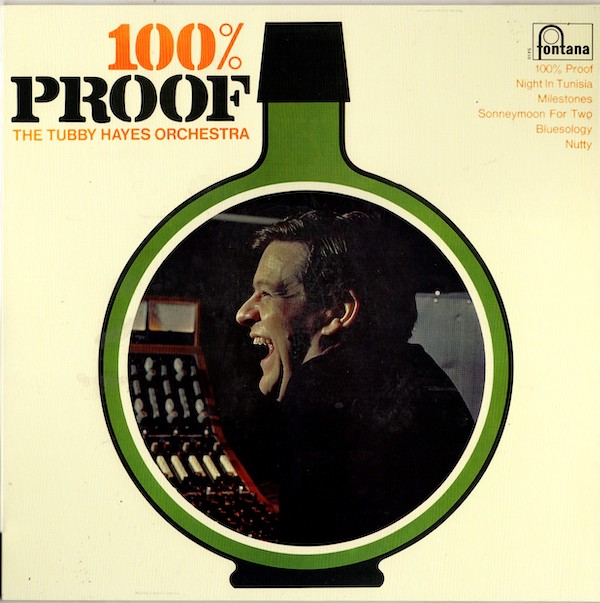 100% Proof (recorded 1966 released 1967)
Two years later Hayes recorded this big band album, continuing his now four years long "free music to do or not to do?" hiatus from small group recording. 100% Proof consists of six tunes that were already bop chestnuts and the Hayes composed title track, which is sort of a sax concerto. It's a lot more adventurous than his previous compositions and showcases Hayes' virtuoso playing while the band plays various time signatures and chord patterns. There are some unaccompanied interludes where he plays "free" without harmonic structure and his wailing sound shows that he was coming to terms with the more vocalized free jazz sound. The album cover is a picture of Tubby inside the drawing of a bottle, implying that the title refers to strong liquor. More likely, I think Hayes meant the title to say, "I'm still the hippest, baddest jazz player in Britain and here's the 100% proof."
The other tracks have creative, mostly unusual arrangements, "Night In Tunisia" has Hayes on flute, "Milestones" begins with a classical sounding intro, and "Nutty" uses some unusual voicings and rhythms. The band is tight, roars when it should, and swings as hard as any big band in 1966, Basie and Duke excepted. Rollins' tunes seemed to bring out the best in Tubby and "Sonneymoon for Two" is one of his most exciting recordings. It's a tenor battle between Tubby and his Jazz Couriers partner, Ronnie Scott at a fast, almost absurd, tempo. Tubby solos first and he's just incredible, playing some really complex lines on the blues changes with amazing time and "lift the whole band" swing. Scott has to follow greatness, but he had done it every night in The Jazz Couriers and knew what to do—dig in and swing. The tenors do a long sequence of swapping fours that is just off the charts exciting with the band behind them just screaming and matching their intensity. The tenors play together unaccompanied at the end until the band plays one last crashing chord. It's one of the great tenor battles.
100 % Proof is a strong album that on the title track demonstrates that Hayes was starting to figure out a way to play in a freer style. As well-played and as exciting as some of it is, in 1966, the album was still a bit of a throwback.
<!- ------------------------------------>