CSNY 1974 Limited Edition Vinyl Deluxe Box Set Sweepstakes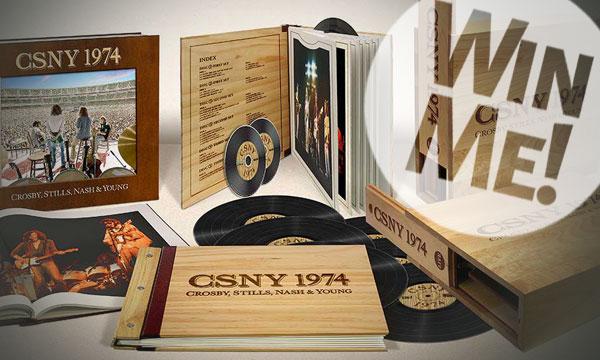 Register to win a CSNY 1974 Limited Edition Vinyl Deluxe Box Set ($499 Retail Value) we are giving away.
According to the label:
CSNY 1974 captures the band's one-of-a-kind harmonic alchemy during its remarkable outdoor stadium tour, a trek that spanned more than two months, and included 31 concerts, in 24 cities, with combined audiences of over a million people. Produced by Graham Nash and Joel Bernstein, the box set mirrors the electric/acoustic/electric format that the band followed each night on stage, representing an idealized version of a show from the tour.

"This project has been the most difficult, yet rewarding work I've ever done in my 50 years of recording," says Graham Nash. "It rekindled the love I have for my partners and the music we have made together."

The box set includes some of CSNY's best-known music; songs like "Suite: Judy Blue Eyes," "Helpless," "Wooden Ships," and "Teach Your Children." During the 1974 tour, CSNY also introduced new songs that emerged later on various albums, like Crosby's "Time After Time," and Nash's "Fieldworker. Several songs by Young are previously unreleased, including "Traces," "Love/Art Blues," "Goodbye Dick," and "Hawaiian Sunrise."

This LIMITED EDITION DELUXE BOX SET includes:

All 40 tracks on six 180-gram 12" vinyl records, housed in a custom laser-etched maple LP folio case.
40 high-quality audio tracks on a Pure Audio Blu-Ray disc
Digital download of full 40 tracks.
Bonus DVD
Coffee Table size book of never before seen photos from the 1974 tour.

This set is limited to 1000 copies, individually numbered, and housed in a custom laser-etched maple wood box. It is available exclusively through CSNY.
To enter the sweepstakes, all you need is an account on this website. If you don't already have one, click on the link labeled "register" at the bottom of this announcement or "LOG IN/JOIN" in the nav bar at the right. Then, enter a username and a valid e-mail address, and click on the "Create new account" button. A message will be automatically sent to the e-mail address you specified, which will include a link to activate the account.
The final step (and only step for those who already have an account) is to log in and leave a comment right here on this announcement—any comment will do, as long as it's not profane or spam. Then, when the sweepstakes closes, a lucky commenter will be chosen at random to receive the prize. So post a comment, and good luck!
For complete sweepstakes rules, click here.
[This Sweepstakes is now closed.]
<!- ------------------------------------>