Vinyl Reports: Real Life Record Shopping Returns!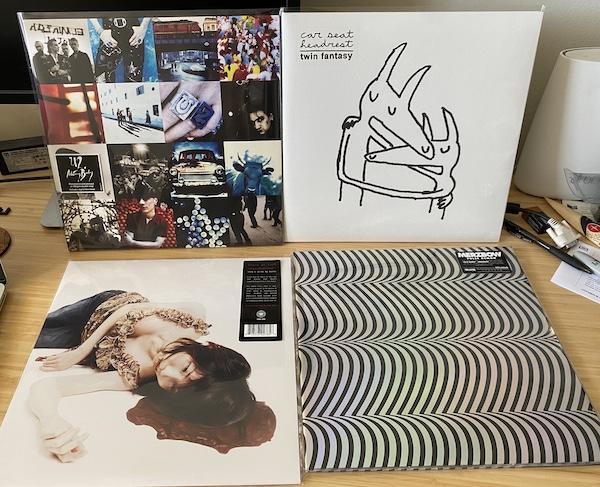 (Vinyl Reports is an AnalogPlanet feature aiming to create a definitive guide to vinyl LPs. Here, we talk about sound quality, LP packaging, music, and the overarching vinyl experience.)
As the world moves to reopen, record stores are slowly allowing customers back in. Here in Portland, OR, Music Millennium recently held a week of appointment-only personal shopping experiences (charitable donation necessary), then subsequently reopened with a 10 person limit and new safety measures. I shopped during the "be the only customer inside!" period and reviewed below are four recent acquisitions.
U2 - Achtung Baby
Island/UMC 00602557970098 180g 2LP
Produced by: Daniel Lanois, Brian Eno, and Steve Lillywhite
Engineered by: Flood, Robbie Adams, and Paul Barrett
Mixed by: Various album producers and engineers
Mastered by: Scott Sedillo and Chris Bellman at Bernie Grundman Mastering
Music: 10
Sound: 8
When Bono doesn't preach his "save the world for my ego!" philosophy, U2 can be great. Unfortunately, most of U2's discography is Bono preaching "save the world for my ego!", making rare their brilliant moments. 1991's Achtung Baby was that rare peak – after their 80s arena rock crashed into a wall, the band incorporated European industrial, electronic, and alternative rock influences. Bono's lyrics here, filled with religious imagery, convincingly portray him as a detached rock star, and are by far his best. The music is equally excellent, with production representative of the time but still fresh. The Edge's guitar playing, compared to his delay-heavy previous work, is far more expansive and textured, adding dimension to the record's diverse sonic palette. Achtung Baby is a masterpiece that, over the rest of U2's discography, scarily towers; nothing else they've made comes close to its innovative genius.
This 2018 reissue, remastered by Scott Sedillo and Chris Bellman from a hi-res digital transfer, spreads the album over two discs (the original crammed all 56 minutes onto a single LP). It's the first complete remaster of Achtung Baby, as for the 2011 reissue The Edge found Arnie Acosta's original mastering hard to improve. I can only compare this 2LP pressing to the original CD, but because many elements were directly recorded to DAT, the album's thin sound is baked in. Sedillo and Bellman's vinyl remaster is fuller than Acosta's original CD, with greater dynamics, transparency, and smoother extension. The mix doesn't have great imaging, but this 2018 edition's space and detail compensates for it. The 180g vinyl, pressed at GZ, is quiet and perfectly flat, although with the records' polylined sleeves and the printed inners, the thin capacity jacket is tight (I store the 2nd disc outside of the jacket). The photo resolution throughout the artwork is good, and the spot varnish on the front cover's "U2" rings is a nice touch. Further, the included download code provides a 44.1/16 WAV, rounding out a satisfying reissue of a classic.
Car Seat Headrest - Twin Fantasy [Face To Face]
Matador OLE-1092-1 150g 2LP (US pressing)
Produced by: Will Toledo
Engineered by: Adam Stilson
Mixed by: Will Toledo and Adam Stilson
Mastered by: Jason Ward at Chicago Mastering Service
Music: 9
Sound: 8
Beloved in many online music communities, Will Toledo (Car Seat Headrest)'s 2011 release Twin Fantasy is already widely considered an indie rock classic. Recorded following the dissolution of a same-sex relationship implied in the lyrics to have been abusive, Toledo's words are detailed and vivid, placing him among the best musical storytellers. As his stature and access to resources grew, Car Seat Headrest released 2018's Twin Fantasy [Face To Face], a r-erecording of the original LP. Whereas the 2011 version (now known as Twin Fantasy [Mirror To Mirror]) is a lofi solo recording, the 2018 version has cleaner but still unpolished production, updated lyrics, more expressive vocal performances, and a full band (that while creatively led by Toledo, records and performs as a unit). Both Mirror To Mirror and Face To Face versions are great, but the latter truly cements Twin Fantasy as one of the all-time great rock albums. (Due to space constraints here, I cannot detail the album's specifics, however words hardly do it justice anyway.)
The 2LP vinyl, cut by Jason Ward at Chicago Mastering Service and pressed at an anonymous US plant, sounds very good. While the recording is in loud moments often cluttered, quieter parts still have space, and the imaging of Toledo's voice is excellent. The tonal balance leans bright, but pleases, and the vinyl is well-pressed and generally quiet. I highly doubt that the EU pressing cut and pressed at Optimal (or the other North American version from GZ) is any better – the anonymous US plants are quite hit-or-miss, but the only issue I had here was disc 1's slight edge warp. Side D ends in a locked groove, and the uncoated gatefold jacket and printed inner sleeves are of high quality. Even though this isn't sonically a perfect recording, to any well-rounded record collection, the double vinyl is essential.
Boris - Boris At Last -Feedbacker-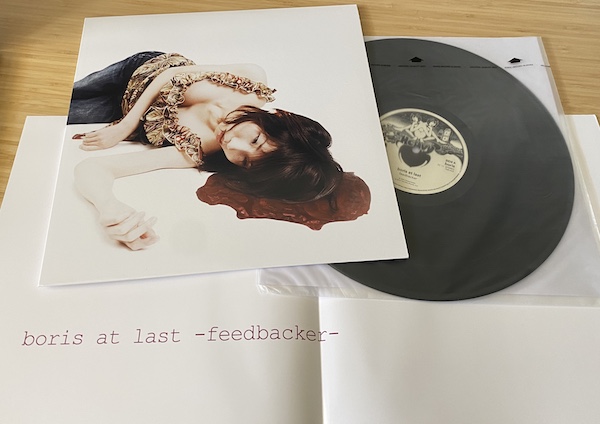 Third Man Records/Fangs Anal Satan TMR-633 LP
Produced by: Boris
Engineered by: Soichiro Nakamura
Mixed by: Soichiro Nakamura
Mastered by: Soichiro Nakamura (original master), Bill Skibbe at TMM (TMR reissue vinyl)
Music: 9
Sound: 8
Upon releasing 2019's Love & Evol, through Third Man Records, Japanese experimental metal trio Boris reissued early 2000s classics Akuma No Uta and Boris At Last -Feedbacker-. These mark the albums' first North American vinyl releases, and retail for a reasonable $20-25 each. I picked up the latter, and it doesn't at all disappoint. Released in 2003, Feedbacker is a continuous five-part, 44-minute drone metal/post-rock piece with a perfectly fitting title. "Part 1" slowly builds a 10-minute feedback drone, whereas "Part 2" opens into post-rock vastness with vocals (sung in Japanese – English translation on jacket), slowly introducing metal elements. Explosive drums, a guitar solo, and driving riffs open "Part 3," rising into "Part 4"'s (intentionally) audibly clipped noise rock and screeching feedback. The record's last few minutes ("Part 5") settle back to post-rock bliss before concluding. Boris At Last -Feedbacker- is a truly spectacular LP that is, within the band's vast catalog, a highlight.
The LP, cut by Bill Skibbe, is pressed on standard weight vinyl at TMP and comes with a 33x22" album art poster and tip-on jacket. The recording sounds decent, although it's not audiophile-minded and doesn't need to be. Given the circumstances, Skibbe's cut is good, although "Part 2"'s loud ending suffers from inner groove distortion (the first side is 25 minutes long). Regarding detail and space there's likely room for improvement, but Third Man's edition brings you most of the way "there." Considering original Japanese pressings' $100+ price, this affordable reissue does the job more than adequately and like the original has locked grooves on both sides. I don't know if Third Man is planning any more Boris reissues, but I'd love to see someone do first-ever vinyl pressings of Flood, Heavy Rocks 2002, and a repress of the Merzbow-accompanied Rock Dream triple LP live album. Speaking of Merzbow…
Merzbow - Pulse Demon
Relapse Records RR6937 2LP
Produced by: Masami Akita
Engineered by: Masami Akita
Mixed by: Masami Akita
Mastered by: James Plotkin
Music: 9
Sound: 8
Merzbow is a music critic's nightmare. The Japanese artist born Masami Akita (who as Merzbow's sole member for two decades is now Merzbow himself) has for 40 years released a steady output of mostly improvised noise music, amounting to at least 400 albums. Because his massive discography isn't entirely on official streaming services (I'd estimate that just over 10% is on Tidal, and 15-20% on Apple and Spotify), due to access and time there's no way to hear it all. Therefore, his work cannot be definitively contextualized within his discography, unless you sat through all of it. Upon turning 100, US citizens get presidential letters, but finishing Merzbow's never-ending discography is a bigger feat. I often wonder if Akita himself recognizes and distinguishes all of his albums (including over 100 projects under different aliases).
Undeniable, though, is that 1996's Pulse Demon is Merzbow's best known and arguably most divisive album. Released on US death metal label Relapse Records, it masterfully represents harsh noise. Newcomers are usually first greeted by Pulse Demon, and either love it or run away as fast as possible. It's understandably not for everyone, but comprehending Merzbow possibly ascends you to a higher plane of intelligence. Akita's harshest, loudest works are often considered his best, but detractors overlook their musicality.
Pulse Demon is brilliantly structured; its opener "Woodpecker No. 1" has no introduction, rather the noise immediately attacks. It tests listeners' ability to finish the 80-minute album, yet demonstrates all of the first half's musical themes. Although he rarely uses melody, Merzbow's recurring rhythms and pitch variation patterns invalidate the "just noise" argument – his work is music. The record's compositions all seamlessly flow together (except for this Relapse vinyl pressing's previously unreleased bonus track "Extract 1" placed between the last two main album tracks), and only those attentively listening will notice the change. "Ultra Marine Blues" is Pulse Demon's most accessible song, the rhythms there more overt than the rest of the LP. However, closing track "Worms Plastic Earthbound" is arguably the record's peak. Introduced by what sounds like an air conditioner hum, chaotic glitches and whooshes warp your mind for 25 minutes before the sudden end. All of Merzbow's best known works sound completely different, but Pulse Demon is a musical experience like no other, with no way to exactly prepare for or subsequently forget it.
Because of the album's extreme nature, it's hard to rate the sound quality. For this Relapse pressing (1500 black vinyl copies plus a few hundred on colored vinyl) James Plotkin remastered Pulse Demon from Akita's original DATs, with more dynamics and headroom than the original CD. I can't imagine an album like this sounding any better. The standard black vinyl double LP, cut and pressed at GZ, is flat and quiet (but can surface noise really overpower Merzbow?). Most special about the vinyl edition is its holographic gatefold jacket, expanding the iconic cover almost infinitely. Overall, the 2LP set (with a 44.1/16 download) is well done and highly recommended for the album's fans ("Merzfans," perhaps?).
(Malachi Lui is an AnalogPlanet contributing editor, music lover, record collector, and highly opinionated sneaker enthusiast. He's currently browsing Discogs for Fishmans records. Follow him on Twitter: @MalachiLui.)
<!- ------------------------------------>