Vinyl Reports: Yung Lean and Charli XCX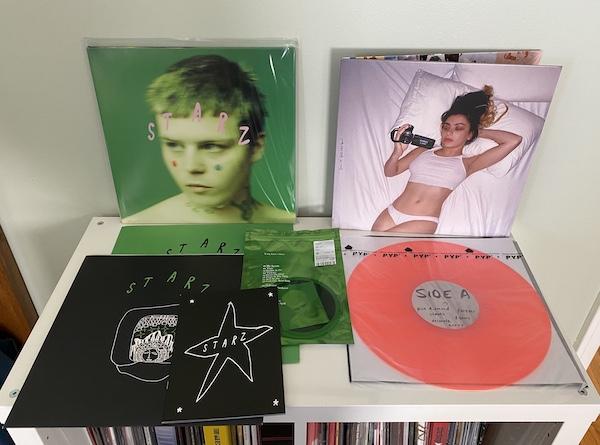 (Vinyl Reports is an AnalogPlanet feature aiming to create a definitive guide to vinyl LPs. Here, we talk about sound quality, LP packaging, music, and the overarching vinyl experience.)
Usually, Vinyl Reports features are massive extravaganzas with records new and old, detailing vinyl pressings of things mostly not previously reviewed here. This segment, however, only updates my thoughts on previously (digitally) reviewed new albums and their physical editions' quality.
Yung Lean - Starz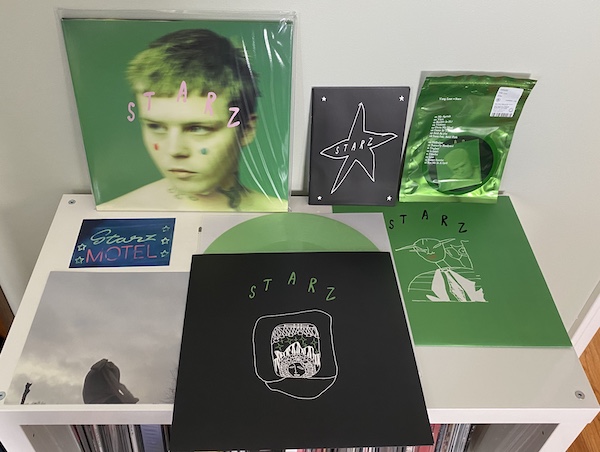 YEAR0001 YR0103LPX limited edition glow-in-the-dark 2x180g 45rpm LP (+ YR0103CD limited edition CD)
Produced by: Whitearmor (executive) and Yung Sherman
Engineered by: Unknown
Mixed by: Pelle Gunnerfeldt
Mastered by: Robin Schmidt at 24-96 Mastering (digital), Dave Turner at Curve Pusher (vinyl)
Music: 9
Sound: 7 (vinyl), 8 (CD)
Yung Lean in 2020, much like Lou Reed in the mid 70s, occupies a unique place in music culture. Seven years after Lean's viral hit "Ginseng Strip 2002," he's already highly influential, adored by a relatively small but devoted following, and releases whatever the fuck he wants. Cloud rap is now the "underground" phenomenon, and most new artists owe their careers to Jonatan Leandoer. Aside from the obvious, I can't name a more important current figure. Leandoer and the Sadboys crew in some aspects reinvented cloud rap, although they don't trap themselves inside it; Lean and Gud have the excellent punk side project Död Mark (I highly recommend the limited vinyl-only Live In Stockholm album), and the former as Jonatan Leandoer96 has successfully experimented in hypnagogic pop and Daniel Johnston-inspired indie rock. Starz, the new Whitearmor- and Yung Sherman-produced Yung Lean album, is his best work to date. Whereas his previous height, 2016's Warlord, was bombastic and cold, Starz retains the drugged-out vibe but in a warmer, more inviting tone. It emphasizes loneliness and the feeling of drug use and near-death experiences more than his earlier Yung Lean work. Whitearmor's executive production is among his best full-length efforts, with ambient electronic instrumentals projecting Yung Lean even further into the future. Sure, there are a few filler tracks, but songs like "Boylife in EU" and "Acid at 7/11" are among the greatest of all time, so it's barely worth mentioning. As mentioned in my original review, for anyone who remotely cares about music's evolution, Starz is an essential record.
\
In late June, physical copies went on sale through Lean's online store. There's a webstore exclusive limited edition glow-in-the-dark 2LP with extra inserts ($30), an exclusive limited CD in a printed silicone case ($25), standard green/black double vinyl ($26), and a standard jewel case CD ($12). All are still available, although the standard editions haven't widely dropped quite yet. I ordered the limited vinyl and CD variants, and after a couple warehouse delays they're finally here. The glow-in-the-dark 2LP is cut at 45rpm by Dave Turner at Curve Pusher and pressed on 180g vinyl in Sweden (I don't yet know if the standard 2LP is different). The track split, while perfectly even (four songs per side), is terrible and unfortunately highlights the (few) filler songs. The glow vinyl isn't as bad as you'd expect – there's a constant static-like hiss, but few pops or crackles (probably because of the louder 45rpm cut). The vinyl mastering, however, in my opinion strays too far from the digital. Whereas the 44.1/16 digital/CD is clean albeit sharp and spacious, the vinyl in comparison seems overly smooth and dried up. While the vocals are already upfront in the mix, on the LP they're completely boxed in the center with the production muddled. I actually prefer the CD for this; it still has all the general problems of CDs, but sounds more like how this album should sound. (At publication time, YEAR0001 hasn't responded to requests for comment.) To an extent, the vinyl sounds good, but not right. It's also worth noting that the vinyl has Playboi Carti's "Yayo" verse, removed for legal reasons from CD and digital editions (I assume the vinyl was cut before the issues arose).
Despite the disappointing LP sound quality, the packaging is excellent. The discs are in thick printed inner sleeves, with an A6 postcard (taken from the "Outta My Head" video), a double-sided A2 poster (photo on one side, lyrics on the other), and a 36-page A5 booklet with art and lyrics. The set is housed in a direct-to-board gatefold jacket which itself comes in a printed PVC outer sleeve. At $30, it's a no-brainer for the packaging alone (for context, fellow YEAR0001 artist Ecco2k's quickly sold-out first edition E CDs cost $34 each, though in my opinion still worth it). The glow-in-the-dark vinyl needs a few minutes of steady light exposure to glow, but even then it's faint. The limited edition CD (pressed at Optimal, not that CD pressing matters much) comes in a round printed silicone protector, placed with a portrait sticker inside a printed zip-locked bag. My advice? Get both the limited edition 2LP and CD for their respective virtues. We'll update this if the standard vinyl is sonically different/better.
Charli XCX - How I'm Feeling Now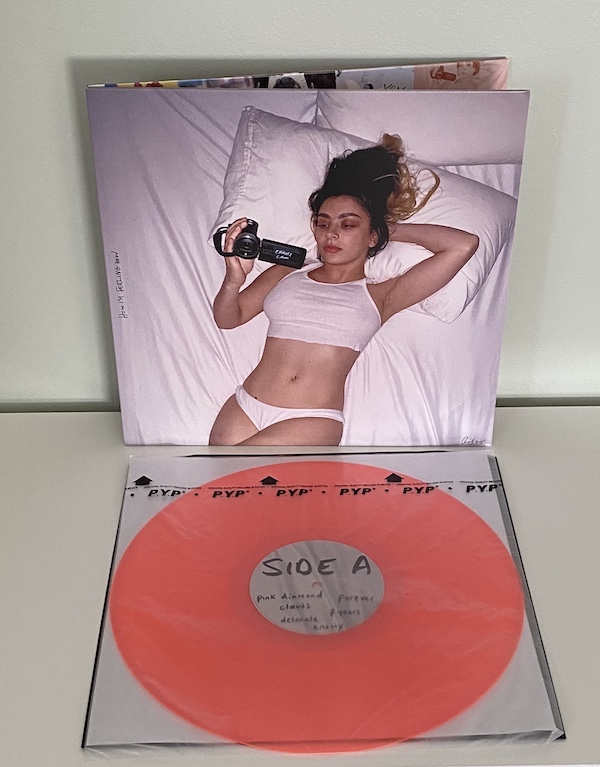 Asylum UK 0190295209285 orange vinyl LP
Produced by: A.G. Cook (exec), BJ Burton (exec), Charli XCX (exec), Dylan Brady, Palmistry, and Danny L Harle
Engineered by: See above
Mixed by: Geoff Swan and Niko Battistini
Mastered by: Stuart Hawkes at Metropolis (vinyl and digital)
Music: 8
Sound: 7
(Yes, I already reviewed this. Yes, I now like the album more. And yes, you will deal with it. Now, on with the review.) In my original review of Charli XCX's quarantine record How I'm Feeling Now, I said, "While representative of the moment, [HIFN] likely won't age well." Now that we have a better idea of COVID-19's historical impact, this 37-minute album made socially distanced in six weeks is an interesting time capsule. The vibe of the pandemic (along with everything else) has drastically changed since the album's May digital release, from trying to make the most of it to simply giving up. While relistening to Charli's discography, How I'm Feeling Now finally clicked. Billed as "[2017 mixtape] Pop 2's frantic emo younger sister," it's not on the same (all-time great) level of that tape or last year's self-titled album, but HIFN is still unique. It doesn't break any new musical ground, but its creation was an interesting experiment. As for the actual songs themselves, my initial review remains relevant (except "enemy" is more artistically effective than "forever"); it's better as a full record than a set of individual songs. It's not an essential LP, but a very enjoyable 2020 artifact.
If you've bought a new Charli XCX vinyl within the last four years, this HIFN vinyl is exactly what you'd expect: digital mastering and cutting by Stuart Hawkes at Metropolis, and standard weight (140g) colored vinyl pressing at Optimal. This time, the mostly flat and quiet vinyl is neon orange/pink, packaged in a photos- and fan art-lined gatefold jacket. The sound here is equivalent to the 44.1/24 files; this mix doesn't translate to 33rpm vinyl as well as the 45rpm self-titled LP, and gets fatiguingly bright and overcompressed. If the mixing and mastering isn't to your taste, with the officially released master quality stems you can remix and master the entire album yourself. "claws" on the vinyl barely has dynamics, and "enemy"'s ending is too blown out (light inner groove distortion worsens it). Worst is "7 years," which to my ears seems like a flawed mix they attempted to "fix" through extreme mastering compression. Overall, How I'm Feeling Now is the worst sounding Charli vinyl I own (all of which I've reviewed here), which is quite disappointing for such a solid album.
(Malachi Lui is an AnalogPlanet contributing editor, music lover, record collector, and highly opinionated sneaker enthusiast. Despite endlessly complaining about their price hike, for reasons mentioned in an upcoming review he found himself renewing his VMP subscription. Follow Malachi on Twitter @MalachiLui and Instagram @malachi__lui.)
<!- ------------------------------------>