Vinyl Reports: John Lennon & Yoko Ono, Les Rallizes Dénudés, Mariah, & BE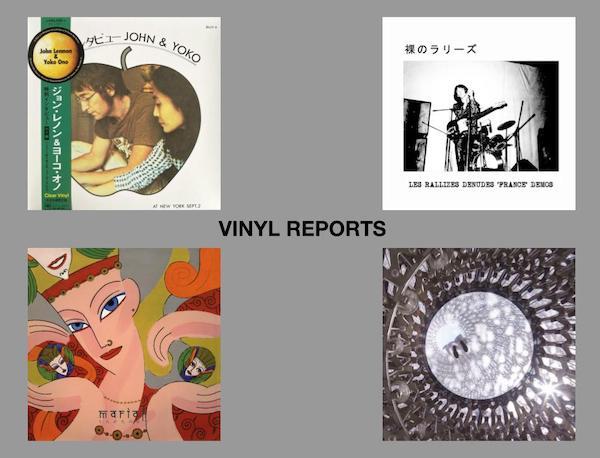 (Vinyl Reports is an AnalogPlanet feature aiming to create a definitive guide to vinyl LPs. Here, we talk about sound quality, LP packaging, music, and the overarching vinyl experience.)
John Lennon & Yoko Ono - Special Interview (September 2, 1971 in New York)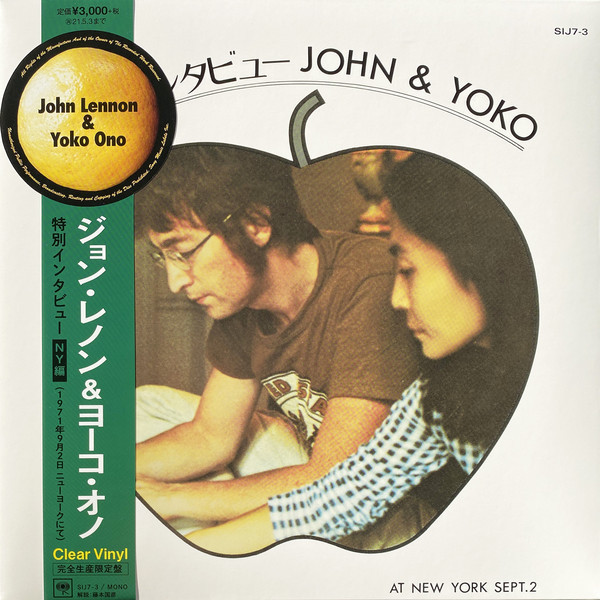 Sony Music Labels [Japan]/Secretly Canadian SIJ7-3/SC423 limited edition clear vinyl mono 10"
Produced by: N/A
Engineered by: N/A
Mixed by: N/A
Mastered by: Ryan Smith at Sterling Sound
Content: N/A
Sound: 6
While flipping through bins at the Paved Paradise Label Expo's Asheville, NC stop, I found an unfamiliar John Lennon and Yoko Ono release. A clear vinyl 10" with Japanese type and a Sony Japan catalog number, a quick Discogs search said it was a September 2, 1971 interview captured in New York City. The record, reissued by Sony Japan in conjunction with Secretly Canadian (one of the labels partaking in Paved Paradise) and Sean Ono Lennon's Chimera Music, was originally a limited Japanese 33rpm 7" (free to the first 1,000 people who submitted a card enclosed with Imagine). Exclusive to the DOUBLE FANTASY - John & Yoko Sony Music Roppongi Museum photo exhibit, this clear vinyl 10" reissue packaged in a Japanese-printed gatefold jacket now commands $90+ on Discogs (there are no current sales listings for the original 7").
Taped a week before John released his "very relaxed" Imagine ("a more general album that more people can relate to [compared to John Lennon/Plastic Ono Band]") and a couple more weeks before Yoko's Fly dropped, Special Interview (September 2, 1971 in New York) shows a Japanese interviewer mostly talking to Lennon, with Ono translating and seemingly explaining Fly in Japanese. Here are this interview's insights:
On George Harrison: "George plays quite a few guitar solos on the album [...] George and I both think that the best guitar solo he's ever done is on the record, 'How Do You Sleep?'. And George thinks 'How?' is the best song he's ever heard."
On Paul McCartney starting Wings: "I think that's very good, y'know, 'cause it's about time."
On Bob Dylan: "Well, he's a very shy person, and so we always communicate very quietly."
On his appreciation for Japanese culture: "Yes, I love Japan. And that's why we're making [a] Japanese room in our house and [a] Japanese garden. Even George is gonna have a Japanese garden."
On Yoko's Fly: "Yoko's album has the best kind of all kinds of music, from rock 'n roll to ballad to avant-garde… even Indian music. It has the best of each kind of music on the album." (Later in the interview, Yoko talks about her single "Mrs. Lennon," but it's in Japanese and not transcribed.)
It's highly unlikely that whoever taped this interview thought we'd hear it 50 years later. This vinyl reissue, cut by Ryan Smith at Sterling Sound and pressed at GZ, for the material is adequate. The mono recording isn't hi-fi, and GZ's clear vinyl pressing has some surface noise (the disc is also dish-warped a bit). As nice as the packaging is, for this John and Yoko interview I wouldn't recommend paying current market prices. Hopefully it gets a standard Western edition soon, though if not, I doubt anyone will get sleepless nights over an expensive-to-obtain interview record. (For what it's worth, I got my copy minus the obi for $15, and it originally retailed for ¥3,000.)
Les Rallizes Dénudés - 'France' Demos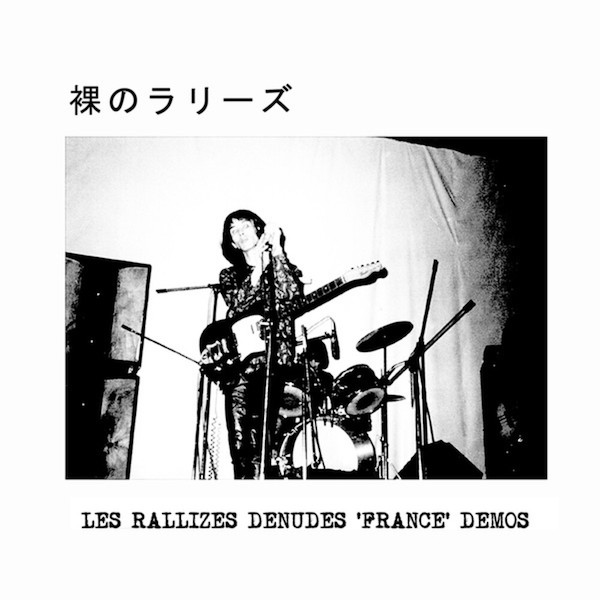 Take It Acid Is Records LSD69009 LP
Produced by: N/A
Engineered by: N/A
Mixed by: N/A
Mastered by: Uncredited
Music: 8
Sound: 5
The story of Les Rallizes Dénudés fascinates but must be told cautiously; there are more myths about the elusive Japanese band than concrete facts. What we do know is that in the late 60s, the politically far-left and musically groundbreaking group formed at Doshisha University in Kyoto. While Californian folk-rock and British Invasion material influenced other post-war Japanese musicians, Les Rallizes Dénudés veered towards more daring acts like the Velvet Underground. The group's mysterious frontman Takashi Mizutani is a noted Francophile, though "Rallizes" is a made-up word; the band name translates to "The Naked Rallizes," whatever that means (Wikipedia suggests that "rallizes" might be a corruption of "valise," or suitcase). In 1970, their early bass player Moriaki Wakabayashi participated in the notorious Yodo-go incident, when members of the Japanese Communist League Red Army Faction defected to North Korea by hijacking a plane with samurai swords. According to legend, Wakabayashi's wanted status frightened Mizutani, who might've thought the government would soon hunt him down (it's also plausible that he just thrives off of mystique). With a repertoire of roughly a dozen original songs, over the years Les Rallizes Dénudés constantly altered lineups, with Mizutani the only constant member. The group dissolved in 1996; rumor is that the enigmatic frontman engaged in a bitter fight with quasi-protege-turned-archnemesis Keiji Haino. Takashi Mizutani hasn't made a verifiable public appearance since 1997, when he performed with saxophonist Arthur Doyle and drummer Saba Toyozumi. Mizutani's current whereabouts and health remain highly speculated. (Some say that Les Rallizes Dénudés is a "fake" band, though information from reliable sources such as Makoto Kubota disprove that theory.) To this day, Les Rallizes Dénudés' psychedelic noise rock is often imitated but never matched, an utterly magical sound contrasting dense experimentalism with melodic accessibility to entrance listeners like little else.
The Rallizes discography is a mess; there are countless bootlegs of varying quality, including some so frequently reissued that they might as well be official. Mizutani supposedly signed off on the Univive and Rivista Inc. releases, though there's no way to certainly know. They entered the studio a few times, though never released a proper studio record. Their only work released before 1991 is one side of the 1973 split live double album Oz Days Live. Despite their recent popularity in online music communities, the band's underground nature makes their recordings feel like secrets waiting to be unearthed. With rough sound quality that suggests they survived an apocalypse, these records are relics of a tight subculture that to replicate in the internet age seems unfathomable.
'France' Demos, supposedly recorded in Tokyo in 1983, is clearly a bootleg. With only three songs, it's not the greatest entry into their vast (mostly unofficial) catalog, but still possesses its own virtues. As usual, piercing shrieks of guitar feedback and distant-sounding drums complement Mizutani's unintelligible (forget the language barrier—distortion obscures his voice) vocals. During intense passages, the bass is the only distinctly audible, grounding element. The six-minute "Strung Out Deeper Than The Night" is relatively simple, with more conventional guitar solos and less structural abstraction. 'France' Demos' rendition of "The Last One," a Rallizes standard, exceeds 20 minutes, with beautifully abrasive sheets of improvised guitar feedback transporting listeners into an alternate space. The static, spellbinding spaciness of "An Awful Eternity (Cruel Love)" fills up this LP's second side, with carefully considered, repetitive guitar lines slightly predictive of math rock. For those new to Les Rallizes Dénudés, 'France' Demos is too short to be a starting point—the highly acclaimed '77 Live is the best overview of their sound and appeal. This record has its own beauty, but it's best appreciated with some background context.
There are at least a couple vinyl bootlegs of 'France' Demos, including this recent pressing from the Italian Take It Acid Is label. Supposedly limited to 500 copies, this black vinyl edition appears to be cut, plated, and pressed by the usually mediocre (more information in the next review) Takt Direct or one of their associated plants. Sonically, there's not much to lose here, as the recording is already heavily compressed and lo-fi. The somewhat flimsy jacket is minimally designed, but for the less than $20 cost is acceptable (this quality is probably standard for Rallizes bootlegs).
Mariah - Utakata No Hibi
Everland Psych 009 45rpm 2LP (standard black vinyl)
Produced by: Mariah
Engineered by: Seigen Ono and Toshihiko Takahashi
Mixed by: Seigan Ono at Rockwell Studio and Nippon Columbia Studios
Mastered by: Soundtempel Studios, Freilassing, Germany
Music: 7
Sound: 7
While based in and classified as jazz fusion, by the time of their 1983 fifth and final album Utakata no Hibi ("Fugitive Days"), Mariah's sound was anything but. The group's leader, prolific multi-instrumentalist Yasuaki Shimizu, absorbed Middle Eastern and East Asian influences as well as Western new wave sounds, weaving it all into a timeless sonic fabric. That era's booming Japanese economy allowed a major label like Nippon Columbia to fund oddball art pop records; Utakata no Hibi didn't commercially succeed upon release, but later found its fan base among internet-obsessed record collectors. With guest vocalist Julie Fowell singing in Armenian and Japanese, Mariah creates otherworldly, unique soundscapes. Vivid layers of electronic percussion appear throughout the album, matching the saxophone cacophony of "Hana Ga Saitara," the wonky synths of "Fujiyu Na Nezumi (Three Blind Mice)," and album highlight "Shinzo No Tobira"'s dreaminess. Utakata no Hibi's style, while singular, can sometimes tire, though it's still a classic worthy of time and attention.
The second Western reissue in five years, Dutch label Everland Psych's Utakata no Hibi reissue is well-packaged but sonically disappointing. Keeping to the $200-ish original pressing's double 45rpm 12" format, Everland's 2020 pressing is newly remastered "from the original masters" at Soundtempel Studios and plated and pressed at a Takt Direct plant. I can't compare to Palto Flats' 2015 2x45 US reissue (mastered at the more reliable Dubplates & Mastering and pressed at RTI), but even compared to the CD-resolution digital stream, this Everland pressing sounds dry and unexciting. Transients are blurred, and imaging depth is severely compromised. (With records from Takt Direct and/or their associated pressing plants, this is a frequent issue. Everland says that Yasuaki Shimizu himself supervised and approved this remaster, though they don't specify whether he approved digital files or vinyl test pressings.) What Everland did focus on is this reissue's packaging: a "UV-glossy laminated" direct-to-board gatefold jacket, real obi strip, 60x60cm album cover poster, translated English lyrics insert, and Japanese "Katta" (round-bottom rice paper-like) inner sleeves. If you regularly read this site, you probably don't buy records as mere display pieces. This well-recorded album is impossible to completely ruin, but even the digital stream at least matches this Everland vinyl pressing. Unless you have unlimited record-buying funds, avoid this Utakata no Hibi reissue.
BE - ONE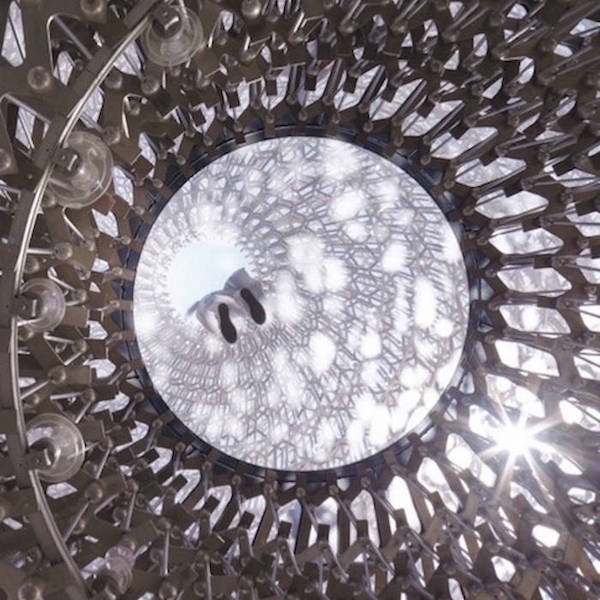 Rivertones RIVERTONES4LP white vinyl 180g LP
Produced by: T. Foster and K. Bales
Engineered by: T. Foster and K. Bales
Mixed by: K. Bales, W. Buttress, and T. Foster
Mastered by: "JP" (vinyl cut by "KR" at Optimal Media)
Music: 7
Sound: 8
Did you know that Spiritualized worked on an ambient drone record with bees? Until randomly finding a lightly used copy of BE's ONE, neither did I. According to this LP's liner notes, the 2015 Milan Expo's UK Pavilion, designed by English artist Wolfgang Buttress, "highlights the plight of the honeybee focusing attention on the importance of pollination." "Visitors meander through an orchard, discover a wildflower meadow and enter 'the Hive,' a sculpture that glows and hums—simulating conditions in a real beehive." To enhance the experience, Buttress conceived a continuous, ever-changing soundscape—"a dialogue between bee and human." The soundscape "would be activated by the live-streamed [to the pavilion] signals from bees, [triggering] noise gates at particular thresholds, activating harmonious stems from a pre-recorded library." With musicians including producer/Killing Joke bassist Youth, Icelandic group Amiina, and Spiritualized members Jason Pierce, John Coxon, Doggen Foster, and Kevin Bales, the collective BE improvised the pre-recorded stems to accompany the bees, with other parts later overdubbed on fleshed-out recordings. ONE, the soundscape from the Expo, is composed of four droning ambient pieces. It's not groundbreaking by any means, but the nuanced nature textures along with the occasional overt melodic embellishments make ONE a calming, rewarding listen.
The 180g white vinyl cut and pressed at Optimal isn't spectacular but it's still quite good. The soundscapes are nicely rendered, and the record is generally quiet and flat. Rounding out the affordable package is a foldover gatefold jacket and printed inner sleeve providing useful photos and liner notes. ONE isn't essential, but if you stumble upon a copy, it's an enjoyable and interesting record to have.
(Malachi Lui is an AnalogPlanet contributing editor, music obsessive, avid record collector, and art enthusiast. Follow him on Twitter: @MalachiLui and Instagram: @malachi__lui)
<!- ------------------------------------>