AXPONA 2014 Highlights High Performance Audio Vitality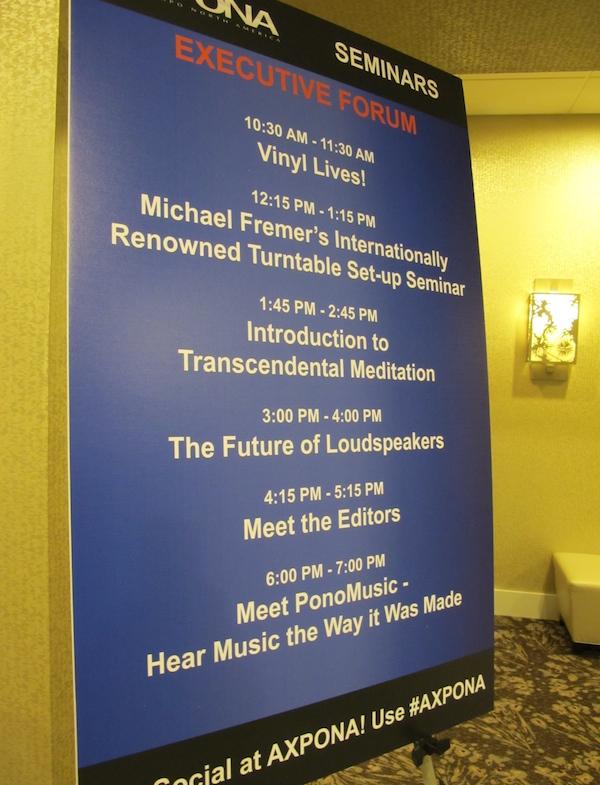 Friday at AXPONA appeared to be well attended. The event at the Westin O'Hare attracted a healthy demographic mix and excellent area dealer support —something last year's New York show failed to get, with most dealers preferring a parasitic show relationship.
The three upper show floor corridors (floors 3,4,12) were crowded throughout the day as were the rooms in which I managed to enter.
Friday was a busy day for me, with three seminars taking up almost half of the day so i was not able to see as much of the show as I'd hoped.
The opening 10:30AM seminar I ran "Vinyl Lives" was well attended. The panelists were Matt Earley, of Cleveland's Gotta Groove pressing plant, Chicago Mastering engineer (and Shellac band member) Bob Weston, Music Direct's Josh Bizar, Channel D's Rob Robinson and QRP's (and Acoustic Sounds and Analogue Productions) Chad Kassem.
The discussion was lively and centered on the problems facing people working throughout the vinyl production chain.
In the audience was RTI's Don MacInnis and I later found out the CEO of United Record Pressing, which I characterized as "one of the world's worst", though I also said that the Blue Notes they'd recently pressed were very good, proving that the plant was capable of good work. Did I regret what I said? Was I embarrassed? Hell no!
I have to go now to Saturday's turntable set-up seminar so I have to cut this short. Will post more ASAP.
<!- ------------------------------------>