VPI Launches Headphone Amp and MM Phono Preamp Equipped Nomad at AXPONA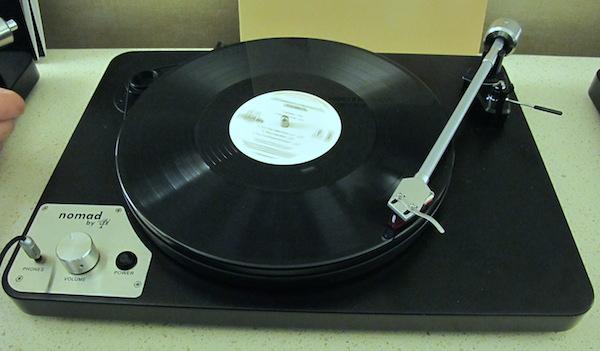 VPI's new $995 Nomad made its audio show debut at AXPONA 2014. The 'table features a built-in headphone amplifier and MM phono preamplifier as a well as a new gimbal bearing tone arm. The price also includes an Ortofon Red MM cartridge.
Plug a set of headphones into the minijack, set the volume to an ear-splitting level should you like (and if you're foolish enough) and your neighbors, dorm roommate or family won't hear a thing—unless the 'phones are the open air variety!
The Nomad also features a set of line level RCA jacks so the 'table can be plugged in to an integrated amplifiers's Home Theater Receiver's aux input.
Both the headphone amp and phono preamp, like everything else in the Nomad (other than the cartridge) is made in America.
<!- ------------------------------------>
| | | | | | | | | | | |
| --- | --- | --- | --- | --- | --- | --- | --- | --- | --- | --- |
| | Equipment Reviews | | The Gruvy Awards | | Blogs | Columns | | Show Reports | | News |