Best Mono "Pet Sounds"?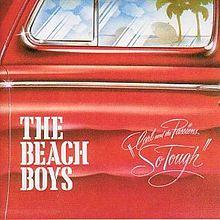 The stereo mix of
Pet Sounds
issued on SACD by Mobile Fidelity and on vinyl by Capitol a few years ago is interesting and was well done, but Brian mixed it and intended it to be listened to in mono, which is how it was originally released back in 1966.
Finding a clean, quiet original isn't easy and the prices for sealed originals are up there well into triple and even four digits. But Capitol's vinyl back then wasn't exceptional so I'd rather have a play graded one than take a chance on a "sealed" copy—as if shrink wrapping machines aren't easily employed on opened copies!
However, back in 1972, Warner Brothers released So Tough(2MS 2083) by Carl and the Passions on The Beach Boys' Brother Records. It was the Beach Boys' eighteenth studio album. The group was minus Brian for most of the sessions and included South Africans Blondie Chaplin and Ricky Fataar. It didn't chart well and was poorly received by the rock press. It was recorded in "ambient stereo" like Sunflower, the first Beach Boys album on Brother Records. Play either back through a surround sound system set to Dolby Pro Logic and you'll have a good time!
However, Warner Brothers decided to issue it as a double LP set, with the second LP being a mono version of Pet Sounds! For my money, it's the best Pet Sounds. It was mastered at Artisan in Los Angeles and while the 1995 DCC Compact Classics version cut by Kevin Gray and Steve Hoffman and pressed on 180g RTI vinyl is very good, I think the version accompanying So Tough cut back in 1972 sounds more transparent and wide open than the one done when the tape was twenty three years older.
Copies of the twofer go for well under $50!
<!- ------------------------------------>