Decca/London Records Myths Exploded!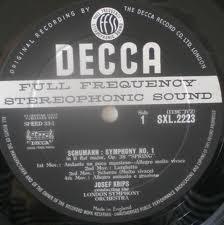 It's time to put to bed a long standing record myth: that UK Decca and UK-pressed London records are different pressings, even if they have the same matrix numbers, mother numbers and stamper numbers. This myth has persisted for a very long time, fed by people who claim to hear differences between such records even when the information in the lead-out groove area is identical.
Rather than asking the people involved in making these records, the myth-makers prefer to tell you what they hear when making such comparisons even though we all know that pressing variations produced variable sonics.
With the help of an individual who runs a website dedicated to The Rolling Stones vinyl catalogue I was able to get the facts directly from one of Decca's still living legendary mastering engineers, Mr. George Bettyes.
Mr. Bettyes writes this about the Decca/London "controversy":
"1- If the disc has the Decca engraved matrix number and the cutting engineers letter whatever label or catalogue number used they are all the same."
In other words Londons and Deccas are IDENTICAL PRESSINGS. Just the labels have been changed to confuse the gullible.
But even more importantly, or at least as importantly Mr. Bettyes writes:
2-All recording company's use the RIAA CURVE to cut records. this is the industry standard and is used all over the world and this applies to whatever the speed of the record is or the contents of the record."
For your information... the letters FFSS is a logo registered by Decca and it stands for FULL FREQUENCY STEREO SOUND. Also the letters FFRR is also a registered logo and it stands for FULL FREQUENCY RANGE RECORDING. So the answer to (your) question is: FFSS is a logo not a recording curve. Also the RIAA disc playback curve is the reverse of the RIAA cutting curve".
So you see folks? THERE IS NO SUCH THING AS THE "FFSS Equalization curve"!!!!!!!!!!!!! So whatever curve some phono preamp manufacturers are using and calling the "FFSS EQ curve" is, like sonic differences between Decca and London UK pressed records, a figment of their imagination!
P.S.: I am attempting to get corroboration from the only other original Decca mastering engineer still standing, Mr. Tony Hawkins.
<!- ------------------------------------>