Atomic Audio Labs Wins Analogplanet's "RMAF Extravagant Performance Enhancement Claims Award"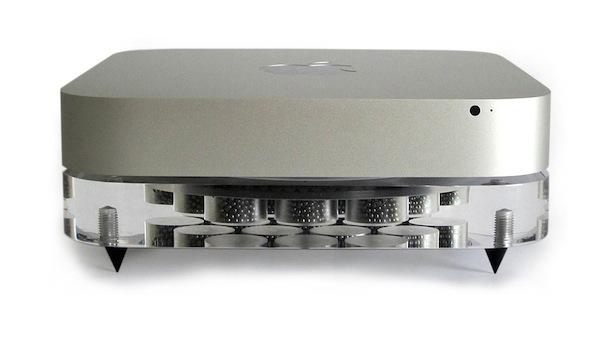 Atomic Audio Labs wins Analogplanet's "RMAF Extravagant Performance Enhancement Claims Award" for the startling number of benefits said to derive simply by resting a Mac Mini on one of the company's' Mac Mini Platforms.
The platform doesn't merely decouple. Rather it is tuned to the Mac Mini's exact resonant frequency so it actually cancels out internal resonances.
Rather than wasting your time explaining why identical resonances aren't additive, the Mac Mini Platform maker produces a list of the platform's impressive claimed benefits:
Reduced listener fatigue from better harmonic coherency
Greater definition with more organic tone, texture and timbre
Increased articulation with more micro-detail and micro-dynamics
A deeper and wider soundstage with increased separation and air
Better musical flow with more natural leading edge and sustain

All, just by placing your Mac Mini on the Atomic Audio Labs Mac Mini platform.
This incredible performance results from the Mac Mini Platform's remarkable engineering, the highlights of which include its perfect shape for any 2010 and newer Mac Mini, its having been precision machined from a 1" thick slab of clear acryllc— the very same anti-resonant polymer used in many high-end turntables!— and its set of round acrylic "pockets", each one filled with a "precisely calibrated amount of lead".
Three adjustable spiked feet decouple the platform from the surface. Spikes that "decouple" instead of couple might be the most impressive of all of the remarkable engineering achievements that characterize this product, winner of this RMAF's "Extravagant Performance Enhancement Claims Award!"
<!- ------------------------------------>