VPI Introduces Production Version of Direct Drive Turntable at RMAF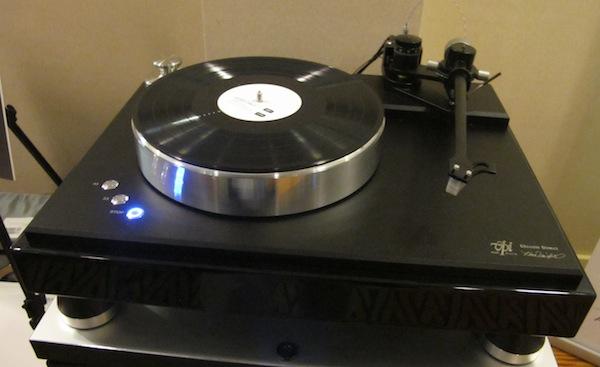 VPI introduced the production version of its new direct drive turntable. It features a three phase AC induction motor with computer controlled platter speed. The platter of aluminum weighs twenty two pounds. Speed accuracy is claimed to be 01% or "5 sigma" (a standard deviation statistical term) at both 33 1/3 and 45rpm.
The proprietary non-cogging motor system uses the platter as rotor and a printed circuit board stator. The plinth consists of a 5/8" machined aluminum plate bonded to two inches of MDF.
An internationally approved external power supply removes line noise generating components from within the turntable (not sure what that means but it was in the fact sheet). Does VPI mean it removes line noise generating components from reaching the motor? We'll find out and clarify. And we'll find out the price too. It was not on the one sheet.
<!- ------------------------------------>
| | | | | | | | | | | |
| --- | --- | --- | --- | --- | --- | --- | --- | --- | --- | --- |
| | Equipment Reviews | | The Gruvy Awards | | Blogs | Columns | | Show Reports | | News |