Jadis Debuts New Turntable at "CES 2104"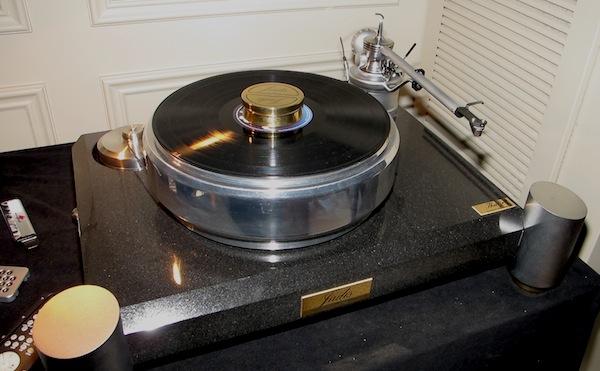 Okay it was a typo but we like kicking people when they are down, so we're using the press release date. Obviously importer Bluebird Music meant 2014. French electronics manufacturer Jadis introduced a new granite plinth-based Thalie turntable. The design is about mass and more mass combined with high-precision machining.
While granite is a very rigid, high mass material, it also has a relatively high resonant frequency, which he trust the designer has taken care to damp.
The 'table weighs 176 pounds and has only four rotating parts: the motor, pulley, tray and axis (the later two are their lingo for 'bearing').
The price, including a unipivot tonearm is $59,900. The only sticking point is that the 'table shown plays at 33 1/3 only. Fortunately, the final production model will play both 33 1/3 and 45rpm.
<!- ------------------------------------>
| | | | | | | | | | | |
| --- | --- | --- | --- | --- | --- | --- | --- | --- | --- | --- |
| | Equipment Reviews | | The Gruvy Awards | | Blogs | Columns | | Show Reports | | News |