Pear Audio Blue Turntables Have Familiar-Looking Design Elements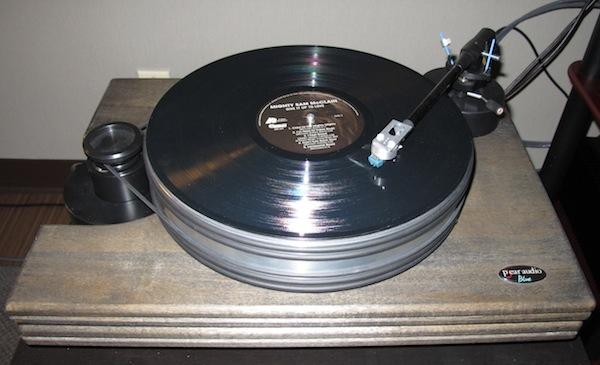 Seeing these Pear Audio Blue turntables in the Audio Skies room produced both surprise and familiarity. Surprise because it was a three-turntable line I'd neither seen nor heard of and familiarity because certain design elements looked like they had been lifted from the late Tom Fletcher of Nottingham Analogue fame.
Turns out, according to the importer Michael Vamos, that before passing away, Mr. Fletcher had teamed with Mr. Peter Mezek to design, build and and market the made-in-Slovenia Pear Blue line.
Pictured is the Kid Thomas, which costs $5995. The Cornet 2 arm ($2195), which also looks familiar and is also a Fletcher design, is better finished than the Nottingham Space arm I remember. The less expensive Cornet 1 arm costs $1595. An optional turntable power supply is costly at $1995, but as long as you can audition before buying, why not? Power supply upgrades usually produce noticeable sonic benefits. The Tracer MM cartridge seen in the photo costs $995.
The other two Pear Blue 'tables are the $4495 Kid Punch, which features the same suspended double-layer plinth as the bigger 'table and the single layer plinth $2850 Kid Howard. These latter two 'tables have smaller aluminum platters, among other differences.
Like the Nottinghams, Pear 'tables feature low torque motors that are always on and vibrating until you give the platter a nudge to get them turning. At least one of these deserves a review. Pear Audio Blue also showed a $1995 tubed MM phono preamplifier.
Also interesting to look at and hear was the Larsen speaker line from Sweden, designed for against-the-wall placement. Designer John Larsen worked for years with the late Stig Carlsson, who patented the ideas used in the new speakers. Mr. Carlsson designed speakers for Sonab in the '60s. For some of you that name will be a blast from the past! Both Roy Allison and Peter Snell worked with similar concepts in some of their designs.
The sound in this room was exceptionally "musical" (hate the term but in the context of a hi-fi show it's useful), the gear "room friendly" and the prices reasonable. I was impressed!
<!- ------------------------------------>