The Records You Didn't Know You Needed---#6: Tubby Hayes The Fontana Albums (1961-1969) Eleven LP Box Set Part 4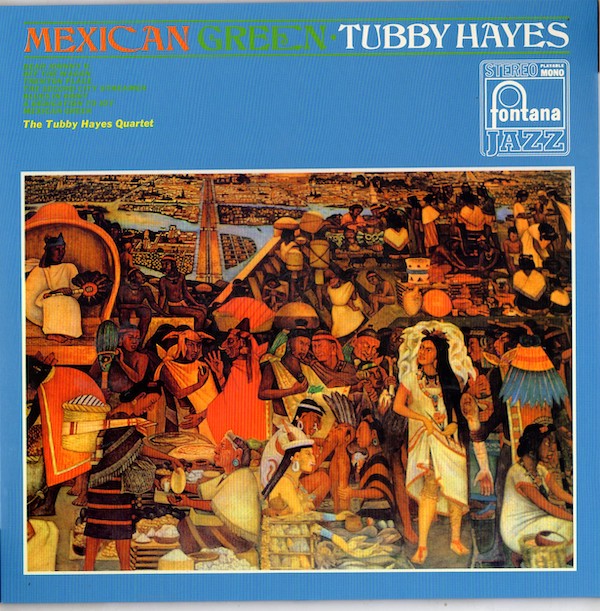 Mexican Green (recorded 1967 released 1968)
Mexican Green, Hayes' first small group recording in five years and the last jazz album he released, is regarded by many as his masterpiece. It shows him playing Free Music in his own way, aided by a young trio not comprised of bebop veterans. Mick Pyne (piano), Ron Mathewson (bass), and Tony Levin (drums) have the free, intense, yet loose rhythmic feel of Miles Davis' rhythm section of the time. Levin's polyrhythmic, swinging, continually surprising and inventive drumming is a revelation. He pushes Tubby harder than any drummer had before on records, and his continual shifting rhythms and textures inspire Tubby to the most intense playing of his career. Levin could have been a big name on the international jazz scene but apparently family business commitments limited his touring and career opportunities.
"Dear Johnny B.", the album's opening tune, is a mixture of modes and chord changes, a form that Tubby favored in his compositions. The quartet, playing with great fire, shows its total mastery of free bop. Tubby leads the way in one of his greatest solos displaying a new, harder, more powerful, wailing sound, playing the full range of the horn. Levin plays behind him with so much exultant intensity that in a few places you can hear Tubby just getting swept up and playing with atypical emotional abandon. It's one of Hayes' greatest recordings. "Second City Steamer", a piece dedicated to Levin, is a fast up tempo number that goes through a variety of rhythms—double time feel, three feel and eight note feel. While the bass holds down the form, Tubby and Levin play an amazing tenor/drums duet. "Mexican Green" is the "free" piece and is almost fourteen minutes long. It starts with an out of tempo heraldic intro by Tubby, sounding a lot like Albert Ayler, then a drum solo, before we hear the very fast, rather odd and simple, folkish theme. The rest of the piece is solos by the band members followed by free interludes before playing the theme again at the end. Pyne and Hayes' solos are based on scales or predetermined keys, but still sound free. Tubby's playing in the completely improvised sections, displays his total command of the techniques of free jazz sax—cries well above the normal range of the horn, honking sounds well below, intense shrieking, that "shimmering notes" sound that Coltrane used frequently; he has mastered it all. The piece journeys through different moods and types of music—bits of bebop, swing, blues, funk, Herbie Hancock style piano—all are heard here, as well as Coltrane/Ayler free playing. During the last free section, Hayes enters with a simple crying, wailing melody accompanied by Levin's pounding drums. It's a unique and beautiful moment in his music that makes one wish he had been willing to fully commit to free music. Mexican Green is a magnificent album, a landmark in British Modern Jazz and the last great expression of the music of Tubby Hayes.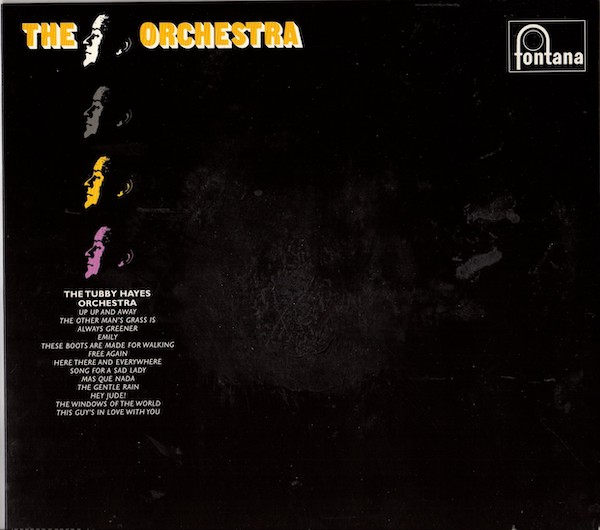 The Orchestra (recorded 1969, released 1970)
Hayes remained the most popular Modern Jazz player in Britain but as the 60s progressed and young people turned away from jazz to rock music, gigs became harder to find for Hayes and by the end of the decade, once always working and for a jazz musician prosperous, he found himself scuffling. Hayes remained on the Fontana label but he became an afterthought. Most of his records were deleted and his sales plummeted.
In 1968, Hayes was busted for heroin possession. His personal and professional lives were in disarray. He successfully pitched to Fontana the idea of making commercial and quartet albums. The Orchestra was the commercial album. The tunes are, except for one Hayes original, covers of pop hits and some Brazilian tunes. "Up, Up and Away", "These Boots Are Made For Walking", "Hey Jude", "This Guy's In Love With You" and the rest, whatever their varying merits as pop tunes may be, are not the type of material appropriate for a jazz orchestra, especially one led by Tubby Hayes. The arrangements seem purposely generic, bland and radio friendly. The band plays well but not so well, which limited airplay to only jazz radio programs. Tubby's solos sound like the work of a top rank studio saxophonist. His composition "Song For A Sad Lady" sounds like a lesser Bacharach tune and his playing on it seems determinedly simplistic. It is very sad that the enormously talented Tubby Hayes would feel it necessary to suppress those talents to record and release an album like this and that it would be the last album of his career.
Grits, Beans And Greens (recorded 1969 released 2019)
This set consists of never released quartet album tracks. Three were recorded the same day as the The Orchestra sessions, while fifteen others were recorded at a three hour session about a month later. The CD box includes all eighteen tracks, but the LP box has on one LP only one version of all five tunes from the second session. It's the same group as on Mexican Green except Spike Wells replaces Tony Levin on drums. The music here falls short of the adventurousness and intensity of Mexican Green and I doubt Hayes considered it a suitable follow up or worthy of release. His horn sound is not the hard, wailing heard on Mexican Green but is instead thicker and less bright with a slightly rough edge, and his playing, while excellent, lacks the stunning creativity and the virtuosity that he was capable of. Clearly, though not at his best physically or mentally Hayes still produced some excellent music.
There's nothing here as free as the Mexican Green title track and the music stays close to the hard bop with advanced harmony style with which he was most comfortable. "For Members Only" (Take 2) does have a short and surprising free interlude midway in the memorable tune's theme. Tubby follows with his most energetic and adventurous solo of the session, with onrushing momentum and some vocal cries. "Rumpus" (Take 1) has a theme that in parts nearly quotes "Giant Steps." Tubby's long solo sticks close to hard bop producing some moments of great beauty as he plays very melodically and with typical facility, through the changes. "You Know I Care" (Take 2) is Tubby's version of Duke Pearson's ballad. Tubby plays the melody beautifully, takes a solo that goes into double time with some intricate runs, but staying close to the melody, before ending with an unaccompanied cadenza that displays his phenomenal time and swing.
Grits Beans And Greens is not prime Tubby Hayes music. It has an unfinished, unfocused quality. Possibly, if he had done some more sessions for the album, it might have resulted in, if not another Mexican Green, at least a worthy follow up. I think it more likely that the music we have is all that he was capable of in 1969 and we should be grateful that we can hear it.
Hayes never made another studio recording. In 1970 he spent fifteen weeks in hospital due to an internal organ infection. In 1971, he underwent open heart surgery to replace his mitral valve. He survived the operation and began performing again in 1972. He died June 8th, 1973 in the midst of another heart operation. He was 38 years old.

SPONSORED VIDEO
<!- ------------------------------------>