This is What "Non-Fill" Looks Like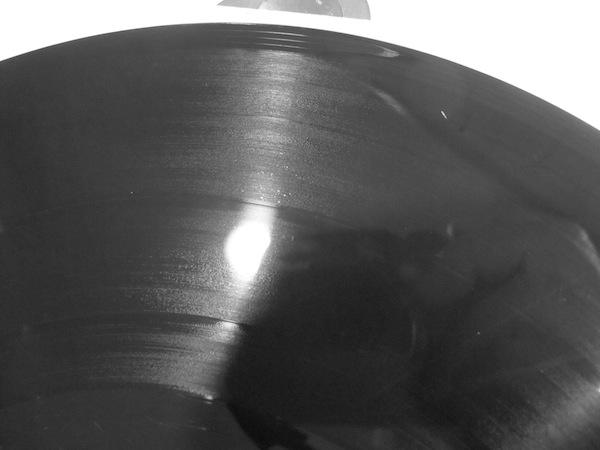 "Non-fill" refers to a pressing defect that occurs when the molten vinyl does not flow fully to produce a well-formed groove. It occurs most often on a 180g record's outer edge and is caused by the vinyl's beginning to harden prematurely.
The sound produced is noise—a "shsssshing" sound that we've all heard too often. This was the problem that plagued Classic's early 200g Quiex SV-P "flat profile" pressings. Eventually the problem was solved.
You can see "non-fill" as a "pearl necklace" like effect if you hold in just the right light a record so afflicted.
It's difficult to photograph but I think you can catch glimpses of it in the above photograph. If not, think "string of pearls."
This shot is of Rush's new album Clockwork Angels sent to me by a reader who was disgusted by the sound quality and wanted my opinion.
When I inspected the records I was appalled by the low quality pressing. You could see the "non-fill" and there were the kind of small scratches that indicate poor handling out of the press. Someone just didn't care.
But as bad as the physical quality was, the sound was even worse—and this from a band once known for superb sounding records! The sound was flat, dynamically squashed and lacking in anything that might appeal to one's ears. What a disgrace!
While Brian Gardner (at Bernie Grundman Mastering) got mastering credit, I doubt the lacquers were cut there and I don't blame Brian for the sonics. I suspect the crimes were committed in the mix before he got to the files. Couple that with the mediocre pressing quality that has all of the "hallmarks" of United Record Pressing in Nashville, and you have one big mess.
The only saving grace is that the recording was so squashed, there were no open sonic spaces where you could hear the "shushing" sound of "non-fill."
If you're buying used records at a store and can inspect the vinyl, stay away from records exhibiting the "string of pearl" syndrome.
<!- ------------------------------------>