The Top 15 Punk Albums!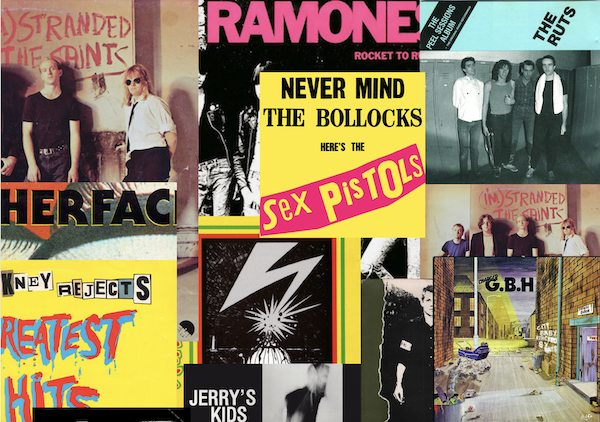 Punk rock is a subgenre of rock and roll with roots in garage rock, but it's generally faster and more aggressive than garage. Punk was a rebellion against the hippie culture's idealism and appearance. The flower children's righteous idea of making the world a better place was met with the stark reality of the punks' world in disarray. New York, the birthplace of punk, was almost bankrupt in the early 70's and when the Sex Pistols appeared in England, unemployment was severe with well over a million people out of work. Crime and drugs were rampant in NYC; parks were littered with used syringes. England incurred inflation, oil shortages and strikes. So bell bottoms were out, replaced by tight pants and those beautiful long locks were gone, replaced by hair cut short, and even cut off as skinhead culture emerged.
Punk was also rebelling against the style known as "arena rock" in the mid 70's. Bands like Journey, Queen and Kansas ruled the airwaves and ticket sales. Their songs had anthemic choruses with lyrics that appealed to a wide audience. With corporations behind them, their live shows were extravaganzas, often featuring songs with long solos, or as some British punks called it, "endless wanking."
How could a 15 year old kid practicing with a guitar in a garage relate to this big bucks, perfectly produced, lavishly packaged product? Music had become so progressive, indulgent, and bloated that it had to be torn apart and flushed, and that's exactly what punk did. These troublemaking kids with only disgust for what preceded them were about to rise up and become the nightmare of the industry. Their DIY attitude and anti-establishment lyrics were squarely at odds with governments and the corporate controlled music machine.
Ramones drummer Tommy Ramone said, "In its initial form, a lot of the 1960's stuff was innovative and exciting. Unfortunately, what happens is that people who could not hold a candle to the likes of Hendrix started noodling away. Soon you had endless solos that went nowhere. By 1973, I knew that what was needed was some pure, stripped down, no bullshit rock 'n' roll." And John Holmstrom, founding editor of Punk magazine, recalls feeling "punk rock had to come along because the rock scene had become so tame that acts like Billy Joel and Simon and Garfunkel were being called rock and roll, when to me and other fans, rock and roll meant this wild and rebellious music."
Despite the plethora of pontifications over the years that "punk is dead," in reality, it is now more popular than ever. It has been estimated that Never Mind The Bollocks Here's The Sex Pistols has sold almost 6 million copies worldwide. The Clash has sold about 24 million records. Three modern day punk bands have far surpassed these two. The Offspring has sold 40 million records, Blink 182 has sold 50 million and Green Day has sold 85 million. What was spray painted on so many walls for over 40 years is now truer than ever in 2021, "PUNK NOT DEAD."
THE TOP 15 PUNK ALBUMS
(In chronological order except for Rocket To Russia)
Rocket To Russia...Ramones
(I'm) Stranded...The Saints
The Clash...The Clash
Never Mind The Bollocks Here's The Sex Pistols...Sex Pistols
Generation X...Generation X
Inflammable Material...Stiff Little Fingers
The Undertones...The Undertones
The Peel Sessions Album...The Ruts
Greatest Hits Vol. 1...Cockney Rejects
Minor Threat...Minor Threat
Bad Brains...Bad Brains
Hear Nothing See Nothing Say Nothing...Discharge
City Baby Attacked By Rats...G.B.H.
Is This My World?...Jerry's Kids
Mush...Leatherface
Reading some of the posts on YouTube of the top punk albums really got my blood boiling. Some of these lists even included albums that are NOT PUNK. One of the posts by a very famous magazine has Nirvana's Nevermind in the top 10. Sheesh! What are these guys thinking? I was there at the beginning in 1976 in N.Y.C., bought every record that looked interesting, bought the one magazine here in America that focused on the genre, the aptly named Punk and attended many shows. So, I hope I can bring a modicum of wisdom to the subject. My picks are not going to include proto-punk like The Velvet Underground, MC5, The Stooges, New York Dolls or Electric Eels (The latter is probably the closest to punk--just listen to "Agitated," "Cyclotron" and "Dolly Boy," all recorded in April--May 1975) I'm not going to include post punk bands like Gang of Four. And if a band had a punk feeling to their music but also heavy doses of jazz, funk and art rock/rock like The Minutemen and Wire, I'm going to pass them by too. The last three bands I referenced all released top-flight, influential albums but what I'm aiming for here is the honey hole of pure punk music. And IMO all the upcoming albums fit that bill and are the cream of the crop. All my reviews are from first vinyl pressings and other than the last two bands on my list, these albums are not expensive to own with all in VG+/M- going for under $50 on Discogs and Ebay. So Let's begin!—W.L.
<!- ------------------------------------>