The Top 15 Punk Albums! Page 4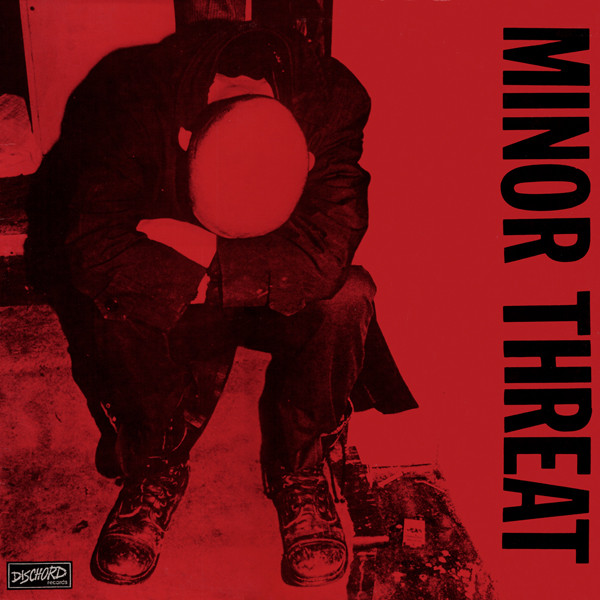 Minor Threat. Two 7" EP's recorded in 1981. Later reissued on one LP in 1983.
The first hardcore band on our list. Your humble scribe is a BIG hardcore fan. Hardcore was the progression in punk music—faster playing, louder singing, often screaming, more aggressive, more violent, more in your face. No more pogoing to punk, now there was slam dancing and stage diving. At a Teen Idles 1980 gig at The Mabuhay in San Francisco, the band put all the Huntington Beach kids on the guest list with the promoter, Dirk Diirkson, there saying, "I don't want any horizontal dancing."
Minor Threat blasted off in Washington D.C. in 1980. Vocalist Ian MacKaye and drummer Jeff Nelson had already been in two bands together, The Slinkees and Teen Idles (D.C.'s first hardcore band.) They recruited bassist Brian Baker and guitarist Lyle Pressler. Brian was 15, Lyle 17, Ian and Jeff 18. They later added Steve Hansgen on bass, moved Baker to second guitar and dropped the 12" 45 RPM, "Out Of Step". It is superb in every way, and totally mandatory listening for anyone with the slightest interest in punk music.
What more can be said about Minor Threat? They have already received just about every accolade. And in my book, they deserve the highest possible praise, on many fronts. First you have a band whose musicianship is beyond reproach and is held in the highest esteem by everyone who loves punk music. They write inspiring songs with some of the most intelligent lyrics ever put to music. Hearing these songs the first time changed many peoples' lives, became a youth rallying cry, and immediately put Minor Threat in the pantheon of hardcore music. One of Ian's most famous songs, "Straight Edge," spawned the whole straight edge movement. " I'm a person just like you/ But I've got better things to do/ Than sit around and fuck my head/ Hang out with the living dead/ Snort white shit up my nose/ Pass out at the shows/ I don't even think about speed/ That is something I just don't need/ I've got straight edge/ I'm a person just like you/ But I've got better things to do/ Than sit around and smoke dope/ Because I know that I can cope/ Laugh at the thought of eating ludes/ Laugh at the thought of sniffing glue/ Always gonna keep in touch/ Never want to use a crutch/ I've got straight edge." There have been all sorts of issues raised about the straight edge lifestyle of no drugs, no booze and even no sex, but MacKaye has repeatedly said he was talking only about himself and certainly was not telling anyone how to run their lives.
Then you have MacKaye, founder of Dischord Records, who sold Minor Threat platters very inexpensively so every kid could own them. To keep prices down I believe he actually lost money on one of them. But imagine the joy a kid with very little money had owning such magnificent music. To me that is priceless. Ian had all ages shows where no alcohol was served, and all tickets were $5.00. His anti-business, anti "rock star" attitude is refreshing today where fame and money seem to be everyone's goal.
Minor Threat and Stiff Little Fingers are the two most inspirational bands I've ever seen. Seeing them could change one's life, and always for the better. A pinnacle in modern American music.
Dig the lyrics to "Filler," the first song we ever heard by them. MacKaye has plenty to get off his chest, is dead serious and froze us in our tracks with his sincerity and intensity. What a beginning for Minor Threat! "What happened to you?/You're not the same/Something in your head made a violent change/ It's in your head 3X /Filler/You call it religion/You're full of shit/Was she really worth it?/She cost you your life/You'll never leave her side/She's gonna be your wife/You call it romance/You're full of shit/Your brain is clay/What's going on?/You picked up a bible and now you're gone/Filler".
"Filler":

"Straight Edge":

"In My Eyes":

Bad Brains. Originally released on cassette in March, 1982 and on LP in 1990.
Second hardcore band in a row--you know I'm loving this.
And what a band it is! Countless musicians in the early 80's hardcore scene say they were the greatest live band they'd ever seen. Ian Mackaye said, " I saw the Bad Brains for the first time in June of 1979, opening for The Damned at The Bayou, this disgusting jock bar. I needed a fake ID to get in. The Bad Brains opened and transcended anything I'd ever seen. They were the band...that had a profound impact on me. They moved me."
Vocalist Paul "H.R." Hudson, guitarist Gary "Dr. Know" Miller, bassist Darrryl Jennifer and drummer Earl Hudson, four black dudes in Washington D.C. began by playing jazz fusion in 1978, but after hearing records by Dead Boys, The Dickies, Ramones, The Clash, The Damned and Sex Pistols, they dropped fusion and punked out.
Bad Brains add reggae songs on their albums. They've cited a few bands as inspiration. " A big influence was Bob Marley and Stevie Wonder and a group called The Dickies...Bob Marley and Stevie Wonder on the spiritual end. The Dickies more on the musical end. Because when I heard their music, I said ' Gee, it's fast. This is really bad.' That's what made me really start liking fast rock and roll, which eventually led to hardcore which is what we're into now."
Dr. Know has said, "We wanted to be known as the fastest band in the world. The Ramones were the fastest but we could improve on that. At the same time, we didn't want to be doing that same three-chord routine. Not that there's anything wrong when the Ramones do it, but we had something to prove musically. That's how we've always been, wanting to keep it challenging and interesting. The gift of musicality is not to be taken lightly."
Bad Brains' enduring legacy rests on four albums. Black Dots collects their earliest recordings from June, 1979, the album in this article, Rock For Light (produced by Ric Ocasek) and I Against I (not really hardcore, rather a muscular rock attack and simply one of the great American LP's of the 80's).
Bad Brains were not the first hardcore band; that honor probably goes to Black Flag who recorded their EP "Nervous Breakdown" in January, 1978. (It was finally released in February, 1979.) But when Bad Brains first 7" single, "Pay to Cum" bw "Stay Close To Me," came out in June, 1980, it blew thousands of punk minds all over America. Suddenly it was a whole new ballgame. There had been fast hardcore songs before this, but nothing like the obliterating power unleashed here. My friends and I played "Pay To Cum" over and over, until the grooves were worn down. And with every listen we were in awe. Many times, I tried singing along to the lyrics of this 1 minute 32 seconds song but always wound up failing about a third of the way through, crumpled up on the floor, laughing like an insane person.
This debut LP has fifteen tracks, twelve lightning fast hardcore and three much longer reggae songs that fit in surprisingly well, although that's not the band's strength. The blistering "Sailin' On" opens the record. " You don't need me anymore/ So I'll just walk right out the door/ Played a game right from the start/ I trust you, you used me, now my heart's torn apart." "Banned In D.C." (about their problems with the clubs there) " Banned in D.C. with a thousand other places to go/ Gonna swim across the Atlantic 'cause it's the only thing I can do/ You can't hurt me/ Why? I'm banned in D.C." The incredible "The Big Takeover" " So understand me when I say/ There's no hope for this USA/ Your world is doomed with our own integration/ Just another Nazi test." And the iconic "Pay To Cum" (here in a different version than the 45) " I make decision with precision/ Lost inside this manned collision/ Just to see that what is to be/ Perfectly my fantasy/ I come to know with now dismay/ That in this world we all must pay/ Pay to write, pay to play/ Pay to cum, pay to fight."
Totally amazing singing and playing. Hear this album once and you'll never be the same again. A crowning achievement in modern American music.
"Sailin' On":
"The Big Takeover":

"Pay To Cum":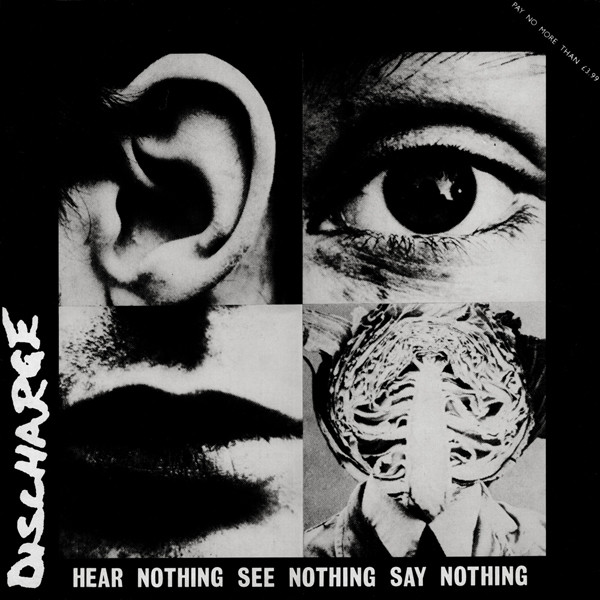 HEAR NOTHING SEE NOTHING SAY NOTHING. Released May, 1982. Reached #2 on the Indie charts, #40 on the U.K.charts.
One of the most important punk bands ever, having influenced countless groups down through the years, Discharge's birth was in 1977 in Stoke-on-Trent, England. Demos unearthed in 2008 show them in '77 with a different singer sounding very much like Johnny Rotten. It's pretty much standard punk of the day, but the songs have a certain raw sincerity that is appealing. Nothing like what was to come, however.
Their first legit release was a four song EP in March, 1980 titled "Realities Of War". What a transformation the new lineup had achieved. No longer clunky slow/ medium tempo punk; it was now turning ferocious. It was a major success, reaching #5 on the Indie charts. Their next EP, "Fight Back", was even faster and more powerful, reaching #4 on the charts. It remains one the most amazing punk slabs I've heard. By now their signature beat was apparent. Created by their drummer, Terry "Tez" Roberts, and called D-beat, it created a sub-genre that has influenced not only punk bands but metal bands like Slayer, Anthrax and Metallica.
Two 45's and a 12" EP followed, all with the grinding, blasting power of distorted guitars and angry vocals, and all successful. Then their first full length album, Hear Nothing See Nothing Say Nothing dropped.. "Oh my God" must have been many kids' reaction upon first hearing this missile. And a missile it is, aimed straight at the gut. What a sound! What an attack! In the past I've written "Ever wonder what an atom bomb sounds like? This is it!" Many of the songs deal with the atrocities of war.
From Ian Glasper's book, "Burning Britain": "A cascade of drum rolls ushers in the apocalyptic title track, and from that moment on there is no let-up. Each song is a blood-curdling blast of outrage; the band locked so tight, they sound like one of their despised war machines bearing down on you, the whole thing rumbling along on Rainy's immense gurgling over-driven bass. Even the slower songs such as the measured, chugging ' Protest and Survive', leave you reeling with their effortless power."
Only two guitar tracks panned in stereo but as the guitarist Tony "Bones" Roberts said, "...it sounds like 200...We wrote the whole of the first album in a week, then recorded it in a couple of days. Everything in one take, more or less, just banged it out live."
The runout grooves on the album read "BACK WITH BILBO" and the B side "TOTAL BLITZ BILBO." And it IS a total blitz, beautifully mastered by Denis Blackham. Fourteen tracks of primal rage that haven't lost a scintilla of power in almost 40 years.
"The Final Bloodbath":

"A Hell On Earth":

<!- ------------------------------------>