The Top 15 Punk Albums! Page 5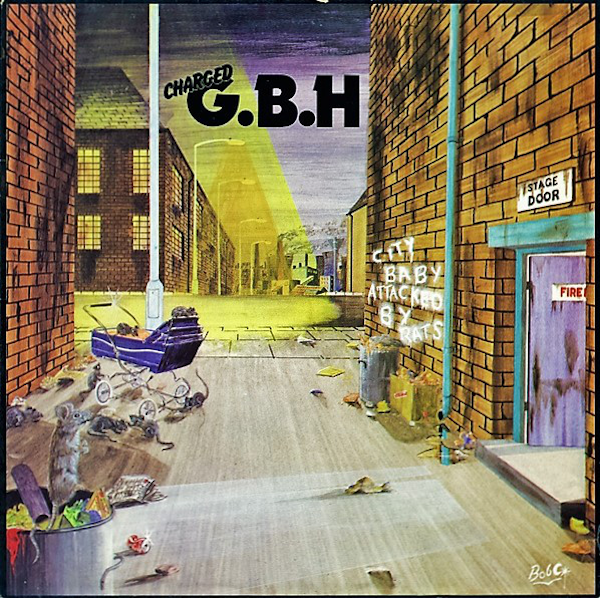 City Attacked By Rats. Released August, 1982. Reached #2 on the Indie chart, #17 on the U.K. charts.
Originally Charged G.B.H. and later just G.B.H., this crucial band formed in Birmingham, England in 1978.The initials stand for grievous bodily harm, (in English law, a serious physical injury inflicted on a person by the deliberate action of another), not "Great Big Hairdo" or as their singer joked, "Girls, Booze, Hash." Along with Discharge and The Exploited they are generally considered one of the three most important bands of the second wave of UK punk.
Singer Colin Abrahall remembered, " Before punk came along, I didn't have any real interest in music at all. I was at school at the time and all these rumours would filter through the playground, stuff that was from The Sun newspaper, really silly things like ' Punks spit down their girlfriends' throats when they kiss,' and so on. I remember hearing "Sheena Is A Punk Rocker" on the radio and thought 'Wow, this is great' ...then I heard the Sex Pistols and The Clash. I suppose I was the right age at the time 'cos it was all so rebellious and the stuff your parents would hate, and it just felt so right to me."
G.B.H. played their first real show at Digbeth Civic Hall on September 12, 1980—a benefit for prostitutes' rights. They played all ten songs they knew, with Abrahall quite scared. After the show they got a few compliments, and someone said the band was decadent. " So, I went home," Abrahall recalled, "and looked it up in the dictionary."
The band recorded four demo songs in 1980, then Clay Records signed them, and they recorded an excellent and much loved 12" EP, "Leather, Bristles, Studs And Acne". This well played, hard charging platter surprisingly became a big seller, peaking at #8 on the UK Indie Charts. Songs like "Lycanthropy" and "Necrophilia" were quite unusual fare for a punk record. Two singles followed and then their classic debut album, City Baby Attacked By Rats, recorded in three days, hit the stores.
Some of their earlier songs suffered from less than stellar production but with City Baby… the band was let loose with 24 tracks to work with. The result is wonderful; on a good playback system it sounds superb. The album opens with a loud, ticking clock, "Time Bomb," and it really does explode into the stratosphere after that. Well-crafted melodic punk, excellently played and sung with power and aggression. Songs about a maniac " Your face will turn a ghostly blue as he comes into view/ To slice you up in not enough, he must dismember you." Ramones' type lyrics in "Sick Boy" " I'm strapped into my bed/ I've got electrodes in my head/ My nerves are really bad/ It's the best time I've ever had." "The Passenger On The Menu" deals with cannibalism. The song "Slut" was harshly criticized in some magazines "I wanted you 'cause of your bust/ And now I want a night of lust/ Can't wait around anymore/ So take me home you dirty whore." Offsetting these types of songs are those like "The Prayer Of A Realist", which questions the reality of a God with so much suffering in the world.
A complete success, one of the most perfect punk albums of the 80's. Really a must to hear and own.
"I Am The Hunted":

"City Baby Attacked By Rats":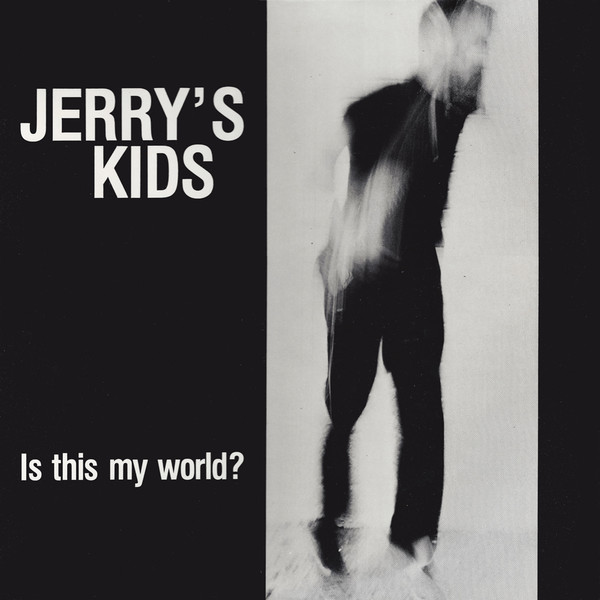 Is This My World?. Released 1983
The last of the three hardcore albums on our list, Jerry's Kids got together in Braintree, Massachusetts, USA in 1981, taking their name from how children were referred to on the Jerry Lewis Muscular Dystrophy telethon.
Jerry's Kids debuted on the This Is Boston Not L.A, compilation with six quick songs and with a different singer and a different guitarist. Good, but nothing that would prepare you for their incredible first LP. Rick Jones, vocals/ bass, Bob Cenci guitar, Chris Doherty guitar and Brian Betzger drums really dropped one for the ages with Is This My World?.
My God, what a sound they had! IMO these sheets of sound have never been equaled in punk music. Want to feel what it must be like to be flattened by a bulldozer? Yes? Then take a listen. The twin guitar attack is amazing, but wait, there's more. Betzger's drumming is out of this world great. Breakneck speed, but delicate at the same time! My all-time favorite punk drumming on an album. And when they slow it down, as on "Lost," the results are no less spectacular.
Lyrics are hard to discern so...."I Don't Belong" " I got a feeling, it's in my head/ I got a feeling, do you hear what I said/ I've got a feeling, there's something wrong/ I got a feeling that I, that I don't belong here/ And I know it's true, that I don't belong here/ And neither do you/ I got a feeling, it's in my brain/ I got a feeling, I've got nothing to gain." "Cracks In The Wall"/"Tear It Up"..."I opened up my head to you/ Listened to the plan you drew/ Tell me what I should be/ Tell me what I should see/ There is cracks in the wall/ Watch them fall/ Mundane people, they're all around/ They keep our music underground/ But we're gonna brea, break the chains/ And watch their lives go down the drain/ CHORUS/ I look around, there's no place to play/ They tell us to go the fuck away/ Streets of Boston need a change/ And streets of Boston call my name."
"Crucify Me"..." Point your finger, you point it in the dark/ ' Cause I'm just putty, just putty in your hands/ So push me down, and push me to the ground/ Just give me pain, and make me suffer, make me gasp/ Crucify me X6/ Nail me up and sit and watch me bleed/ And take whatever, whatever you need/ I feel oppression, I feel it fall on me/ I feel the pressure and it's cooking inside me."
I saw them play here in NYC with another Boston hardcore band, The F.U.'s When The F.U.'s played they said, " Hi. We're Jerry's Kids." And when Jerry's Kids played they said, " Hi. We're the F.U's." And that was that.
This is an album to treasure. Better than three cups of coffee in the morning. Faster than a speeding bullet, more powerful than a locomotive, able to leap every punk band in a single bound. This is Jerry's Kids.
"I Don't Belong":

"Cracks In The Wall/Tear It Up":

"Crucify Me":

Mush. Released in 1991
Mush, the last LP on our list of the top 15 punk albums of all time, certainly takes a backseat to none. And I'm not alone in my praise of Leatherface. Trouser Press called them "By far England's finest, most exciting punk band of the 90's," and The Guardian chimed in "the greatest British punk band of the modern era."
Leatherface was launched in Sunderland, England in 1988 by singer Frankie Stubbs.and guitarist Dickie Hammond. Stubbs' raspy voice, recalling Motorhead's Lemmy Kilmister, is the first thing remarked upon by most people hearing the band. I love his voice, worldly wise and full of emotion. Hammond is an ace guitarist, Stubbs also plays guitar. Together they weave the richest layered musical tapestries, both in words and music. No punk band wrote and sang lyrics at times so emotional, so poetic, so melancholy, so passionate, so raw, so enigmatic and open to myriad interpretations. Steve Charlton on bass and Andrew Laing on drums are rock solid.
Leatherface's first album, Cherry Knowle, with a picture of the inside of the Cherry Knowle mental hospital on the cover, was released in 1989, followed in 1990 by Fill Your Boots. Both are fine efforts but in 1991 came Mush, and that was perfection. Top notch production, beautifully recorded, fifteen absolutely wonderful songs. The group can play hard charging punk like "How Lonely" and "Winning" then turn around and play multi-layered slow tempo like "Not Superstitious" and kill it every time.
These are not your average simple punk songs. They take some effort on the part of the listener to fully appreciate. Maybe that's why they never achieved the commercial success so many of their fans wished for them. I could never imagine their songs receiving mass airplay. Stubbs was asked about this but seemed content to just create the music for whomever appreciated it.
In total the band released ten studio albums, the last being The Stormy Petrel in 2010. In a testament to their greatness, that album showed no decline whatsoever in creativity in over 20 years. While most of the lawyer/corporate controlled "punk" bands of the last two decades have completely faded from memory, Leatherface has only grown in stature. With each passing day more and more people discover this unique band and that surely warms the cockles of me heart.
"How Lonely":

"Not Superstitious":

About the author:
Willie Luncheonette grew up in New York City and has had a lifelong love of both art and music. He once had a Google Plus channel on which he did comprehensive surveys of New York hardcore music from 1980-1985, as well as Bob Marley and The Wailers music from between 1962-73, Jamaican rock steady music of 1966-68 and Oi! Music from 1977-1986. He once guested on an East Village radio station, hosting shows on Irish punk music and one called "1977 the year punk took over." His favorite musicians are Thelonious Monk, Bob Marley and Jimi Hendrix. Luncheonette recently completed directorial feature film debut, the 4 hour long "The Sun Behind The Sun Behind The Sun".
All rights reserved by Willie Luncheonette Copyright 2021
<!- ------------------------------------>