The Top 15 Punk Albums! Page 2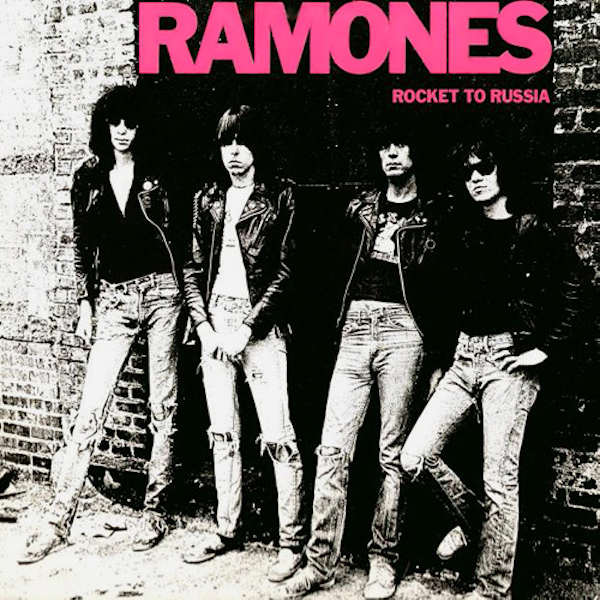 Rocket to Russia: Released November 12, 1977. Reached #69 on the U.S. charts.
Ramones formed in Forest Hills, Queens in 1974. There is a video on YouTube of them playing at CBGB's that year and an argument breaks out over which song to play next. They already had their signature style in 1974 for God's sake! So please let's not have any more fighting over who was the first punk band, Ramones or Sex Pistols. I saw them play in 1975 and years later I wrote. " Saw them at CBGB's and was blown away by their power. What a wall of sound! What a rush! Would have loved to talk to them after their set but their leather jackets gave me pause. The only other people who wore leather jackets at that time in the East Village were the Hell's Angels and I had already had an experience with one of them near their clubhouse on East 3rd Street. Not really a big deal, but after that I decided not to start up any conversations with them. So, my fear got the best of me and I missed an opportunity to talk to the greatest band in the world in the mid 70's. To this day I play their records and they remain one of my favorite bands."
For most people who weren't around punk music and the Ramones at the outset, it is difficult to imagine the effect they had. Mary Harron interviewed them for the first issue of Punk magazine in January, 1976. This will give you some idea of what it was like. "When I first saw the Ramones I couldn't believe people were doing this. The dumb brattiness 'Beat on the brat with a baseball bat.' There was this real cartoon element, and yet you're in a real place, you want to do something real, so you're in a situation where they could be real, they could be genuinely delinquent. It had an edge to it: they looked dumb-smart, smart-dumb."
From the Ramones' press kit in June, 1975: " Their songs are brief, to the point, and every one a potential hit single...The Ramones all originate from Forest Hills and kids who grew up there become either musicians, degenerates or dentists. The Ramones are a little of each. Their sound is not unlike a fast drill on a rear molar."
When their eponymous debut LP came out all my punk friends bought it and played it to death. Believe me, we had never heard anything like it. It was brutal and undeniable. Listening at stun levels we were in awe of its relentless buzzsaw power. In light of hardcore (the louder, faster, more aggressive music that came after punk and spawned slam dancing and stage diving) Ramones songs now seem almost mid-tempo. But I've read people at their live shows were literally holding onto their tables when they played--it was such a potent force coming at you.
Choosing a best between the first three Ramones' albums has always been difficult for me. I must have heard them all fifty times and for this write-up I listened to all three twice again. And you know what? It's still difficult. Their debut, Leave Home and Rocket To Russia all contain loads of great songs. How to pick just one? It would have been easy to pick their debut. That would have put everything neatly in chronological order, but this is not the 15 most important punk albums, it is the 15 best. There are two major differences that for me narrowed it down to just two. The mix on their first album is different from a more conventional one found on the others--Johnny's guitar is in the right channel and Dee Dee's bass is in the left. Some listeners might like this, others might not. It does have its perks. When I was giving punk lessons in my apartment, I could turn the knobs on my amp to isolate the two. The kids I was teaching loved hearing how skillful these two musicians were. Man, those guys could play! Let me tell you, hearing "I Don't Wanna Go Down To The Basement" like this was a joyful thing. Secondly, some of the best songs are faster and longer on the next two albums.
So my two preferences narrowed it down to either Leave Home or Rocket To Russia. These are not 1 and 2 in my book; they are 1 and 1A. I would have chosen both of them, but decided in the end to pick only one album from each band. Actually, any of the first three LP's would make a fine choice on any best list.

 I nearly choked at the prospect of leaving off an album that contains "Glad To See You Go," "Gimme Gimme Shock Treatment," "Carbona Not Glue," "Pinhead," "Commando" and "You Should Never have Opened That Door," but that's just what I did. Rocket To Russia has great songs too, leading off with "Cretin Hop" (what an attack they had!) Then there's the classic "Rockaway Beach" (which reached #66 on the U.S, charts), and "Sheena is a Punk Rocker" (which reached #81). Colin Abrahall, singer in the great British punk band G.B.H. has said that hearing "Sheena is a Punk Rocker" at age 15 on the radio was a huge influence in his life. But more on that when we come to G.B.H. "Locket Love" is a sweet little bubblegum song disguising a murder. "We're A Happy Family" has just about the wittiest, funniest, pop culture lyrics ever in a song and "Teenage Lobotomy" is not far behind. I think the album has just a smidge more power than Leave Home, there are fewer songs under two minutes and Johnny Ramone's signature lightning downstrokes unleashing pure punk power are better showcased. Rocket To Russia is my choice to start our quest for the top 15 punk LP's.
Here are three songs for your listening pleasure:
"Cretin Hop":

"We're A Happy Family":

"Teenage Lobotomy":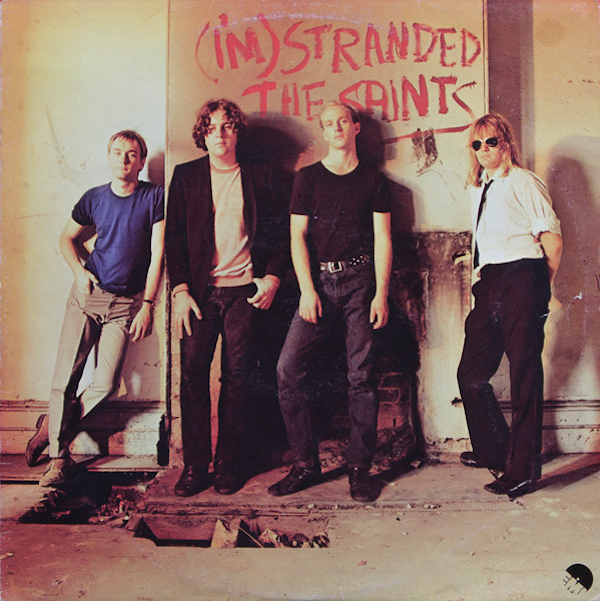 (I'm) Stranded: The Saints. Released February 27, 1977.
The Saints first appeared in Brisbane, Australia in 1973. The four members were high school buddies living under a heavily conservative state government. There is a post on YouTube with only fair sound of them playing a gig in 1974 in punk style. (The similarities between The Saints and Ramones are striking. Both were serving up punk in 1974 and both recorded three great albums in a row with their original line-ups before personnel changes.) After being rejected by every label in Australia they released "I'm Stranded" bw "No Time" on their own Fatal label in September 1976, the remarkable single actually reaching #96 on the Aussie charts. It was re-pressed on British labels and got rave reviews. Sounds magazine called it "Single of this and every week." Jon Savage wrote about the 45 "...the toughest, most brutal noise yet. The Saints' "(I'm) Stranded" sounded as though it had been recorded in a wind tunnel, with the singer and the rhythm section hanging as gusts of guitar noise rushed past them."
For a very short time they were the darlings of the fledgling punk world and with the wind at their back they recorded their classic debut album, (I'm) Stranded, in just two days in Australia. Ten marvelous songs filled with surging waves of buzz-saw guitar and superb musicianship, "('m) Stranded" is a classic of the genre. What a racket they served up, much of the lyrics indecipherable under the noise. Singer Chris Bailey barks out songs filled with alienation. bitterness and resentment as in the title song. "Like a snake calling on the phone/I've got no time to be alone/There is someone coming at me all the time/Babe I think I'll lose my mind/'Cause I'm stranded on my own/Stranded far from home/I'm riding on a midnight train/And everybody looks just the same/A subway light it's dirty reflection/I'm lost I don't have a direction/Chorus/ Look at me looking at you/There ain't a thing that I can do/You are lost, your mind is a whirl/Baby such a stupid girl/Chorus/ Livin' in a world insane/They cut out some heart and some brain/'Been filling it up with dirt/Do you know how much it hurts?/Chorus".
There's not a dud on the album. Plenty of fast punk as well as ballads like "Messin' With The Kid" and mid-tempo songs like "Story Of Love" are all beautifully rendered. Ed Kuepper, guitar, Kym Bradshaw, bass and Ivor Hay, drums, are one blitzing force. The Saints second album, Eternally Yours, adds horns on some songs and, no joke, is just as good as the debut. Their third LP, Prehistoric Sounds, finds them leaving punk for a more bluesy, jazzy sound, but believe me it is terrific too. None of these albums were big commercial successes; the lads did not fit in with the punk image. The snobby British press did not like their long hair, Bailey's sloppy appearance (he sometimes smoked a cigarette on stage) and the fact they did cover songs didn't help. But Nick Cave has said, "They were kind of god-like to me and my colleagues. They were just always so much better than everybody else. It was extraordinary to go and see a band that was so anarchic and violent." And Sir Bob Geldof has stated " Rock music in the 70's was altered by three bands: Sex Pistols, The Ramones and The Saints."
"(I'm) Stranded":

"Wild About You":

"Story Of Love":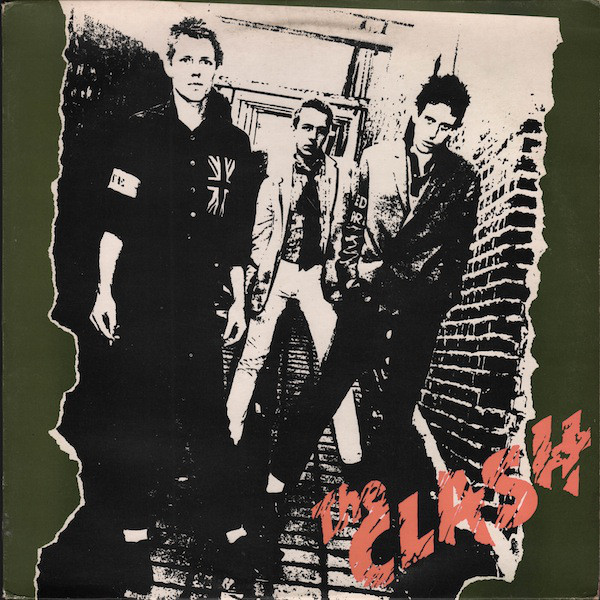 The Clash. Released April 7, 1977. Peaked at #12 on the U.K. charts.
The Clash sprang to life in London in 1976, a razor sharp band ready for positive action. Joe Strummer said, " We had group discussions and Bernie (Bernie Rhodes, their manager) would say, "An issue. An issue. Don't write about love, write about what's affecting you, what's important." We were strict. We'd look at everything and think " Is this retro?" I painted this shirt that said, 'Chuck Berry is dead'. If it was old, it was out." The band released their first single on March 18.1977, the incendiary "White Riot" bw "1977".
A month later their stone cold classic debut album hit the stores. Fourteen intense tracks charging out, including one long reggae song for some relief, a cover of Junior Murvin's "Police and Thieves", which in Jamaica at the time was the biggest selling 7" single ever. Strummer is terrific, his anger and disgust are almost palpable as he bellows out the lyrics. The kids in Europe ate it up but CBS America refused to release it here. They believed the LP was too raw, too crudely produced and wouldn't sell. It finally saw the light of day in America in July, 1979, more than two years after its release. Give 'Em Enough Rope turned up in America before their debut so most of us Yankee kids thought ….Rope was their first album. One more thing. When Epic finally released it in America, they added some tracks and deleted others. But kids, if you want to hear the album as the band intended it to be, take it from me the, ahem, punk professor, the British version, starting with "Janie Jones" is the one to own. Songs about unemployment, American imperialism and race problems fill the LP. In "Janie Jones," Strummer hates his boring job but does love sex, drugs and rock and roll. "White Riot" references the Notting Hill Carnival riots when blacks fought the police in the streets. It's a call for white people to get involved in action. " Black man gotta lotta problems but they don't mind throwing a brick/ White people go to school where they teach you how to be thick." "London's Burning" speaks to the bored youth in Britain who wind up driving their cars up and down all night long." All across the town, all across the night/ Everybody's drivin' with full headlight/ Black or white you turn it on, or face the new religion/ Everybody's sittin' ' round watchin' television" England was the new punk kid on the block and there was plenty of dissing of America going on there. "I'm So Bored With The U.S.A." piles on. "Yankee dollar talk to the dictators of the world/ In fact it's giving orders an' they can't afford to miss a word." The song ends with a reference to Starsky & Hutch and Kojak, two American TV shows popular in England at the time.
Mick Jones guitar, Paul Simonon bass and Tory Chimes drums are super solid. The Clash was billed as "The Only Band That Matters." Not quite, Punky Brewster, but this album is magnificent in every respect.
"White Riot":

"London's Burning":

<!- ------------------------------------>