A.J. van den Hul Introduces New Point One Turntable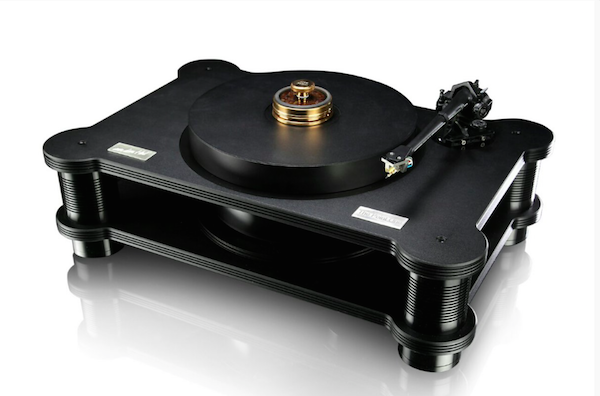 A.J. van den Hul best known for his cables and phono cartridges introduced at High End Munich 2015 a new turntable called the Point One.
While it outwardly resembles an SME, the innards are quite different. The name "Point One" refers to the fact that the spindle sits atop a single ball with the platter atop the spindle stabilized by a unique magnetic system.
The system is claimed to eliminate bearing rumble because there is no bearing in the traditional meaning of the term.
All parts are CNC machined from solid material with the assemblage weighing approximately 100 pounds.
The Point One will sell for approximately $30,000. Mr. van den Hul also showed me his new record "puck". He claims it bested one designed by the gentleman who designed the Airbus 380's wing system. After a comparison, the Airbus wing designer admitted A.J.'s was better, says A.J.
<!- ------------------------------------>
| | | | | | | | | | | |
| --- | --- | --- | --- | --- | --- | --- | --- | --- | --- | --- |
| | Equipment Reviews | | The Gruvy Awards | | Blogs | Columns | | Show Reports | | News |