Analogplanet Editor Flips Over New Wilson Sabrina Loudspeaker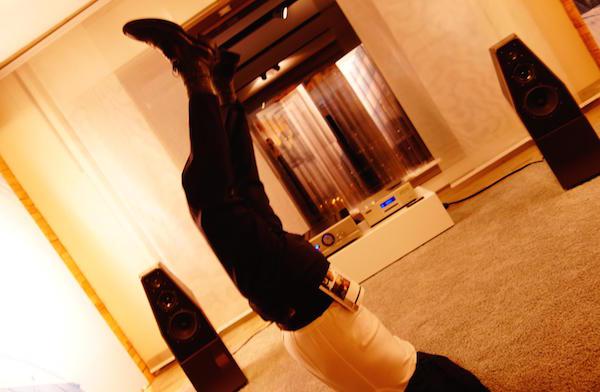 Actually I stood on my head. And not because of the speaker.
It was an after-show event at a store about forty minutes from Munich for the European launch of Wilson Audio Specialties new $15,000 Sabrina loudspeaker. A bus full of journalists were brought over for an evening music, food and a lot of good wine.
Around an hour and a half in, the store-owner's nine year old daughter showed off by doing a one armed cartwheel. Everyone applauded as well they should.
I stood up and said to her "That was outstanding! But watch this: I'm seven plus times older than you and drunk and I'm going to stand on my head!"
So I did. A fellow-journalist captured it on his cell-phone camera. The speakers are quite good too.
<!- ------------------------------------>
| | | | | | | | | | | |
| --- | --- | --- | --- | --- | --- | --- | --- | --- | --- | --- |
| | Equipment Reviews | | The Gruvy Awards | | Blogs | Columns | | Show Reports | | News |