Thorens Launches Three New Suspended Sub-chassis Turntables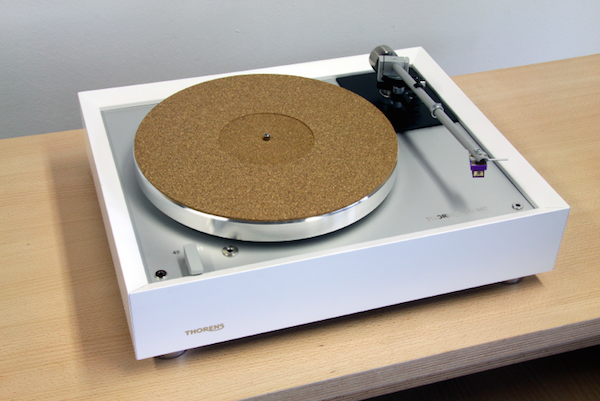 Thorens announced a trio of suspended sub-chassis design turntables at High End Munich 2015: the TD 903, TD 905, and TD 907.
The company claims the new designs achieve true "pistonic" motion thanks to careful tuning of the suspension springs and that should any re-adjustment become necessary, the springs can be tensioned from above. The point is to isolate the platter and arm from footfalls and other air or ground borne interference.
The plinth is damped with a composite top plate of alternating layers of aluminum and polyethylene that's also used for the base plate and in double thickness, the sub-chassis as well.
The entry-level TD 903 is expected to sell for approximately 3000 Euro, while no price was available for the mid-level TD 905, featuring a more sophisticated damping architecture and more heavily braced plinth. Both of these come with the 9 inch TP92 tone arm.
The top of the line TD 907 (pictured) includes the TP 88 ten inch unipivot arm as well as a far more sophisticated internal structure that include a sub-chassis damped by a conical membrane similar to the loudspeaker cone. The TD 907 is expected to sell for "up to 9000 Euro". All three models will be available in October, of 2015
<!- ------------------------------------>