Big News At Crosley!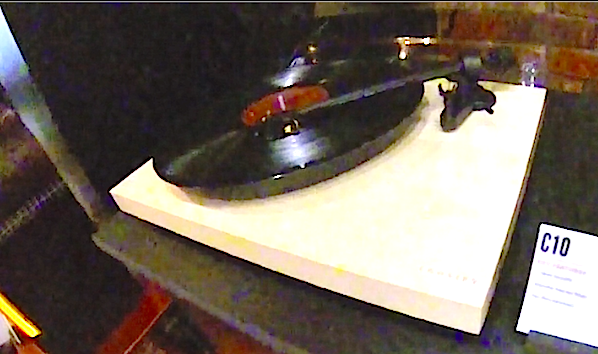 Seeing Crosley's C10 turntable at last fall's WAX event in the Capitol Tower parking lot, was a highlight of that record fair. Built for the company by Pro-Ject, the C10 appeared to demonstrate Crosley's commitment to higher quality vinyl playback.
Shortly before CES 2016 I received an email from Ty Mattheu Crosley's Director of Product Development asking if I'd want to meet with him at the show. Of course I did. Mattheu met me at the Venetian and we took a ride to "the Zoo" (the main convention center) where Crosley exhibits in a large, attractive display.
On the ride over he explained the company's history and specifically its move into vinyl, which began around the year 2000. The company basically built novelty radios and other fanciful products built as much, of not more for looks than performance. Someone at the company (I forget who) decided a record player might be a good "novelty" item and the form factor he chose was the old Caliphone record player found in most '50's and '60's public schools.
Crosley brought the sample to CES 2001 and put it on a shelf along with the rest of the company's extensive line of fanciful electronics. A buyer from Restoration Hardware took a fancy to it, ordered a bunch and it became a best-seller. All of a sudden Crosley was a record player manufacturer and as the vinyl resurgence intensified, the company rode the wave.
Yes, the company has become a "punching bag" in the high performance audio community and I've thrown many punches over the years, which makes Mr. Mattheu's reach-out all the more significant and generous.
The company's move towards higher quality is the result of a combination of factors. One is the realization that today, vinyl is far more than a novelty within the mainstream where record buyers want to play and enjoy them on players that can produce good sound and take better care of their records.
But there's another factor at play and that is that other companies offering even cheaper record players want in on the action just as Crosley's engineers (yes they have them) were working to improve the quality of even the least expensive turntables in the line.
Given the company's enormous install base, there's a tremendous opportunity to reach hundreds of thousands of customers with the quality message. Mr. Mattheu told me the company was paying attention to critics, including me, and rather than starting from the ground up with a totally new turntable, it turned to Pro-Ject.
Why would Pro-Ject get involved? Crosley reaches and operates in an entirely different market from Pro-Ject's main business. Here was an opportunity to reach a new, non-audiophile audience.
Pro-Ject built for Crosley two quality turntables in the approximate Debut class and the company began their "high end" experiment.
The C10, fitted with an OM5E Ortofon cartridge, has an MSRP of $399 with a 'street price' of $349. A similar model with a mahogany plinth instead of the C10's Arctic Birch costs somewhat more. Considering the cost of the rest of Crosley's turntable line, these represent a huge price jump. How would they sell?
Crosley made a fairly conservative year-long projection and goal for the number of these turntables it might sell in a year. According to Mr. Mattheu, that projection was met and surpassed within the first month!
And, he said, the more expensive mahogany model was outselling the Arctic Birch model. Now the company wants to further enhance the experience by offering cartridge upgrades and other "tweaks". Customers moving up to the C10 from their far lower performing turntables are of course having the experiences with which we are all familiar.
This development can only be great for the future of vinyl and of high performance audio. These vinyl enthusiasts are "on their way"! Mattheu told me that a large percentage of their young customers are girls—this is something I've been hearing from others so I'm not surprised.
Yes, much of what you will see in this video are novelty turntables, but the CES display demonstrates the Louisville, KY based company's commitment to promoting the "vinyl culture" because they see it as a growing business with better quality leading the way.
They've got an enormous "install base" it thinks are hungry for a better vinyl experience. Of course I offered to help as I can. I walked away from the booth invigorated by everything i heard from Mr. Mattheu and at least some of what I saw there.
<!- ------------------------------------>