Clearaudio Introduces New Innovation Basic Turntable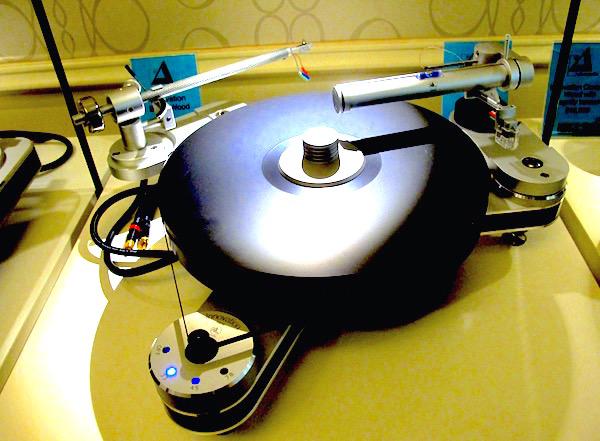 Clearaudio introduced the new Innovation Basic turntable in importer Musical Surroundings' room at CES.
The new 'table features an aluminum Panzerholz wood sandwich plinth, custom optically controlled DC motor system, POM platter and magnetically levitated ceramic ball-based bearing system. Cost is $6000 without arm.
The arm shown in the photo is the latest generation tangential tracker from Clearaudio that rides on a glass tube. Instead of lifting vertically to access the platter, the new arm swivels out of the way, which is both more convenient while producing a more stable positioning system. The arm costs $3750.
Clearaudio also introduced the Essence a new $1500 MC cartridge.
Also in the Musical Surroundings room I was shown upgrades to the DS Audio W1 optical cartridge that include a new wire suspension designed to produce a compliance better suited to today's high mass tone arms.
Two new DS optical cartridges will be introduced probably at High End Munich in May. The DS Master 1 will include a sapphire cantilever and microridge cartridge as well as an upgraded equalizer that will offer both single ended and balanced outputs as well as three output options: "flat", a 50Hz "hard cut off" and a 50Hz gradual cut off @6dB/octave. Price not announced.
A less expensive model is also planned. The DS 001 will feature an aluminum cantilever and line contact stylus.
<!- ------------------------------------>