Music Hall Updates Turntable Line For 2016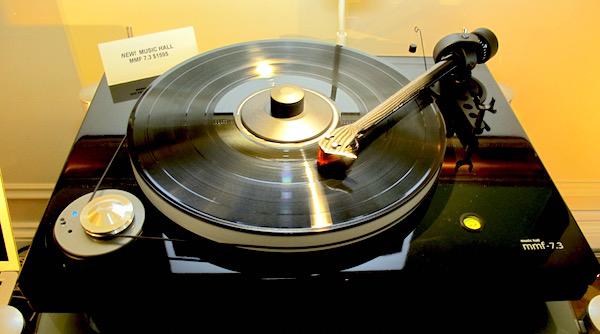 Music Hall's
Roy Hall stepped away long enough from the sauce to show me the significantly updated 2016 turntable line.
First up was the $499 MMF 2.3 featuring a new fixed-in-place, though still elastomer isolated D.C. motor that produces greater speed stability. The new carbon fiber arm tube arm differs from the one Pro-Ject uses on the Debut, according to Mr. Hall (whose brother Robert once ran a successful discount haberdashery chain in the N.Y. metro area) by being thicker and featuring four rather than two gimbaled bearings. The 'table comes with an installed Audio-Technica sourced $100.00 Spirit cartridge as well as a dustcover. An extra $50 gets it in either red or white. An "SE" edition planned for later in the year will incorporate built in electronic speed control as well as a wood veneer base. Projected price will be between $700 and $800 (BTW: that is not a cake baked atop the 2.3's platter. It is an optical illusion produced by the room lighting).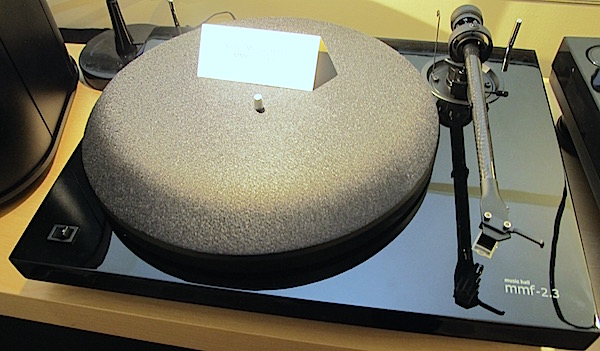 Next, Hall showed the new $1095 MMF 5.3 SE featuring a Sorbothane-damped split wooden base and Ortofon 2M Bronze cartridge. The standard 5.3 at $875 includes the Ortofon 2M Blue.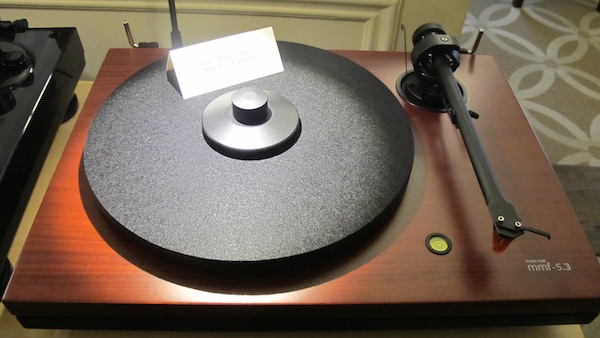 The updated $1599 MFF 7.3 shown above, features a new all carbon fiber arm tube and free-standing D.C. motor with electronic speed control plus Ortofon 2M Bronze cartridge. The one model above the 7.3, the 9.3, was not ready in time for the show. On that basis, Mr. Hall shouldn't have appeared either.
Also new from Music Hall was the extremely versatile PA 2.2 USB Phono preamplifier, featuring stereo/mono and phase inversion switches as well as a built-in headphone amplifier, two phono inputs and a line input. It also features both fixed and variable line outputs, which means it can be used as a preamplifier. MC loading is fixes at one hundred ohms. The unit costs $399, which is amazing given its versatility.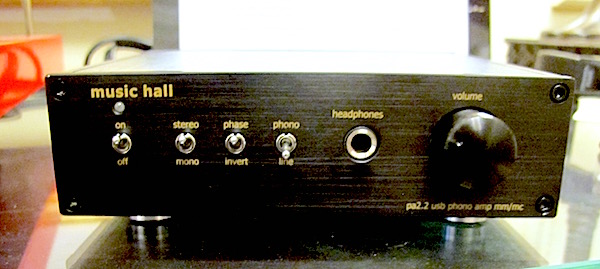 <!- ------------------------------------>