If Charles Kirmuss's Record Cleaning Machine and Regimen Are Correct, Are Everyone Else's Wrong? *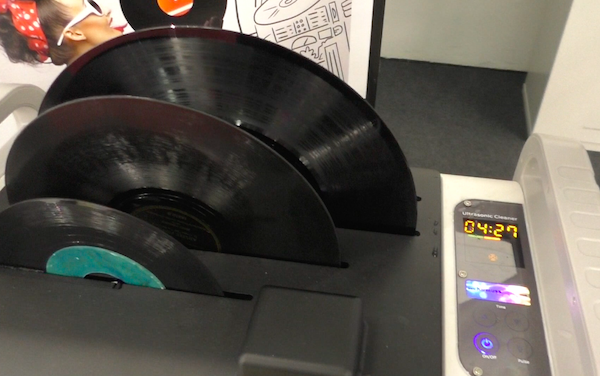 * Mr. Kirmuss insists that the vinyl residue seen in his cavitation tank in this video is
not
damage caused by his device. Rather, he insists, it is vinyl residue "locked" into the grooves by soapy residue from other machines that his process has removed.)
We first encountered at AXPONA 2018 Mr. Charles Kirmuss and his "In The Groove" Ultrasonic Vinyl Record Restoration System. The system is based upon an ultrasonic bath-type cleaning machine from China, another of which that looked identical was being sold but a few feet away.
The biggest difference appeared to be in how the records were placed in the vat. The other machine, like all of the others that adapt an existing ultrasonic bath device, uses a rotary spit-like mechanism to spin the records. Kirmuss's is a far more sophisticated adaptation that covers entirely the water vat with a slotted device that spins the records the way the Audio Desk (the originator of ultrasonic record cleaning, I believe) and KLAUDIO machines spin them.
But Mr. Kirmuss claims there are bigger differences than how the records spin and that his machine while visually identical to the one at the other booth, is far different. Not only that, he claims it's different from the Audio Desk, KLAUDIO and the others in ways that are critical to how records can and should be ultrasonically cleaned.
Mr. Kirmuss claims that he worked with the ultrasonic machine's manufacturer to change the angle at which the cavitation bubble generator produces its waves (from aiming them broadside at the records to an unspecified angle) and he's set the frequency to 35kHz, which he claims is significantly lower than most of the others.
Kirmuss says the "direct hit" and higher frequency of the other machines damages record grooves and "shaves off" high frequency information. This of course is alarming to many of us who have used the Audio Desk and KLAUDIO machines to clean hundreds of our most valuable records and who have found the results to be both sonically stunning and far superior to vacuum and thread type machines.
At this point we have no choice but to take his word that his machine is not the same as the one in the adjacent AXPONA booth but we're hoping for more certainty as we face the prospect of having damaged many records. I don't mean to disparage him or call his credibility into question. It's simply a matter of proceeding cautiously.
Kirmuss's presentation is convincing and his ideas credible. He takes ultrasonic record cleaning several steps beyond anyone else's regimen and makes a strong case for why he does so. His claim that the Audio Desk system, which uses a detergent/surfactant, leaves a soapy residue on the record makes sense: the record spins in the solution, the solution drops to the bottom of the tank and fans dry the record. Nothing removes the "soapy" film from the record. It's dried on—something I'm embarrassed to admit I never considered.
At the very least, the just cleaned record should receive a plain water rinse to remove the soap/surfactant before drying. In the case of the KLAUDIO, which uses no surfactant/detergent or alcohol, Kirmuss claims that cavitation alone cannot possibly remove oily and/or smoky residues from records.
What's more, he claims that fan-drying is not good for records, that vacuum and string-type machines too, are not good for records, nor is "air" drying in a dish rack.
His position is that wet records must be hand-dried using optical-grade cleaning cloths and that "soapy" and fungused records must be treated with an ethyl-glycol (anti-freeze) spritz and wiped with a camel hair brush that brings up from the grooves residual soap and breaks down the mold and fungus that grows on records because, he says, PVC is a 'sugar'-like compound. I'm no chemist (nor is he as far as I can tell) so I have to take his word for that with a healthy dollop of skepticism.
Kirmuss also claims that there is a mold release agent baked in to the PVC compound that the pressing heat brings to the new record surface and that this should be removed using his system before you play a new record.
His system uses a very small percent of isopropyl alcohol in the cavitation water—just enough to break down oil and other deposits on the record surface. The large percentage of alcohol used in some formulations, he says, damage the vinyl by breaking down the plasticizers that are there to keep the record supple. That part I knew about, which is why I recommend against alcohol-based fluids. If he's correct, then a small percent of alcohol in water should work and not damage the vinyl.
Kirmuss also says the distance between records in a vat is critical and that if the records are too closely spaced, you don't get the right result. Ditto if they are too far apart. He claims for his system the ideal spacing based upon scientific research (that I've not yet seen).
Finally, he claims that much of what he offers (aside from ultrasonics) is based on record cleaning advice and research produced by the Canadian Broadcasting Corporation. However, when I did a web search I found this from 1996 on the website of the National Library of Canada:
"Grooved discs are best cleaned using a record cleaning machine such as the Keith Monks, VPI, Nitty Gritty using 0.25 part of Tergitol 15-S-3 and 0.25 parts of Tergitol 15-S-9 per 100 parts of distilled water. These machines allow for an even dispersion of fluid and can then vacuum the liquid leaving a clean, dry surface. The discs must then be rinsed thoroughly with distilled water and vacuumed dry to eliminate any trace of detergent residue. Records should be cleaned before each playback."
I bring all of this up not to disparage or doubt Mr. Kirmuss, but to ask everyone to consider with healthy skepticism what's in this video and in the one in the AXPONA video coverage. Nor is it my intention to disparage the manufacturers of the Audio Desk, or KLAUDIO machines, both of which are claimed to have been carefully researched, designed and manufactured to avoid damaging records—I know both designers are vinyl lovers! As you'll see in the video below, I maintained skeptical throughout the demonstration. However, if you go back to the KLAUDIO review you will see there was black residue left in the empty reservoir that I assumed just looked like "shaved vinyl" but couldn't possibly be.
Interestingly, in the video embedded below, you will see vinyl remnants at the bottom of the reservoir! Mr. Kirmuss claims it's from "shaved vinyl" produced by other machines that gets "trapped" in the grooves that's removed only by his machine and follow up manual process.
If I've misstated or mischaracterized any of his claims I hope he will respond here. This is very tricky territory! So please watch the video with a degree of healthy skepticism. AnalogPlanet hopes to soon have an "In the Groove" system to try at home, which will provide a much better indication of its efficacy and we will endeavor to research and try to verify (or debunk, if need be) the many claims for Kirmuss's system and of equal importance, the veracity of the negative assertions he makes about other ultrasonic cleaning machines and systems. P.S.: if you Google Mr. Kirmuss, it seems apparent that he doesn't need this business to earn a living and that he's doing this because of his love for vinyl records. Stay tuned!
<!- ------------------------------------>