SME Debuts New Integrated "Synergy" Turntable At High End Munich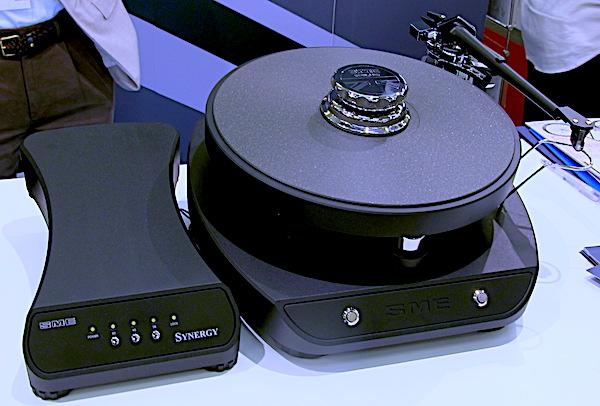 SME debuted "Synergy" at High End Munich 2018, the company's first new turntable since it introduced in 2015 the Model 15. The Synergy is also the SME's first "Integrated" turntable and its its first non-numbered product. It's also the first to be introduced under the company's new CEO Stuart McNeilis appointed after SME's purchase by The Cadence Group.
The new turntable, which features a built-in battery powered phono preamplifier, is a collaborative effort between SME, Nagra, Ortofon and Crystal Cable (in which Cadence is a part-owner). The Synergy is equipped with an SME IV tone arm and uses parts sourced from the company's Model 10 (motor) and 15 (platter) turntables adding a new three-point suspension featuring a new elastomer developed with an outside vendor. The three-speed power supply is also newly developed. The cartridge is Orfofon's MC Windfeld Ti introduced at last year's Munich High End show.
Though it was launched at this show, the Synergy shown and demonstrated in SME's room used an outboard Nagra phono preamplifier as the internal phono preamp is undergoing a few minor revisions including a shift to a 9V battery from a 6V. The sound produced by this combo impressively solid, quiet and all of the other adjectives and superlatives one would associate with any SME turntable.
Price is expected to be around £15,000, with the dollar amount in America yet to be determined.
<!- ------------------------------------>