The Top 15 Punk Albums! Page 3
Never Mind The Bollocks Here's The Sex Pistols. Released October 28, 1977. Reached #1 on the U.K. charts.
Sex Pistols started In London in 1975. Glen Matlock was the original bassist, playing on all the demos eventually released as a bootleg called Spunk just a short time before the …Bollocks album. Many copies were sold necessitating EMI to rush …Bollocks into the stores. They are fascinating to hear, recorded without many of the overdubs present on …Bollocks so Steve Jones' wonderful guitar lines can be clearly heard. Matlock was later replaced by Sid Vicious.
The band released four singles before their classic LP and all four of the A-sides turned up on the album—"Anarchy In The UK," "God Save The Queen," "Pretty Vacant" and "Holidays In The Sun." I'm sure a large percentage of you have heard all four since they are famous and have almost become standards like "Stardust" or "Tea For Two." I know there are still people who view Sex Pistols as a phony band manufactured by Malcolm Mclaren. Not me. Just listen to the music, it's overpowering. I can find no fault with anything here. Steve Jones is a top flight guitarist who also played bass on almost all the tracks on Bollocks… since Vicious was not yet up to the task. Johnny Lydon has so much charisma, snarling with loads of nasty sarcasm and disgust. And Paul Cook on drums anchors everything. Sex Pistols have a MASSIVE sound on this excellently recorded album. Discogs lists 447 versions of Never Mind The Bollocks Here's The Sex Pistols. For a band that championed anarchy, had only one proper album and lasted little more than two years, they sure achieved a lot, n'est pas?
Remember when the last three tracks on an album were frequently the weakest? Let's hear those three on the earliest pressings of the LP. On "Anarchy In The U.K." Lydon has said there were 21 guitar overdubs; he had one track for the vocals and has made his grousing plain about this. Nevertheless, the early pressings of this album sound terrific on a decent playback system. From time to time, I've read comments on various posts about the poor sound quality on the LP. You know the spiel " It's punk music. Whaddya expect?" Nothing could be further from the truth. And you don't have to spend big bucks on a first British pressing. I have some early British pressings and the first U.S, pressing (with the pink cover). Playing them back-to-back I didn't notice any major difference in sound quality and you can score a VG+ copy of both for under $50 since there were vast amounts pressed.
"Pretty Vacant":

"New York":

"E.M.I":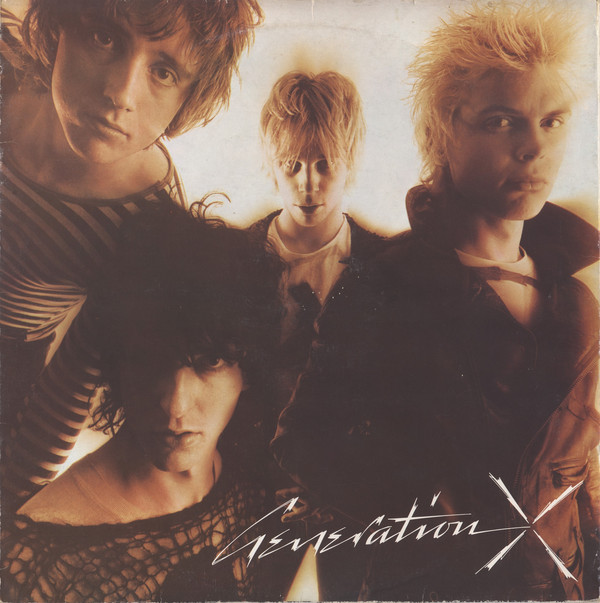 Generation X. Released March 17, 1978. Peaked at #29 on the U.K. charts.
The group got together in 1976 in London and after some personnel and name changes played their first show as Generation X on December 10, 1976. Billy Idol, their famous singer, went through multiple hair color changes and original hand painted shirts to keep things exciting. On June 30, 1977, this review turned up in NME, " Generation X may well be the 'punk rock' group that many people have been waiting for: songs with lyrics about change and revolution, but with melodies cute enough for ' boy meets girl.'" They released two singles in 1977 and one in 1978 before their brilliant debut album. It doesn't have the righteous nasty aggressiveness of the Never Mind The Bollocks or the sharp, spot on political thrust of the Clash's debut, but as of this writing it remains my all-time favorite punk album.
What to say about this LP? The press and critics have, from time to time, slagged off Gen X as pretty boy poseurs only in it for money, fame and birds (British slang for girls, but you knew that.) As if you have to be ugly to play punk rock. Jeez, give me a break! This debut album is a masterpiece from beginning to end. There's not a weak track in the bunch and I challenge anyone to find one false note in the whole thing.
If I had to choose just one word to describe it I would say " musical." The album just sings! Bob Andrews is one of the most underrated punk guitarists--just listen to him! Tony James is everything you could want in a nervous punk bassist and Mark Laff on drums really kicks the band. He's superb too. As with The Clash, once again their record label released an American version with different songs than those on the British version. And once again I'm going to recommend the original version with "Listen" (as good as anything they ever did) "The Invisible Man" and "Too Personnel," all left off the American issue.
The first four tracks storm out of the grooves. "From The Heart," "One Hundred Punks," "Listen" and "Ready Steady Go." These young punks are on fire!—what an opening! "From The Heart" has lyrics showing Idol's roots "I just want to give the feeling/rock and roll gave to me/Like Lennon said for me/I believe in Ray and Keef/ Like Townsend said for me/ Rock and roll made me free." "One Hundred Punks" is a tremendous song about the coming generation of punk kids and even the ones too young to be out on the streets " And Jimmy's No. 101, knows one day he'll be one/ Watch him, watch him go."
Arguably their most famous song is "Kiss Me Deadly" with at the end the unforgettable line "Tried shooting up for kicks". "Tony played me Bruce Springsteen's 'Jungleland', which rocked but also had a gripping storyline and several moving parts that led to a crescendo." Idol has stated. "I dug the idea of a narrative culled from his personal history; it inspired me to deeg deep and come up with my own equivalent from the raw materials of my life." Don't forget how dangerous it was to be a punk with, say, green hair,in 1978. Every day on the street you risked a fight. What a song this is! "The greyhound's rocking out tonight to maximum rockabilly/When two punks choose to risk the subway for a tube to Piccadilly/And the Zephyrs stir fast gangs for glory another dumb casualty/Having fun in South West Six with a hidden flick knife flicks /Kiss me deadly tonight/Another battle was won and lost down the Bishops End last night/Spotlights pick the kids in triumph with a thousand scarves in flight, see how they run/Spring from the terraces in black and white young and old into the fight/Having fun in South West six with violence for a fix/Chorus/Seven o'clock they stand in rank for the thirty bus uptown/And later in a downstairs room she pulls her lover down/In ecstasy but they can't make a sound case her mother might come down/Having fun in South West six discovers teenage sex/Chorus/The snooker hall is empty is 'cause they're all out playing pool/Hustling down the Fulham Road doing deals with Mr. Cool/They're all out on the waterfront now instead of being at school, too old now for pinball/Having fun in South West six with a hidden flick knife flicks/With violence for a fix, dicovers teenage sex, tried shooting up for kicks/Chorus".
But wait, there's more! Glancing at the runout on the A side we see "A PORKY PRIME CUT" and on the B side, "A NUDDER PORKY PRIME CUT." Oh the joy. .Mastered by George Peckham and it sounds smashing.
By now I guess you know I'm in love with Generation X and this album.
"From The Heart":

"One Hundred Punks:

"Kiss Me Deadly":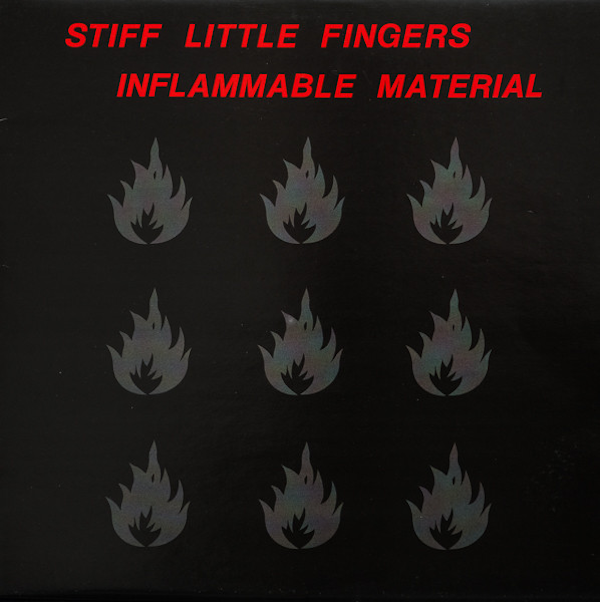 Inflammable Material. Released February 3, 1979. Reached #14 on the U.K. charts.

Stiff Little Fingers (their name taken from a Vibrators' song) arrived in Belfast, Ireland in 1977 and released their first single "Suspect Device" bw "Wasted Life" on their own Rigid Digits label in March 1978. Singer Jake Burns said then, "Punks in England complain about hassles in the streets...but they've never seen hooded men at a barricade. Their cops don't carry sub-machine guns." Their second single, "Alternative Ulster" bw "78 Revolutions A Minute" followed in October. Both 45's are tremendous.

Their glorious debut LP, Inflammable Material, hit the stores in February, 1979. For the album the band recorded new versions of "Suspect Device" and "Alternative Ulster" and amazingly improved on the 45 versions. I remember like it was yesterday hearing "Suspect Device," the opening track on the album. I literally leaped out of my chair and screamed, "YES!" The crushing, steamrolling power was exactly what I wanted in a punk song, leaving no doubt a major talent had arrived on the scene. George "Porky" Peckham's mastering delivers the goods and on a good playback system the original British pressing on Rough Trade is punk heaven. I mean, the sound the band gets here positively destroys. Jake Burns writes some of the most intelligent songs I've heard and most of them here are political concerning the situation in Ireland. If you were part of the club scene in NYC in the early 80's you will remember how all our ears perked up when those first chords of "Alternative Ulster" came over the loudspeakers. "White Noise" is a hair-raising attack on racism in England. Every song on Inflammable Material and their second LP, Nobody's Hero, reveals a spiritual, thoughtful mind. BTW that second album, while not quite as incendiary as Inflammable Material, is truly excellent in a more melodic way. And oh yes, they can play reggae influenced songs as well as any punk band in the land.

"Suspect Device":


"Alternative Ulster":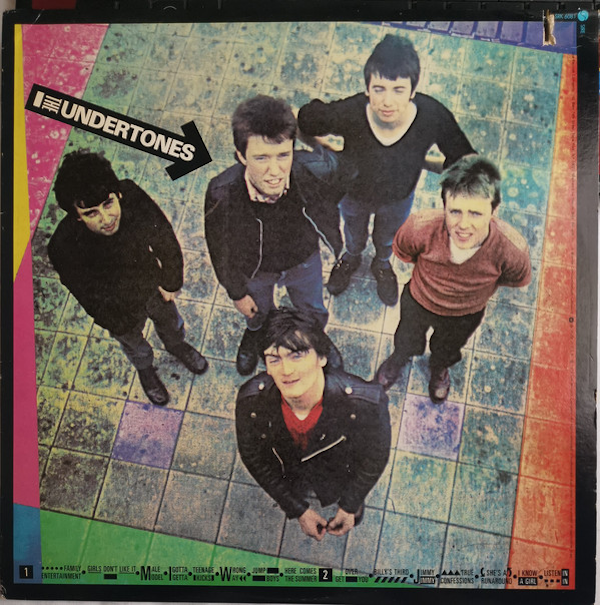 The Undertones. Originally released August 5, 1979. Peaked at #13 on the U.K. charts. This U.S. pressing released October 3, 1979.

This five member band started rehearsing pop covers in Derry, Northern Ireland in late 1975. As a child, lead vocalist Feargal Sharkey was often entered into talent competitions where he sang traditional Irish songs and invariably, won. Nick Lowe on the radio in May, 1979 said about the group, " I think they're great..Love the singer...I think he...delivers a song from the heart. He seems in such intense pain when he sings, and he's got a voice that sounds like a cross between Roger Chapman and Steve Marriott. I love that little sort of bleat he's got in his voice, very distinctive."

The Undertones dropped two EP's and one single before their eponymous debut album. The first EP contains a very famous song, "Teenage Kicks." When the revered John Peel heard it he fell in love and on his BBC Radio 1 show played it over and over. He later would say it was his all-time favorite song.

I have a confession to make: like Peel, I too am in love with The Undertones. They were labeled the Irish Ramones, a huge compliment. As far as punk with melody goes, IMO they are #1. Unlike their country mates Stiff Little Fingers, the vast majority of early Undertones songs are about girls and teenage angst in general. And man, these guys could play! The first pressing of their self-titled LP with a black and white cover had 13 songs but when it was reissued in America in color with a different cover, it added "Teenage Kicks," "Get Over You" and the original 45 version of "Here Comes The Summer," so it became my choice for this article. Fifteen wonderful songs with catchy melodies and irresistible singalong choruses. Tough to narrow it down to three examples. And if you like what you hear, their second long player, Hypnotized, is just as good.

"Billy's Third":


"Jimmy Jimmy":


"I Know A Girl":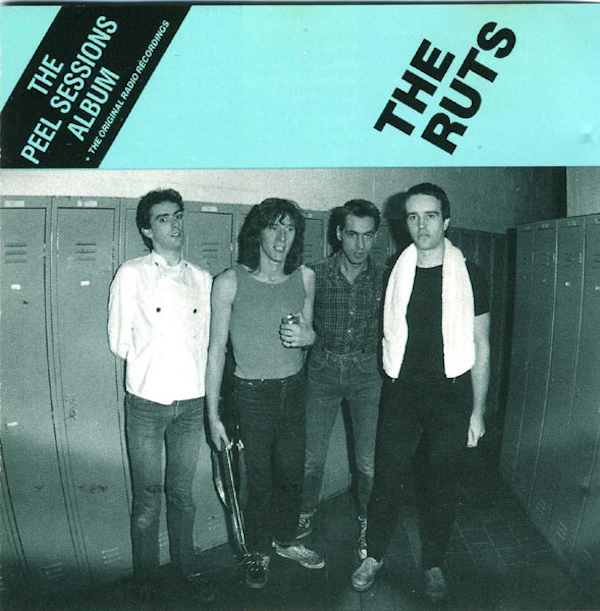 The Peel Sessions Album. Recorded 1979-1980. Finally released in album form in 1990.

I know what you're saying. "Huh? Bro, where's their one 1979 classic album, The Crack, that reached #16 on the UK Charts?" A quick comparison of the tracks on The Crack and The Peel Sessions Album shows the latter to be far superior. Plus, the playing is just as good, with some tracks like "Savage Circle" even more blistering in the BBC Radio 1 session.

The Ruts got together in London in 1977. A recently unearthed demo recording from that year shows they were legit card-carrying members of the punk class of '77 even though their professional career began in January, 1979 with the single "In A Rut" bw "H-Eyes" on the small collective-like People Unite label. It was followed by the chart success "Babylon's Burning" bw "Society" on Virgin in June, 1979. The Song "H-Eyes" is about heroin addiction and in an interview in July, 1979 their charismatic singer Malcolm Owen said in NME "... "...take the song "H-Eyes," about the smack, right? It's not saying naughty, naughty, you mustn't ever take smack. It's an observation of a guy I knew who died from smack. I've taken it before. I wouldn't write it otherwise--It's just: "You're so young/ You take smack for fun/ It's gonna screw your head/ You're gonna wind up dead." You know? It's not saying you mustn't do it...but let's face it, it's no good for you. It's nice when you take it, but it's going to fucking kill you if you get well into it. That's all. I'm just trying to put my own experiences over, a lot of people are impressionable." In one of the great tragedies in modern British music, Owen died of heroin overdose on July 14, 1980.

This album consists of three Peel sessions from January 1979, May 1979 and February 1980. Stellar musicianship from Paul Fox, guitar, Vince Segs, bass and Dave Ruffy, drums, powerful songs throughout and Owen's robust singing straight from the heart. The three great tracks I've posted do not appear on The Crack. Absolutely top tier storming punk with some evocative reggae numbers thrown in. A stone cold masterpiece all in one take at the BBC.

The Ruts leave 98% of punk bands spinning in the dust. How can you top this?

"Staring At The Rude Boys":


"Demolition Dancing":


"In A Rut":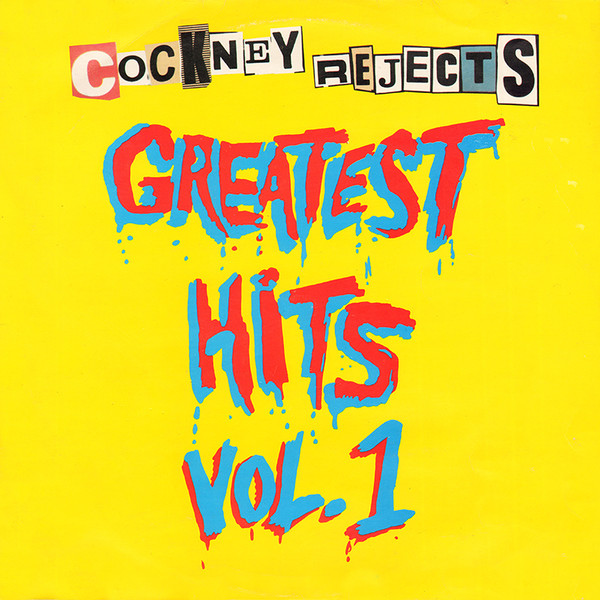 Cockney Rejects. Released March 7, 1980. Peaked at #22 on the U.K. charts.

The archetypal image of rowdy, uncontrollable, hooligan youth came to life with the Cockney Rejects. Formed in the East End of London by brothers Mickey Geggus (guitar) and Jeff "Stinky" Turner (vocals) they were young, hungry with sticky fingers. " The early days were manic," Guggus recalled. " Like most bands we didn't have a pot to piss in, so we obviously had to resort to certain measures...like waiting outside venues until the opportunity arose to nick as much backline and stuff as possible; we'd keep some and fence the other half up the road!"

Cockney Rejects are crucial in the punk subgenre known as Oi, essentially music created by working class kids. By 1979 the punk scene in England was becoming stagnant with poseurs everywhere on the streets and in the clubs. Every kid had piercings, ripped shirts and colored hair. The bloom was off the rose, that initial thrill of 1977 was long gone. The press was gleefully declaring punk dead and most of the aging public was wishing this with all their hearts. Then along came Cockney Rejects and with their first EP, Flares And Slippers (August 1, 1979) they changed the face of British music. No bullshit--Just pure impact! The boys gave the fake scene a good swift reality kick up the ass. It can be argued that Cock Sparrer was the first Oi band in 1977, but it is undeniable that Cockney Rejects put Oi squarely on the map and in the public's consciousness. With their debut LP, Greatest Hits Vol 1 the Rejects delivered the goods. A massive, punchy sound with melody and irresistible singalong choruses straight off football terraces. Sean Forbes from Rough Trade Records said " No one has got anywhere near sounding this thuggish and great at the same time. It's a one trick pony but I love that one trick. It's all about building up the song until a mob chorus comes in and sweeps the song to another level. Greatest Hits Vol 1 mixes football and punk...what more could you need?".

The title Greatest Hits Vol 1 is tongue in cheek; It's not really a compilation of their hits; the boys just went into the studio and cut an album. A few months later they recorded a Greatest Hits Vol 2. Do not sleep on that one. It's just as good as Vol 1 and contains their most famous song, "Oi Oi Oi."

"I'm Not A Fool":


"Bad Man":

<!- ------------------------------------>