AMG's New Twelve Inch 12JT Tone Arm And DS Audio's Master1 Optical Cartridge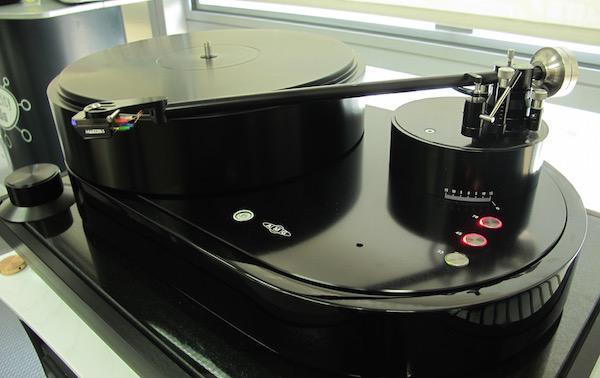 Musical Surroundings' Garth Leerer walks us through the DS Audio Master1 optical cartridge that debuted in America at AXPONA 2016. It was installed on the brand new AMG Twelve Inch 12JT tone arm.
I sat down for a good second listen to this upgraded optical cartridge and new phono preamplifier that must be used with it, and found that all of what I objected to about the original DS Audio cartridge and preamplifier has been corrected.
The optical cartridge, unlike a standard cartridge is not a velocity sensitive device (the same is true of strain gauge type cartridges) and therefore does not make use of the RIAA curve (way too complicated to go into here). Please see Stereophile review. In any case, in my opinion the original cartridge and dedicated phono preamplifier produced far too much bass to be a product worthy of recommending.
This did not make me happy to write nor the manufacturer or importer to read! But I felt the criticism was warranted. Now, I am happy to report, the problem has been remedied on this top of the line version of the cartridge and on the less expensive original DS-W1 that I reviewed.
The Master1 features seriously upgraded electronics as well as various equalization options (these are not at all related to RIAA, FFRR, etc.). Both at AXPONA and in Munich I felt the new Master1 fulfills the design's promise of ultra-transparency, speed and resolution. The sound from this cartridge here and at AXPONA was spectacular as it should be for $22,500, which is the combined cost of the cartridge and the needed equalizer/preamp box. I hope I can get it for review soon.
The AMG twelve inch arm represents a major ergonomic improvement to the original, ingenious design, as the video explains.
<!- ------------------------------------>