Another Angle on the "Digital Can of Worms"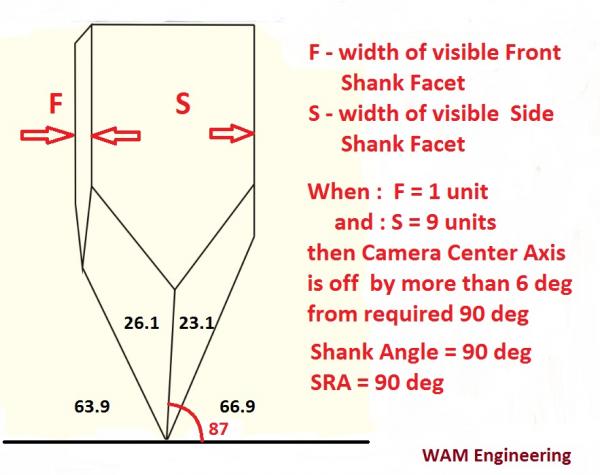 To continue the discussion of whether or not using a USB microscope to set stylus rake angle is a good or bad idea, please look at the drawing accompanying this post.
In the drawing, you can see the visible front shank facet. This drawing duplicates the angles produced in one used on the website claiming using a USB microscope will not produce useful results, which we will not disclose here.
We're not using the actual image on that site, but this one, created by Wally Malewicz duplicates the off-axis angle in that website's image.
Note that to produce such an error ( a measurement that's off by 3 degrees) requires the digital microscope's central axis to be off by more than 6 degrees—an amount that's easy to see and just as easy to correct.
As Wally pointed out to me in an email, if you view an analog speedometer from the passenger seat you'll get a similar parallax error and the wrong speed. Does that mean you shouldn't use a speedometer to gauge speed when you drive? Well, no! Unless, of course, you are in the passenger seat!
<!- ------------------------------------>