UNI-DIN Versus Löfgren B Just to Clarify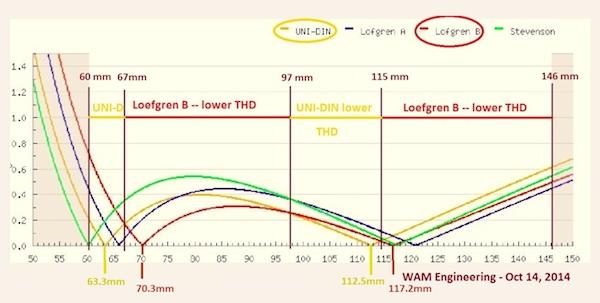 In the Rocky Mountain Wrap Up I wrote about the UNI-DIN curve versus Löfgren but a picture (or a graph in this case prepared by WAM Engineering's Wally Malewicz) is worth a 1000 words.
So to make sure you clearly understand what you are seeing: the lead in groove (represented by the shaded area) is to the right and the lead out groove (represented by the larger shaded area) is the left.
The "null" points are where the lines touch the graph's horizontal axis. So as you can see, the Löfgren "B" null points (where the stylus is tangential to the groove and therefore there is 0 LTE (lateral tracking error) are at 70.3mm and 117.2mm. The null points for Löfgren "A" (identical to Baerwald) are at 66.0mm and 120.9mm. The null points for UNI-DIN are at 63.3mm and 112.5mm. The Stevenson curve is shown in green
So what does this mean in practical terms? As you can see distortion is relatively high and the very beginning of the record for all curves, but plummets dramatically for all curves to the first null point. However Löfgren "B" distortion (and Stevenson) is lower than UNI-DIN for that portion of the groove surface and UNI-DIN's first null point is almost 5mm beyond Löfgren "B"'s first null. From 115mm to 97mm UNI-DIN's THD (total harmonic distortion) is lower than any of the other curves, but it is a relatively narrow area compared to the 97mm to 67mm segment where Löfgren "B" is considerably lower then UNI-DIN and Löfgren "A" (Baerwald) and especially Stevenson.
Beyond the second "null" points for all of these curves distortion dramatically rises but note that while Löfgren "B"'s second null point is a full 7mm before UNI-DIN's and therefore the distortion begins to rise well earlier than UNI-DIN's, UNI-DIN's distortion is way higher at that point and the two only meet (one rising, one falling) at the 67mm point. Still it is true that Löfgren's distortion toward the very end of a typical side is well higher than UNI-DIN's and as you can also see, Stevenson's distortion is plunging toward's the end of the side and only begins rising beyond the theoretical end of the side, which is why it is suggested (by some) for people who mostly play classical music.
However, given the far higher distortion over a larger swath of groove territory is that a worthwhile trade-off? I am not in the habit of asking questions and answering them for you so you tell me! My understanding is that the Rega paper overhang gauge is the Stevenson aligning or close to it. If you listen mostly to rock and pop music does the Stevenson curve make sense for you? Here I will answer the question because there's not doubt about the answer: NO!
Now as between UNI-DIN and Löfgren "B" please decide for yourself. My decision is to go with Löfgren "B" but I'm here to give you the facts, not here to tell you which alignment to choose. That is up to you. Keep in mind that compared to the distortions added by the rest of your system, my opinion is that all of these curves produce less.
<!- ------------------------------------>