If You're Using an Oscilloscope to Set Azimuth Here's a Really Handy Program Courtesy WAM Engineering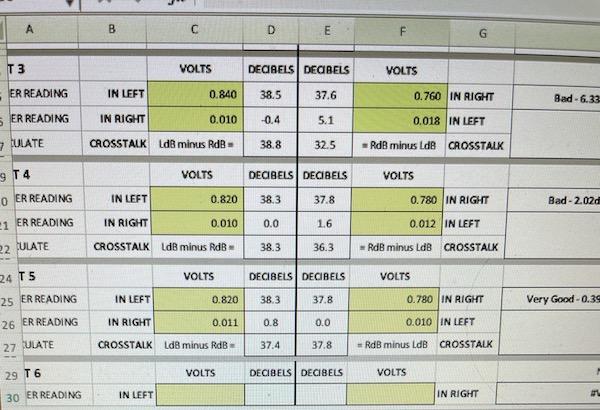 If you're using an oscilloscope to set azimuth you are well aware of the math hassles involved. First you have to convert the derived voltages into dBVolts then you have to subtract the smaller number from the larger to determine the crosstalk and you have to do it twice: L-R, R-L.
Of course you need to do this at least five times starting a few degrees on one side then one degree off and then with the headshell parallel to the record surface and then twice more to the other side, each time doing the math.
Now, thanks to WAM Engineering's Excel-based program you just plug in the numbers read off the oscilloscope and it does the volts to dBV calculations and all of the math. It makes the procedure so much easier!
Download it here
To use, simply type in the left channel meter reading, hit return, type in the smaller crosstalk reading from the right channel meter and hit return. You'll instantly see the crosstalk measurement in decibels! Repeat for the right channel measurements, always remembering to hit return after each entry and you'll get the right channel crosstalk measurement. If you're inter channel crosstalk maasurement is above 2dB it will say "BAD"!
As you can see in the image at the top, the first set of readings produced a 6dB differential between the channels, earning it a "BAD" reading. By the 3rd measurement set shown, the separation was an outstanding 37 dBs in both channels with a crosstalk differential of .3dB, which is outstanding!
Please also read the "Important Notes" in yellow along the bottom of the field. Thank you WAM Engineering!
<!- ------------------------------------>