Zenith Angle: The Final Cartridge Set-up Frontier?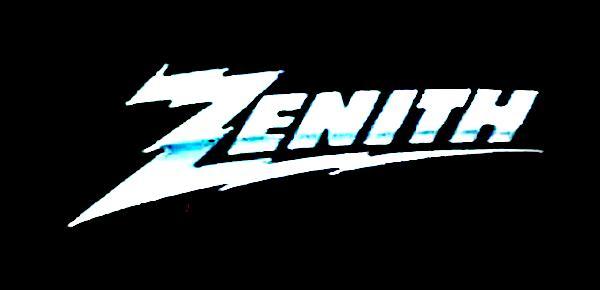 First up: identifying the two John Lee Hooker files in
The Tapestry reveal
: "File 1" is the original pressing. "File 2" is the Analogue Productions 2010 double 45 reissue. Some preferred the reissue, clearly cut from a secondary source, lured by the added bass and top end intended to distract from the soft guitar transients, vocal cloud and lack of top end air and having locked into that, those listeners found the original pressing "bright" and "bass shy". It's a tricky business but while the original may have had the bottom cut slightly it is otherwise massively superior and over time far more listenable. Now on to a really interesting and important test!
WAM engineering's J.R. Boisclair offers a cartridge evaluation program that I'll discuss in greater detail in an upcoming "Analog Corner" column in Stereophile. He examines new cartridges for stylus rake angle, azimuth and zenith angle. While he offers custom made shims made with a material nearing the rigidity of titanium that can correctly set stylus rake angle and azimuth (meaning if your arm doesn't allow for those adjustments the shims can), there's no shim solution for zenith angle. For those unfamiliar, when you use a protractor or other "overhang" device, you set "overhang" (the distance between the stylus tip and arm pivot) and then, using the gauge's "null point" markings (where there is "0" LTE (lateral tracking error) you align the cartridge so that the cantilever is parallel to the gauge's "hash marks", which is the "zenith angle."
Unfortunately, as Mr. Boisclair has discovered, the way styli are inserted into cantilevers can produce up to 7 degrees of error. That is large ! Of course if you use a spherical stylus it doesn't make a difference but you are missing a great deal of musical information that if you are unaware is there, you don't miss. Your loss! But if your cartridge is fitted with a "line contact", "hyper-elliptical", "fine line", "Replicant" or "Gyger" type stylus, if the "contact patches" are not perpendicular to the cantilever, using the cantilever to set zenith angle can produce a major set up error! According to Boisclair's research, cantilever/stylus manufacturers allow for up to 4 or 5 degrees of manufacturing error, which they claim is "acceptable" and reasonable given the difficulties involved.
This image shows a cantilever/"Fine Line" stylus assembly that has a 3.83 degree from perpendicularity error based upon average of multiple measurements (the one I chose from the multiple images shows 3.15 degree error).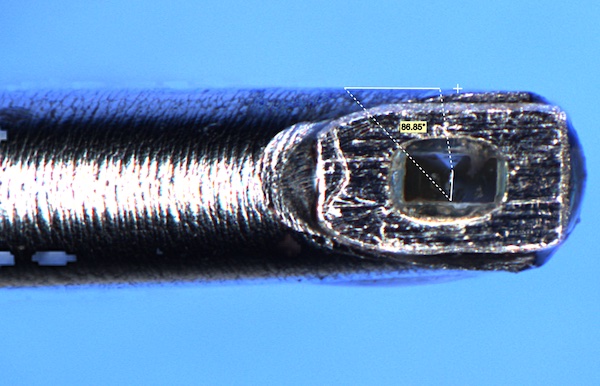 So, with this cartridge, when you set your zenith angle using the cantilever as a guide, your set up will produce around 4 degrees of zenith angle error, meaning the stylus will read the left and right groove walls at slightly different times, which is only one of the errors produced by this kind of misalignment. Is this audible? The cartridge here is an outstanding and costly Haniwa CO moving coil cartridge, which uses a Ogura stylus/cantilever assembly used by many, many other cartridge manufacturers including Lyra, My Sonic Labs, etc. This report is not meant as a criticism of Haniwa or even of Ogura. This cartridge is within the reasonable manufacturing tolerances set by all (there are only a few) manufacturers of these components.
So, after installing the cartridge (which, by the way has a super low internal impedance and tracks as low 1 gram) in an Acoustic Signature TA-7000 tone arm on the A-S MontanaNEO turntable with all parameters correctly adjusted but with the zenith angle set in the "traditional" visual manner, I played and recorded the final few minutes of "Le-Cid Ballet Music" from a 1973 certified audiophile classic—a reissue of an EMI original produced using the "One Step" process (nothing new under the sun!) and so limited to 1000 copies per stamper (meaning they had to cut a new lacquer each time)—and then, using the information provided by WAM Engineering in its cartridge report on this particular cartridge along with the Wally Zenith angle gauge, I twisted the cartridge in the head shell to line up with the purposely "off kilter" hash marks on the zenith angle gauge and again recorded the music. Remember: nothing other than the zenith angle was changed.
The first image is obviously the album cover. For the second image, after using the zenith angle gauge to twist the cartridge in the head shell, I returned to the platter the standard WallyTractor overhang gauge and placed the stylus on the "null point" hash marks so you can see just how far from parallel to the hash marks was the correct setting. Keep in mind that this image shot through a magnifying glass is distorted and does exaggerate the angle but by less than you might think. In other words it looks very wrong !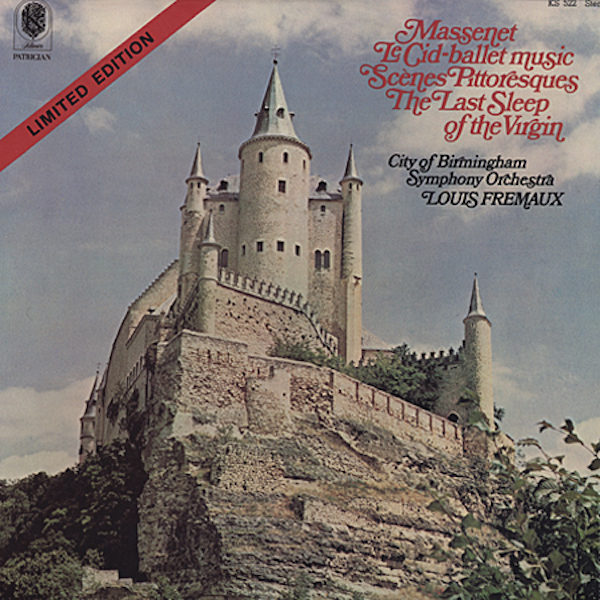 Finally, here are the two files. Do you hear a difference? If you do, which do you think sounds better? And please, if you choose to listen on "computer speakers", please don't bother commenting. Thank you.
<!- ------------------------------------>