Fozgometer Owner Alert !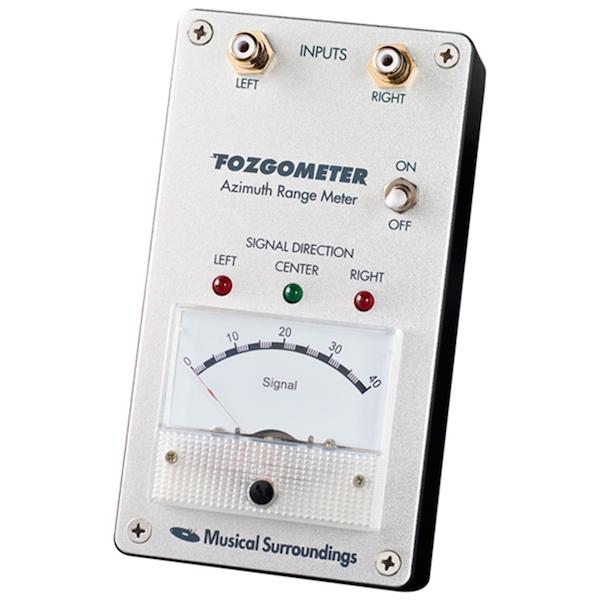 If you own and use a Fozgometer to set azimuth you must calibrate the unit or your results will not be accurate. I had stopped using my Fozgometer and instead was setting azimuth using a digital oscilloscope, which is 100% accurate and also gives you precise crosstalk voltages.
I switched because the Fozgometer's results were not at all accurate and until just the other day I did know know there's a way to calibrate the Fozgometer. The instructions are on the Musical Surroundings website.
With the unit "off" using a small screwdriver you adjust the meter to read "0" by turning the black adjustment screw at the bottom of the meter. Then remove the unit from the case.
On another page on the Musical Surroundings website you'll find three test tones available as aif and wav files. While the instructions recommend downloading and burning a CD, you really don't have to do that if you have a stereo mini plug to RCA plug cable, which many of you probably have to connect an iPod or other such device to the inputs of a receiver. If you have that and a mini-jack on your laptop you are all set (otherwise download the tones and burn to a CD-R).
First remove the Fozgometer from the case by removing the fur Philips screws. Turn on the Fozgometer and note on the right side attached to the circuit board (when viewing the unit with the meter at the bottom) a small set screw in a blue plastic housing. Play Track One and adjust the set screw until the meter points to ZERO (only the green LED will light while you do this).
Play the second test tone and adjust the other set screw on the left side of the printed circuit board until the meter reads 20dB (only the right red LED will light).
Next play the third test tone. The meter should again read 20dB with the left red LED lighting.
If you don't get exactly 20dB repeat the calibration until you do.
After doing this I used the Fozgometer as described in the instructions and using the Analogue Productions The Ultimate Analogue Test LP I obtained readings that matched what I obtained using the digital oscilloscope.
My Fozgometer was way out of calibration and was probably so when I first got it. Now I feel it is a reliable tool to use for setting azimuth. Thanks to turntable set-up expert Michael Trei for alerting me to this.
<!- ------------------------------------>