Atocha Design Custom Cabinetry Takes A Different Turn on the High Quality Retro Road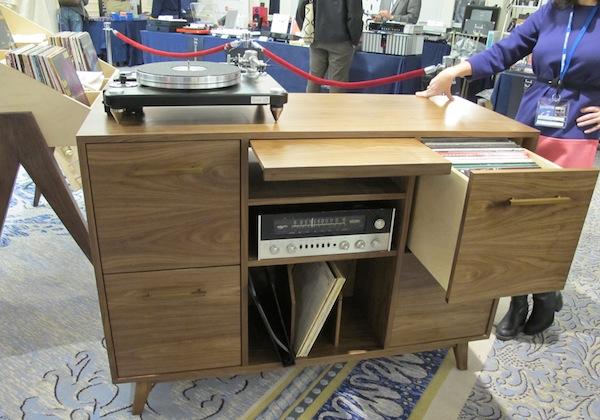 New York City based Atocha Design displayed a gorgeous looking, superbly crafted retro-cabinet designed to hold components and store records or other lesser media. All of the company's cabinetry is hand-crafted in the U.S.A. by a master cabinetmaker.
The company offers a wide range of designs and it can also custom produce something to your needs and visual tastes.
Look behind and to the side of the cabinet and you can see the company's free-standing record display rack that lets you thumb through your collection while enjoying the cover art. Anyone who has moved a record collection knows that spine-based storage and display both shortchanges the art work and sometimes obscures what you really have.
When you see your records "head-on" it's like seeing a new collection! Even if you have a huge collection that makes impractical storing all of it this way, pulling out a few hundred and putting them on display makes a nice 'change of record scenery" for some of your vinyl or "pieces of vinyl" as Ba Ba Booey calls them.
<!- ------------------------------------>