Continuum Audio Labs Debuts Obsidian the Company's First New Turntable in More Than Five Years (Second Story Update)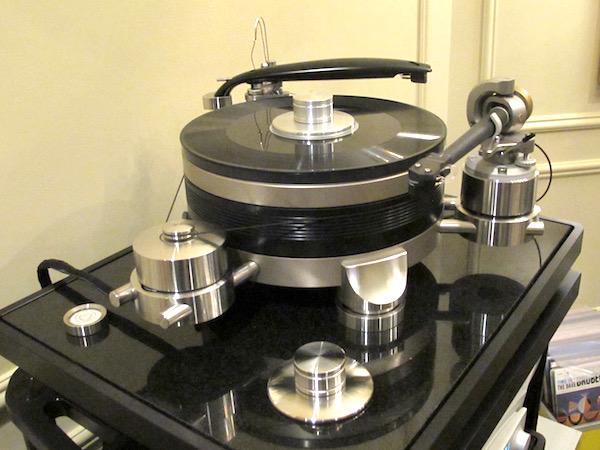 (
Note: after returning from CES a PDF file arrived in the mail containing more information about this turntable including its name, which was not provided when I visited the room
)-Ed.
At CES 2016 Australian brand Continuum debuted and demoed the Obsidian, its first new turntable in more than a half decade.
The new 'table shown in prototypical form also included with the new Continuum Viper tone arm, which is an updated version of the Copperhead. That's the Swedish Analogue Technologies tone arm (circa $30,000) on the second arm mount, which is one of the best tone arms in the world.
The new 'table is a "plinth-less" design featuring a multi-layer platter of Delrin, aluminum and Delrin, spun by "The Quiet One", a newly developed Maxon 60 volt cogless D.C. motor designed specifically for Continuum Audio Labs and built based upon the Obsidian's platter mass and "physical harmonic characteristics".
The motor controller is based on a servo amplifier running at 53.6kHz with a very high resolution closed-loop encoder circuit. The motor uses graphite brushes, stainless steel pre-loaded ball bearings. The controller features infinite speed adjustment with all three speeds selectable. The main bearing is of Tungsten and generously sized as this photo demonstrates. Tungsten, which is both exceptionally hard, dense (1.7 times denser than lead) and difficult to machine is used in a few other key areas including in the arm mount and arm post.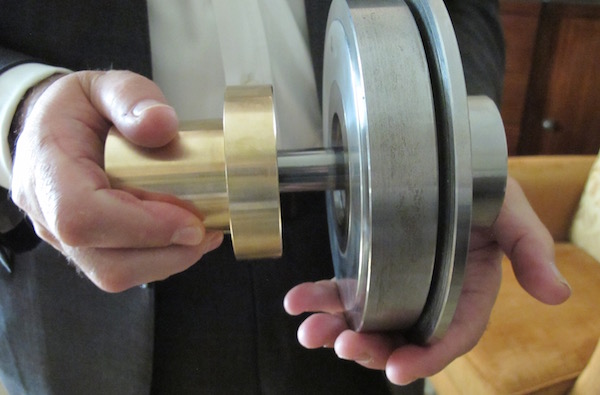 Like the company's Caliburn turntable introduced more than a decade ago, the new 'table features a "nested" platter and a magnetic levitation system that reduces to under ten pounds the weight borne by the thrust pad/ball system.
The 'table features a carefully designed and implemented built-in suspension system designed to both isolate the 'table from external vibrations and dissipate the ones created by the motor and platter, as as well as an isolation system for the tone arm mount, that while dissimilar from the revolutionary one used on the Caliburn, is said by the company to be equally efficacious. Continuum did not have a price at this time because the 'table is still not finalized.
<!- ------------------------------------>