The SoundSmith Launches New Website and Revamped Cartridge Lineup at RMAF 2015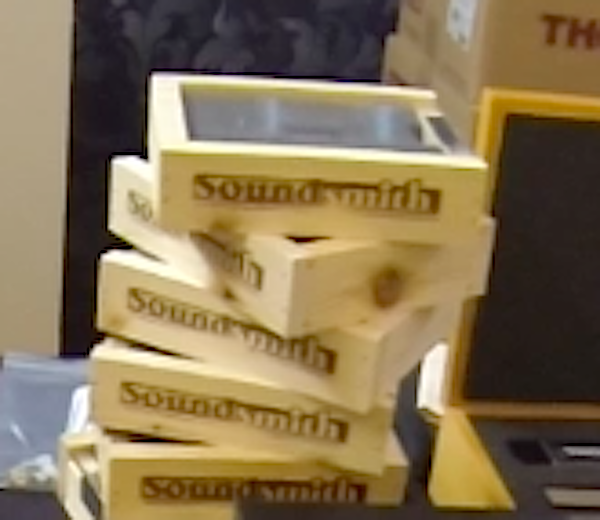 Recently appointed SoundSmith North American distributor
Rutherford Audio
displayed much of the SoundSmith cartridge lineup at its Atrium table and showed a new cartridge brochure that represents a clean graphic break from the company's cluttered past.
What's more the SoundSmith website, once a cluttered, confusing and nearly impossible 1980's place to negotiate, has been completely rebuilt and is now visually pleasing and refreshingly easy to use.
Peter Ledermann, The Soundsmith President and Chief Engineer in conjunction with Rutherford Audio chose recently to change the cartridge line's technical description from "moving iron" to "fixed coil" in an effort to clarify the technology and highlight its considerable advantages.
For those unfamiliar, a "fixed coil" design is, as the name implies, one where the coils are fixed, but so are the magnets. A precision made, low mass iron element attached to the stylus/cantilever assembly moves, positioned between the two fixed ones, which varies the magnetic field flowing to the coils. Thus there's no penalty paid for either more coil turns or larger magnets.
That is one reason SoundSmith has been able to offer low medium and high output options on the same model cartridge, though these wide ranging choices can sometimes produce buyer confusion.
Among the cartridges SoundSmith produces are two high output "IROX" models priced at $850 and $1850 that are guaranteed to be unbreakable.
At the top of the company's low output line is the $7500 Hyperion that outputs .4mV and requires 60dB of gain and 400 ohm minimum loading. It utilizes as a cantilever a cactus spine—not as a gimmick, but because it makes an ideal cantilever with a naturally tapered shape, stacked columnar fibers and desiccated resin damping. It is low mass, extremely rigid, internally damped and extremely strong. It's available with two stylus types.
With the new website up and operating you can easily discover all that's in between.
Rutherford Audio also imports and distributes Vertere, Thorens, Roksan and T+A turntables.
Particularly attractive and obviously superbly made was a massive, gleaming $8000 one that appeared to be a rim drive, but upon further inspection was really a quasi-rim drive, belt drive that begs for a review. I visited the multi-story T+A factory some years ago (and reviewed an earlier turntable) and I hope to soon post the video.
<!- ------------------------------------>