Woodworking Solutions Introduces Pull-Out Style Record Storage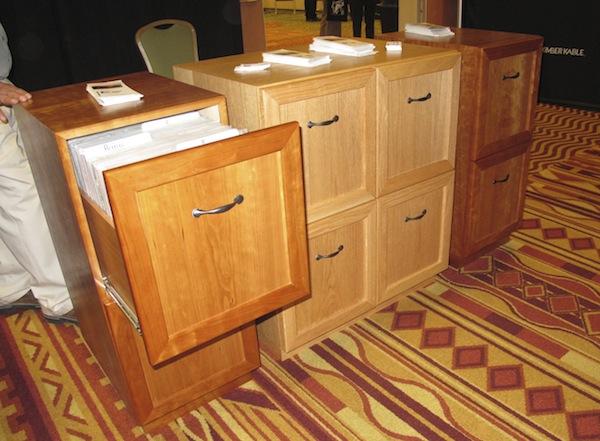 Richland, WA based Woodworking Solutions introduced at RMAF its Record phile LP storage cabinets. These solidly constructed units feature pull-out file cabinet style drawers, each capable of holding approximately 100 LPs. They are available in two and 4 drawer configurations and in a variety of wood finishes.
Each drawer features an adjustable back stop so that if you've got fewer than 100 albums in a drawer, they will remain upright. The cabinets are of high density 3/4" MDF then finished in 22 mil hardwood veneer. Once loaded with LPs, the high mass makes the top shelves ideal for gear, including turntables.
Prices are $1695 for a two drawer unit and $2695 for a four drawer unit. These are solid, heavy and come pre-assembled so shipping, which is extra, will probably add a considerable amount to the final total cost but there's somewhat special about being able to access records while seeing the cover art.
<!- ------------------------------------>
| | | | | | | | | | | |
| --- | --- | --- | --- | --- | --- | --- | --- | --- | --- | --- |
| | Equipment Reviews | | The Gruvy Awards | | Blogs | Columns | | Show Reports | | News |