CES 2016 Show Wrap-Up
Analog was well-represented at CES 2016. It was at "The Zoo" as we "affectionately" call the main convention center and of course at The Venetian where high performance audio resides.
Best Sound
In my opinion was the Lamm room shown above. The speakers were the Kharma Exquisite Midi Grand, which cost $225,000/pr, driven by the Lamm ML3 Signature amplifiers costing $139,490/pr. The analog "front end" was an enormous vintage EMT 927 turntable valued at $50,000 fitted with an SME 3012 (out of production). The cartridge was the ZYX UNIverse Premium costing $14,495, which fed Lamm's three chassis LP 1 Signature phono preamp which sells for $35,690. Cabling was by Kubala-Sosna— $130K's worth.
The total system cost including EMM Labs digital gear was $733,880. That sum doesn't guarantee great sound—I've heard super expensive systems that sounded terrible—but in this case it was exceptionally fine. The Magda Tagliaferro solo piano record reported on elsewhere in CES coverage sounded as if the piano was in the room.
Most Astonishing And Daunting Sound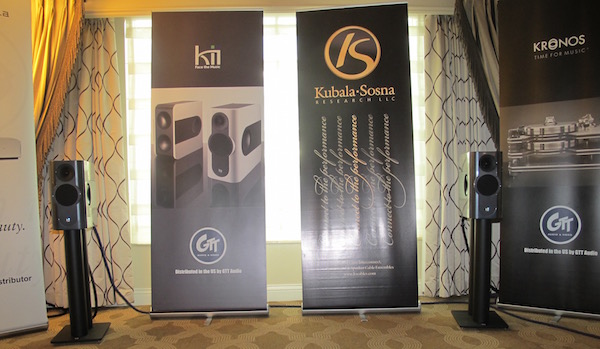 Was in the GTT Audio room where they system consisted of a Kronos Pro turntable with Black Beauty arm ($48,000) an Air-Tight PC-1 Supreme cartridge ($11,000), a Mola Mola Makua Linestage ($11,740) plus optional phono stage ($2900) and DAC ($6,600) and a pair of Kii Three speakers ($13,900) on Kii Audio stands ($3540) all connected via Kubala Sosna Emotion cables for a system total of $127,880.
But go back to the speaker price and size. These Kii speakers designed by Bruno Putzeys shattered every expectation and audio belief system to which I subscribe. First of all they are small speakers capable of prodigious bass—not "for their size" but for any size! They produce prodigious SPLs and go comfortably down to the mid 30Hz region and that is lower than you might think! Plus they are powered and they have built in DACs. In fact each of the six drivers has its own amplifier and DAC! And the amplifiers are "Class D"!
What is more, the sound was insanely great from bottom (expected) to top (unexpected), playing either files from vinyl that I brought or playing vinyl "live" on the Kronos turntable. I brought along a vinyl "rip" i have of "Can't You Hear Me Knocking" from the Mo-Fi LP that some think has 'out of control bass' but doesn't really if your 'table can handle the energy. Yes it's definitely jacked up on top and bottom but it still sounds great and always blows people away when i play it.
The bottom end of that record/file through that system was beyond anything I thought possible from a compact stand mount and the top end—Charlie Watts's cymbal work simply did not sound like it was produced by any Class D amp I've ever heard, except for one: The Bel Canto Black system I recently reviewed. Of course the Class D module in that produce was also designed by Mr. Putzeys so he's obviously onto something!
Even the digitized "live" vinyl sounded very good, though if you're a committed vinyl person its difficult to imagine you'd want to hear all of your records digitized during regular playback. However, hearing it through this system might change your mind (not mine, but were I Louis Desjardins the designer of the Kronos, I would not at all mind demonstrating my turntable in such a system! Think about it: $13,900 and you are done with speakers and amplification. For people living in the digital world it's a no-brainer. An amazing system.
Andrew Jones and ELAC Do it Again!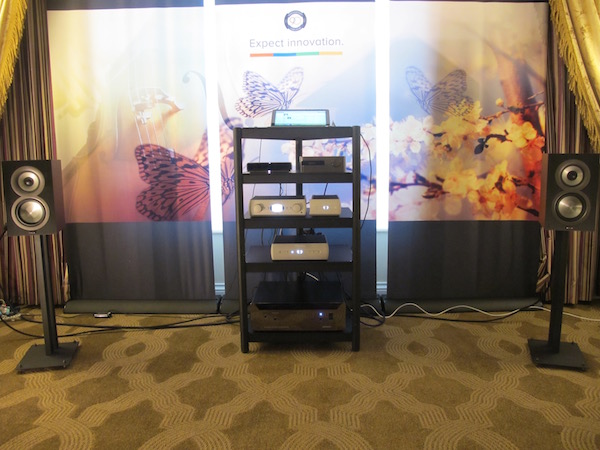 Last spring Mr. Jones introduced his $239/pr B5 speakers that will shortly be reviewed here and the somewhat more costly B6—two, two-way stand mount speakers that also seem to defy the laws of physics to produce bass like I've never before heard from a really small stand mount speaker. At CES 2016 Jones unveiled a $500/pr 3-way speaker featuring an aluminum cone woofer and a concentric midrange/tweeter driver similar conceptually to the ones he designed for TAD (those with Beryllium tweeters were in speaker systems costing tens of thousands of dollars).These $500/pr. speakers have the deep bass (around 40Hz) but not the slight congestion the $239 speakers have because the woofer has to handle frequencies better suited to a midrange driver. These new speakers are going to help wean a generation away from headphones as a primary source. That is how good they are.
Best Digital News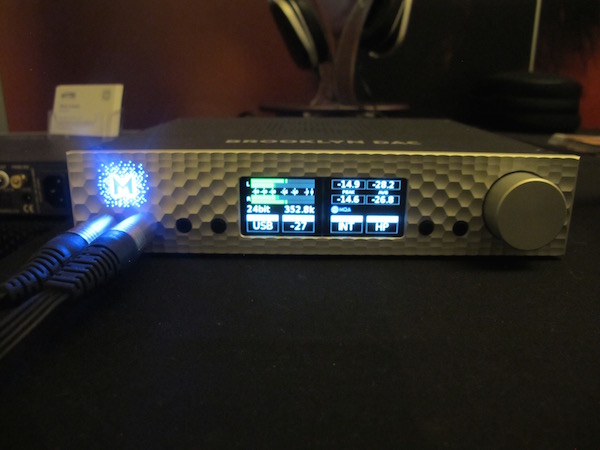 In the Meridian room I got to hear two demos of MQA Ltd's MQA technology (Master Quality Authenticated) wherein Bob Stuart and his team analyze the mediocre A/D converters of days gone by that produced the worst kind of 'digititis" that gave us headaches and made our teeth going—that the measurement freaks said was our imagination—and produce a "filter fix" in software and apply it to the recording. When you get to hear this you'll be amazed by how good these awful CDs can be made to sound. It works best when the actual A/D converter is known but they can "forensically" analyze the files and figure out the problems in terms of ringing and especially phase-shift and correct them. Of course you'll need an MQA decoder to get the benefits of an MQA encoded file but major and minor audio manufacturers are getting on board. I'd be hesitant to invest in an expensive DAC today based on what I heard. It is not at all subtle. We heard a "before and after" demo of a Keith Jarrett live CD that was impressive.
The other demo I heard in the room involves MQA and TIDAL. MQA also includes a higher bit rate and sampling rate encoding process wherein a 24 bit 354kHz signal can be 'wrapped around' a CD resolution file like the kind TIDAL streams. So through a standard DAC you'd get CD resolution but through an MQA equipped DAC you'd get 24 bit 354kHz resolution. The Brooklyn DAC (a prototype) was so equipped and we got to hear via TIDAL special files that were MQA encoded, streamed and then decoded at full resolution. We will have the best of both worlds streamed and spun on vinyl.
Most Fun
"Hall Walking" with producer Rick Rubin and going room to room listening to records and files has become a CES tradition. Every year I try to bring music he's not heard that I think he'd appreciate. This year I brought the Patrick Higgins Bachanalia and the ERC Magda Tagliaferro LPs and I succeeded. When Rick likes something his body language speaks paragraphs. A powerful but very down to earth guy.
This year I got to meet Graham Nash and talk with him over dinner (with Crystal Cable's Gabi Van Der Kley between us while we ate). That was a thrill and I will be interviewing him soon either in New York or if I can convince him, in my listening chair.
So yes, it was great CES. Every year I am loath to go and every year i head home glad that I did!
<!- ------------------------------------>