Day One at Munich High End 2017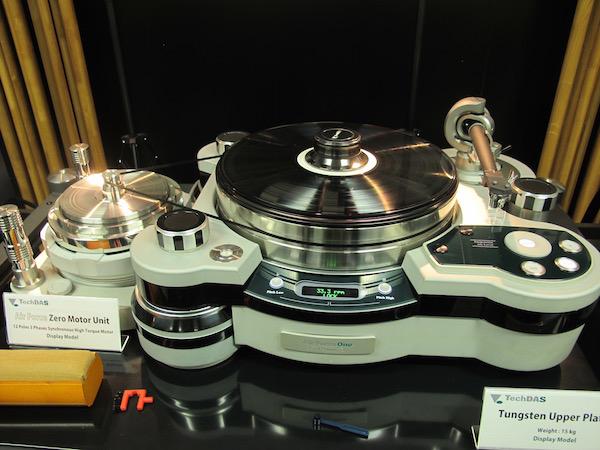 Day one at High End Munich 2017 was of course a busy day of press conferences and room visits, encounters with old friends and the usual combination of being dazzled by what's new and shaking off jet-lag.
TechDas called an 11:00 A.M. press conference to introduce on the Air Force One Premium turntable the massive motor system that will be part of the Air Force Zero—an upcoming "statement" turntable projected to cost up to $300,000 and designer Hideaki Nishikawa's final turntable project.
The motor shown is a prototype using a rare Papst NOS (new old stock) unit of which only 50 exist, all now owned by TechDAS for use in the Zero. The motor features an air bearing and is a 3 phase 12 pole design. The air bearing is for the entire combination of the outer rotor and the one piece pulley/fly wheel component.
Also on board was a prototype Tungsten upper platter and Tungsten disc stabilizer.
Attendees go to hear the motor driving the Air Force One Premium with an SAT tone arm fitted with a TechDAS cartridge driving CH Precision electronics including the P1/X1 phono preamp. Speakers were from Vivid. The sound produced blew more than a few minds who had never heard such from vinyl records this level of dynamics and iron-fisted control.
There's a lot to report from the show but that's all for now. Much more to come.
<!- ------------------------------------>