More Product Debuts at Munich High End 2017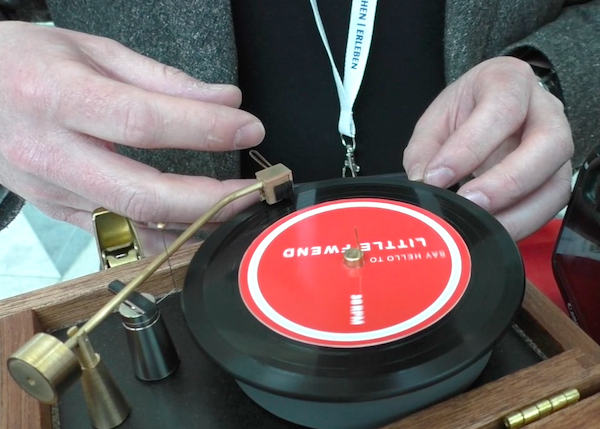 A few more product debuts at High End Munich 2017.
Louis DeJardins introduces a new vacuum tube based phono preamplifier manufactured for Kronos to its specifications by TruLife in Greece, Burmester shows a turntable with an arm that appears to be Clearaudio sourced (as well may be the turntable itself but no one was talking. Note the display of great music in the Burmester window. Unfortunately none of that music was heard at the show. Instead it was the usual drivel: "Hotel California", "Tin Pan Alley", etc. This show featured the worst music ever at a hi-fi show. It's pathetic. I wish the people running the event (so well) would do something about the mostly awful music.
Carlos Candeias introduces the new B.M.C. MCCI current amplification phono preamplifier that is definitely affordable and Brinkmann shows its vacuum tube based phono preamplifier (not really a show debut but most Americans are probably unaware of its existence).
Acoustic Signature's new $3400 (with arm) Merlin made its debut at the show, Soundsmith demoed its Gen 7 Strain Gauge cartridge (sounded superb), and the folks from Little Fwend popped open a little box and a miniature tonearm demoed its end of record arm lifter. More than a few of these devices are in-house and will soon be reviewed.
<!- ------------------------------------>