Jolida Introduces New Jim Fosgate Designed Foz XT-R Crosstalk Reducer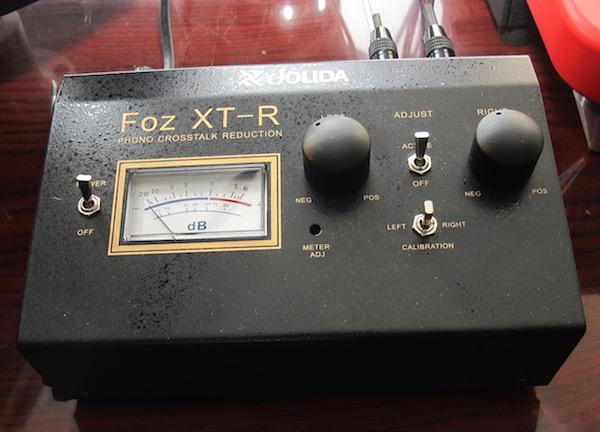 Easily the most unusual analog-related product introduced at AXPONA 2016 was Jim Fosgate's Foz XT-R crosstalk reducer built and marketed by electronics manufacturer Jolida..
This $350 box is said to electronically adjust azimuth in order to minimize inter-channel crosstalk. In other words, many of us do this mechanically by adjusting the head shell and/or armtube tilt while measuring the results using a test record. This is the essence of Mr. Fosgate's Fosgometer.
Of course those with SME, Rega or other arms that don't allow for this adjustment, you are "stuck" with whatever crosstalk the cartridge produces with the headship parallel to the record surface, which as anyone who's measured crosstalk knows, is rarely the optimum setting.
The Fox XT-R somehow measures the crosstalk and adjusts it electronically using a process that was not adequately explained during the demo, but then a crowded hi-fi show room is hardly the place for a tech talk!
The "in/out" demo of the device, which goes between the phono preamp output and preamp input, was not particularly convincing in terms of separation, but I and the fellow sitting next to me did note a loss of transparency.
However, one shouldn't draw conclusions from such a demo and I hope to get a Foz XT-R here for a better listen and a full review.
<!- ------------------------------------>