TechDAS Air Force Three Debuts at AXPONA 2016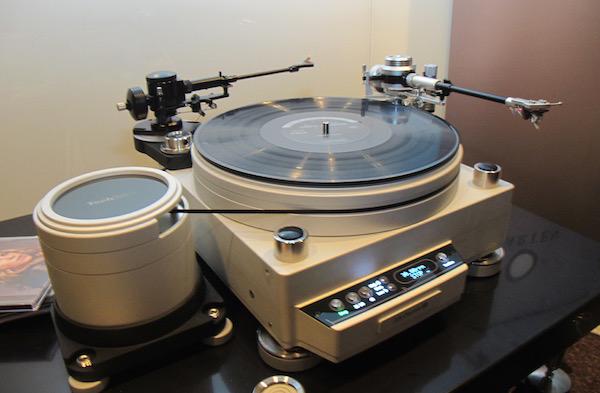 Yes, calling a $27,000 turntable "affordable" is somewhat offensive, but considering that the Air Force One costs $100,000, the $27,000 Air Force Three is downright "affordable".
That's especially true since it uses the same air bearing platter system (though a lighter weight platter), the same motor and a very similar vacuum hold down system.
It offers much of what the Air Force One provides for about a third of the cost. The biggest differences are the platter weight, the lack of a suspension and the arm mounting system which is cantilevered rather than built into the chassis.
I heard the Air Force Three at an Audio Salon event in Santa Monica, California over the winter and it's a sensational sounding turntable. Shown here with Graham Phantom Supreme and Graham Elite tonearms, which is hardly surprising since Graham Engineering imports TechDAS turntables.
<!- ------------------------------------>
| | | | | | | | | | | |
| --- | --- | --- | --- | --- | --- | --- | --- | --- | --- | --- |
| | Equipment Reviews | | The Gruvy Awards | | Blogs | Columns | | Show Reports | | News |