Paragon Sight and Sound Debuts the New Wilson Audio Specialties Alexx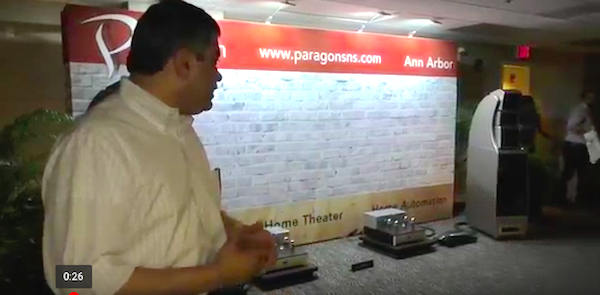 In the Paragon Sight and Sound room at AXPONA 2016, the talented electronics designer Nick Doshi goes over the system, which features the hi-fi show debut of Wilson Audio Specialties' Alexx loudspeakers.
The system also includes the brand new DCS Vivaldi 2.0 DSD DAC and SACD transport, Doshi electronics, a Brinkmann Balance turntable and arm fitted with a Koetsu Azule Platinum cartridge and Transparent Audio Labs Opus cable. An extra special bonus is a Studer 807 reel-to-reel tape deck.
How did the system sound? As good as it looks though I did tell Paragon's owner Larry Marcus that a faux white brick backdrop was probably not a great idea as it probably imparted the sense of "hard" to inexperienced listeners.
The tube-driven system sounded anything but hard! More than a few listeners thought the new Alexx produced tighter bass than does the twice as expensive XLF. A great sounding system for sure, and among the best at AXPONA 2016.
<!- ------------------------------------>
| | | | | | | | | | | |
| --- | --- | --- | --- | --- | --- | --- | --- | --- | --- | --- |
| | Equipment Reviews | | The Gruvy Awards | | Blogs | Columns | | Show Reports | | News |