My New York Audio Show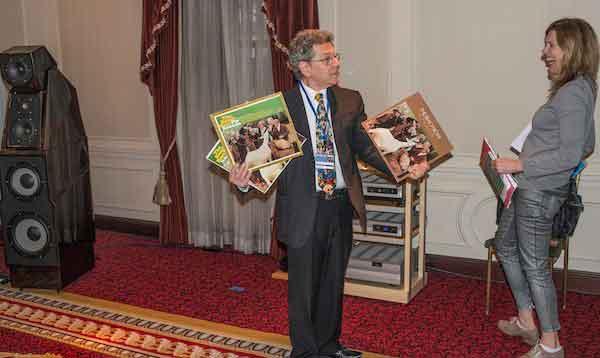 It was a hectic show for me. I had agreed to do two events each Friday and Saturday in conjunction with Colleen Murphy's Classic Album Sundays in a room featuring a Spiral Groove SG 1.1 turntable and Centroid arm, VTL Reference electronics including a pair of big Siegfried mono blocks and a pair of Wilson Audio Specialties MAXX 3 loudspeakers.
The photo is of Colleen Murphy and me trying to decide which version of Pet Sounds she should use for her presentation. She went with the Brother Records mono reissue over a mint Capitol original and the DCC Compact Classics version.
On Friday at 3 PM I presented the album Julie is Her Name using a Miyajima Labs ZERO mono cartridge in the grooves of a Boxstar double 45rpm test pressing of that iconic Julie London LP.
At 4PM to a packed room I held forth on decoding inner groove scribblings and matrix numbers. That proved so interesting to the crowd that I went for almost an hour and a half instead of an hour.
The "presenting" part was easy. I spoke for about five or so minutes about the Julie London record and then played all four sides. Yabbering for an hour and a half in front of a large crowd without a microphone is somewhat more strenuous and stressful (not that I don't love it).
In fact that seminar proved so popular I promised to post the information or links to sites containing that information on this site. I will get to that ASAP.
On Saturday morning I presented John Hiatt's Bring the Family to an almost empty room. Well, Art Dudley's vintage gear seminar was taking place simultaneously in another room so I wasn't surprised, plus it was not Patricia Barber, or The Eagles' Hell Freezes Over so why I would expect a crowd (not too bitter of me).
Later that day I did a turntable set-up seminar and that was very well attended. Whew!
On Sunday I did another seminar on pressing quality, playing various pressings of the same music and allowing attendees to actually have their own opinions as to which sounded better. I played all three Pet Sounds and the verdict was mixed, though most liked the Brother or the DCC and very few preferred the original pressing.
So, that's a total of five hours taken up by hosted by me events. Time I could have used to sit and listen to many more rooms than I actually was able to hear. Instead I spent a frantic time going room to room looking for new analog gear to report to you, which I have. There was more, but I've chosen not to post stories about analog gear that was there but not new—stuff covered in the CES 2013 show report.
I really enjoyed meeting Stereophile and analogplanet.com readers and folks who've bought my DVDs too—especially when the wifey says she sat and enjoyed watching it too!
Between all of the seminars and presenting sessions and the reporting I really didn't get to hear as many rooms as I would have wished, but I've heard elsewhere most of what was presented at the New York Audio Show so I didn't feel as if I really missed that much.
<!- ------------------------------------>