SRA Clarification From Peter Ledermann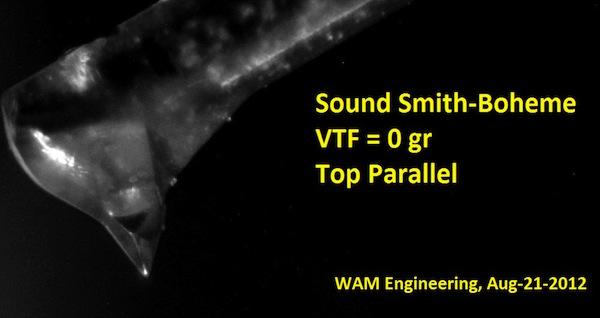 I just spoke with Soundsmith's Peter Ledermann. He confirmed that the contact patch is as seen in the above photo. But note that this is with VTF of zero. He made a few observations about this discussion we're having here on Analogplanet.com.
First of all, we should not jump to the conclusion that this represents an accurate sampling of what comes from his company and that he works very hard to produce cartridges within a low tolerance margin (low tolerance means greater uniformity). But more importantly he said that while he strives to produce within a certain spec, inevitably there will be examples that fall outside of it.
Understandably from a consumer's perspective that's hardly satisfying. However he also pointed out that while he specifies VTF to the first decimal point (ie: 1.3g), you should feel free to experiment well above that setting because you will NOT damage either the cartridge or your records because of the low VTF starting point. He said, somewhat facetiously of course that you can go up high enough to bottom out the cartridge and no harm done.
He also said break in is important too. That over the first forty or so hours, there could be as much as a 3 degree SRA shift as the suspension settles. I usually see 1% in other brand cartridges but clearly break-in plays a role here.
He also said, speaking from the manufacturer's point of view, that before consumers had access to digital microscopes, much guess work was involved in setting SRA and few if any consumers were aware of how far "off" their expensive cartridges might have been. And as Stereophile readers have seen, I've shown some very "off" and very expensive cartridges—far more expensive than these Soundsmiths.
He also reminded me that shimming at the headshell was commonplace back in the days before easily adjustable VTA/SRA tonearms were introduced.
He encouraged owners to shim if necessary and he said it would in no way compromise performance. "Even a business card or two" can easily be used without negative effect.
So, between VTF adjustment, break-in and shimming, it should be possible to achieve approximately 92 degree SRA.
<!- ------------------------------------>