What Does Stylus Wear Look Like?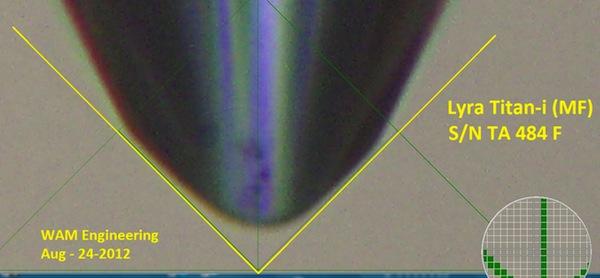 When it seemed as if my Lyra Titan
i
had at least 1000 hours on it I figured it was time for a re-tip. I took a USB digital microscope image and posted it on this site. I thought it showed some wear but before sending the cartridge back to Lyra, I sent it to my friend Wally, who produced much better and more definitive images using an optical set-up.
The picture heading this story shows my Titani and the wear on either side of the stylus. The evenness of what's been worn away indicates the anti-skating had been ideally set using Wally's Anti-skating device. Wally has superimposed a groove likeness to help indicate the wear. While this kind of wear probably wouldn't damage record grooves, clearly its ability to trace the grooves has been diminished
The photo below is of a brand new stylus with the same dimensions are a Titan's (r=7, R=30µm). The differences are clear.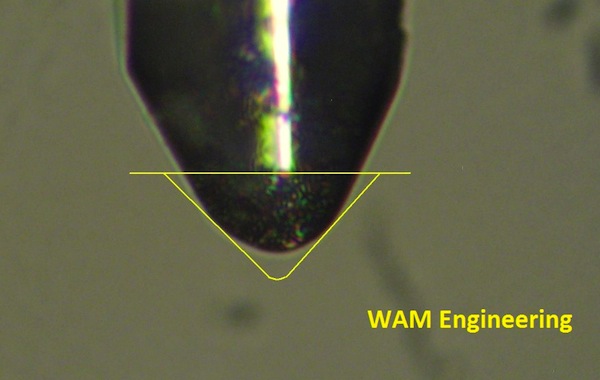 Here's a stylus with "some" wear: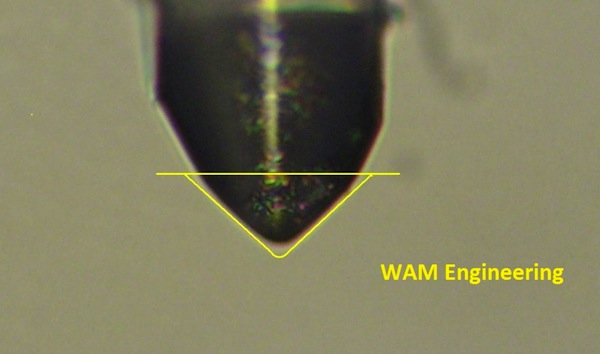 Finally, here's a Dynavector XV-1s with about 1500 hours of use. Again, the wear is apparent.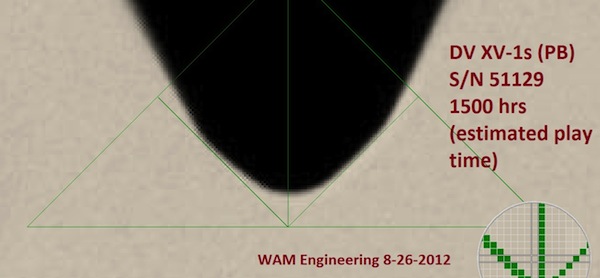 The audible symptoms that led me to believe both the Titan i and the Ortofon A90 were in need of re-tipping were mostly of the 'crackling' variety on records that sounded pristine using other cartridges.
<!- ------------------------------------>