Analogplanet Radio's WFDU.fm HD2 David Bowie Tribute Now Available For Streaming and Downloading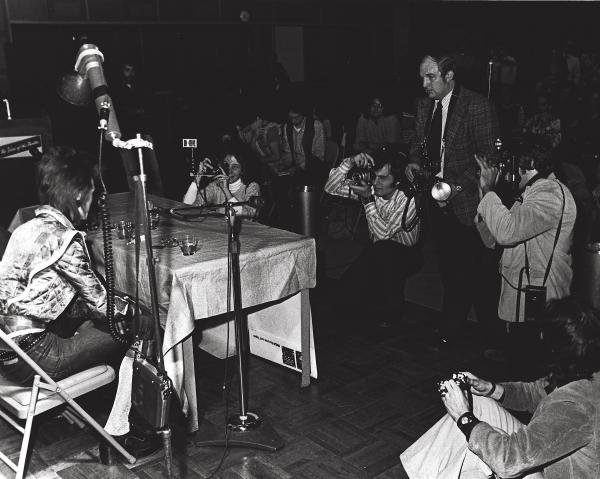 (Photo: David Bowie Ziggy Stardust press conference, October, 1972 at RCA's midtown, NY studios-analogplanet editor wearing stinky sheepskin)
Spend a few hours with Analogplanet.com editor Michael Fremer as he spins David Bowie vinyl from original American, UK, German and Japanese pressings along with a few reissues.
The songs cover a wide swath of Bowie from his 1964 Parlophone release "Take My Tip" by The Mannish Boys, to "Where Are We Now?" from The Next Day.
You can stream or download here (at higher resolution), or at WDFU.fm's HD2 archives.
Here is the track list:
Take My Tip
Fashion
Space Oddity (Disco version)
Space Oddity (box set reissue)
The Man Who Sold The World
Changes
The Bewlay Brothers
Soul Love
Ziggy Stardust
Hang On To Yourself (Arnold Corns)
John, I'm Only Dancing
Dancing In the Streets
Under Pressure
Alabama Song
Sorrow
Panic In Detroit
Fame
Rebel Rebel
Always Crashing in the Same Car
Heroes
Sons of the Silent Age
Sound and Vision
Move On
I Took a Trip in a Gemini Space Craft
Where Are We Now?
Space Oddity (reprise)
<!- ------------------------------------>