Analogplanet.com's All Beatles WFDU HD2 Radio Show Now Available For Streaming or Downloading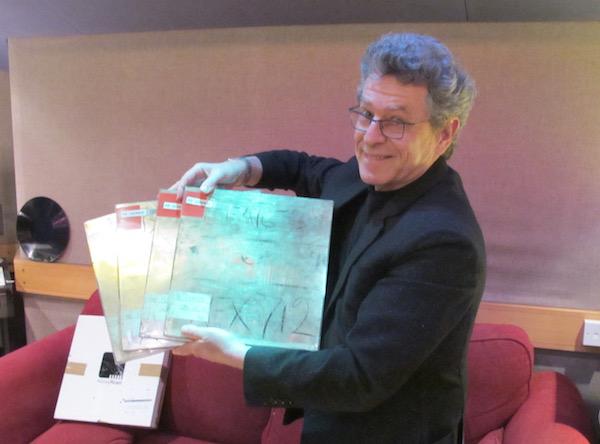 Today's show was all Beatles from vinyl but with a "nerdy" twist (I guess we're all nerds). For some tunes you get multiple versions to compare. For instance there are four versions of "I'll Cry Instead".
There are tracks from each of The Beatles's solo albums plus one guest track from The Bee Gees.
The highlight is the complete side two of Abbey Road taken from an original UK pressing. The black inner sleeve is a tell-tale sign, but so are the inner groove area markings. Plus, I bought this copy in September of 1969 at New England Music City in Kenmore Square before the American version was released, so I know it's an original.
The records were sitting at the top of the steps to the Music City entrance in a cardboard 'point-of-purchase' rack. I only walked up the steps to see what was the record because I could tell from where I stood on the sidewalk below that the records were UK pressings. How? Because back then, records from England were sealed in loose-fitting plastic wrap instead of the tightly sealed shrink wrap used in America that could cause warpage.
As it turned out, the store's buyer, Steve Berkowitz, had found out the UK version's release date preceded that of the American version so he special ordered them from England to have them early.
Steve went on to work for Sony/Legacy where he oversaw much of the Miles Davis and Bob Dylan catalog reissues and while he's now independent, he continues to oversee both catalogs, including the Bob Dylan Bootleg series on CD and vinyl.
Steve also oversaw the release of the mono Beatles vinyl box set of a few years ago and it was through Steve that I was invited to Abbey Road to watch Sean Magee and Steve cut lacquers for The Beatles (the "White Album") double LP set. So that adventure for me started with buying the Abbey Road album in 1969 and ended with me invited to Abbey Road Studios to watch the mastering.
By the way: today's show can be streamed on the WFDU.fm website and if you go there and stream even for a few minutes, it lets the station know you care, so please do that if you care. Of course the resolution is higher streamed here.
Here's today's set list:
She's a Woman-45rpm stereo 1981 EP box set
She's a Woman- Past Masters from digitally sourced stereo box set
Side Two Abbey Road UK original pressing
I'll Cry Instead- Japanese EAS 80564 '80's era pressing
I'll Cry Instead- UK original Parlophone LP
I'll Cry Instead-Mobile Fidelity 1980's box set
I'll Cry Instead-stereo box set reissue digitally sourced
Hey Jude-Japanese '80's AP-8940
Drive My Car-mono original Parlophone LP
Drive My Car-mono analog box set
No Reply-stereo Parlophone LP
All You Need is Love-German Hor Zu original pressing
All You Need is Love- Giles Martin remix from "1" album
Tomorrow Never Knows-original stereo UK Parlophone
A Day in the Life-original mono UK Parlophone
A Day in the Life-analog mono box set reissue
World Without Love-Peter and Gordon from Songs Lennon and McCartney Gave Away
I Am the Greatest-Ringo- from Songs Lennon and McCartney Gave Away
Maybe I'm Amazed-Paul from UK original Apple
Wah-Wah-George from UK original Apple
I Found Out-John from UK original Apple
While My Guitar Gently Weeps-stereo UK "White Album" original
Sun King-Bee Gees from OST "All This and WW II" (listed out of order)
That's it! One system change: cartridge is Ortofon A95.
A Splendid Time is Definitely Guaranteed For All!
<!- ------------------------------------>