Best Sound at the New York Audio Show?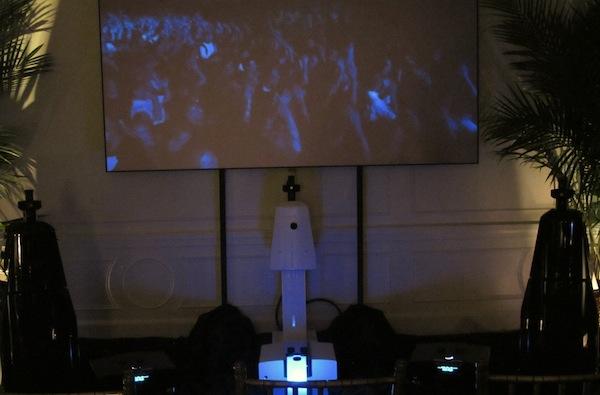 Best sound at the show? It wasn't close and it wasn't fair. The best sound was, without a doubt, in the MBL / Sensorium AVR room where MBL importer Jeremy Bryan demonstrated why he's among the best and most meticulous/fanatical set-up guys in the business.
It wasn't fair because his was a 7.1 channel system featuring 7 MBL Radialstrahlers—in front a pair of 111 Fs L/R and in the center the 120RC, a new, larger 3-way hybrid center channel stand mount specially tuned to meet THX Certification specs and costing $11,300 ( a smaller edition, the 126RC is available for $6200).
Side surrounds were the MBL 116 F (starting at $29K/pr). Rears were MBL 120s a stand mount 3 way hybrid priced at $21,400/pr.
Augmenting that grouping were four JL Audio "Gotham" active subwoofers placed around the room, plus a Sony 4K projector and a 115" Screen Innovations Black Diamond screen (the photo doesn't begin to do this set-up justice). Oh, and there was also a UnitedHome Audio Phase 11 reel to reel tape deck and some very high quality tapes. Plus the MBL electronics and Wireworld and MBL cabling.
You needed a ticket for the demo and it was well worth the wait. The program consisted of a few two channel tape tunes followed by absolutely stupendous sounding and looking concert music videos all sourced from Blu-ray and up-sampled to 4K by the Sony projector.
First up on video was a scene from "Roy Orbison Black and White Nights" and I was floored. I own that video. I've never heard it so life-like and seamlessly presented. It's difficult enough getting a subwoofer blend at home. Bryan managed it perfectly in a fairly large hotel room and from the reaction it seemed that every seat in the house was a good one.
I'm not a Rush fan or a drum solo fan but even the finale, Neil Peart's incredibly long "big band" drum extravaganza held my full attention.
It was truly an amazing presentation. I sat in a front row seat and couldn't hear the sound coming from any of the speakers directly in front of me.
No wonder the crowd exiting before I entered for the next show left excited and grinning from ear to ear!
<!- ------------------------------------>